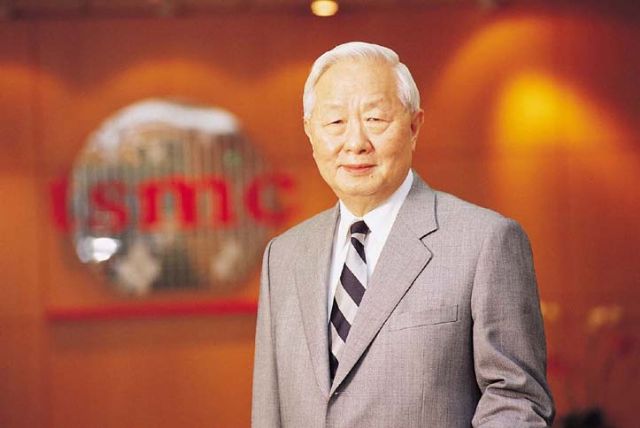 Morris Chang forecasts TSMC to lead global suppliers in advanced foundry processes in 2016.
Taiwan Semiconductor Manufacturing Co. (TSMC) Chairman Morris Chang recently said the company, widely recognized as the world's No.1 supplier of built-to-order chips, will lead all its global competitors in supplying 14/16nm fin field-effect transistor process (FinFET) in 2016 and in supplying 10nm process in 2017.
The company will begin volume production based on the 10nm process in the final quarter of 2016. Chang predicts the company to snatch up the highest share of the market for 10nm process foundry by the beginning of 2017.
In the first quarter of 2016, TSMC has begun receiving 10nm tape-outs from customers. In electronics design, tape-out designates the final stage of the design of an integrated circuit or chip that contains a microprocessor, whose circuit description is then sent for manufacture.
Based on the said developmental progress, industry executives estimate that TSMC has narrowed its gap behind Intel Corp. but leads Samsung Electronics Co., Ltd. at least half a year in 10nm process development.
In the competition for the 14/16nm FinFET process market, TSMC's co-chief executive officer, C.C. Wei, projects the company to command over 70 percent of the global market for such process in 2016, up from 2015's 50 percent.
He points out that the company's production based on the 16nm process has ramped up sharply since the third quarter of 2015, when the company's 16nm process entered volume production. This year, the company will introduce the low-cost 16nm FinFET Compact process to lure more contracts from suppliers of low-end and mid-range handset chips.
In 2015, TSMC lost all of Apple A9 processor contracts and Qualcomm Snapdragon 820 chip contracts to Samsung due chiefly to its late introduction of the commercialized 16nm process.
TSMC has announced a budget of US$9-10 billion in 2016 for advanced process development and production expansion, up 11-23 percent from 2015. Among the advanced processes in the company's 2016 R&D program include 5nm and 7nm technologies. Its 2016 expansion plan will primarily target 10nm process capacity.
Mark Liu, the foundry giant's other co-CEO, points out that the company's 7nm process will enter volume production in the first half of 2018 as scheduled and its 5nm process by the first half of 2020. The company has already developed the 5nm process technology since around a year ago.
Company spokesperson, Lora Ho, says the company's capital expenditure will account for 30-35 percent of annual revenue in the coming years in consideration of the reality that the company's expansion peak has passed overall.
Since the company's pace of expansion is set to gradually slow over the next few years, it has decided to set aside more earnings for shareholder dividend. Industry executives project the company to pay shareholders NT$5.5 per share in cash from 2015 earnings, compared with NT$4.5 per share that was distributed a year ago.
In 2015, the company made NT$306.50 billion (US$9.28 billion), or NT$11.28 per share, in after-tax net income, up 16 percent from the previous year to hit a new high.
TSMC's Quarterly Results (Q1, 2015-Q1, 2016)
| | | | | | |
| --- | --- | --- | --- | --- | --- |
| | Q1, 2015 | Q2, 2015 | Q3, 2015 | Q4, 2015 | Q1, 2016 (e) |
| Consolidated revenue | NT$222.03 bn | NT$205.44 bn | NT$212.50 bn | NT$203.51 bn | NT$198.00~201.00 bn |
| QoQ change (%) | -0.2 | -7.5 | 1.7 | -4.2 | -1.3~-2.7 |
| Gross margin ratio (%) | 49.3 | 48.5 | 48.2 | 48.6 | 47~49 |
| Operating income ratio (%) | 39.0 | 37.5 | 36.9 | 38.3 | 36.5~38.5 |
| After-tax net income | NT$78.90bn | NT$79.41bn | NT$75.33bn | NT$72.83bn | N/A |
| EPS | NT$3.05 | NT$3.06 | NT$2.91 | NT$2.81 | N/A |
| NT-dollar-to- greenback rate | NT$31.53 | NT$30.84 | NT$31.88 | NT$32.63 | NT$32.5 |
Source: TSMCNote: Q1, 2016 results are based on estimate.