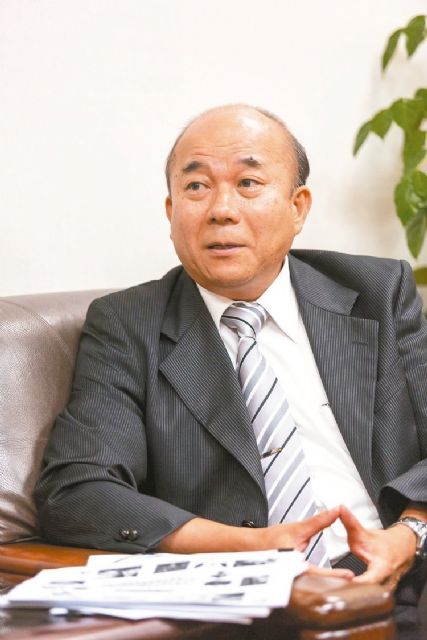 TAMI Chairman X.B. Ke.
Chairman X.B. Ke of the Taiwan Association of Machinery Industry (TAMI) points out that Taiwan's machinery industry has the capacity to surpass its Japanese, Italian and even German competitors if it makes the most of the island's mature, established information-communication technology (ICT) industry to develop its Industry 4.0 plan.
He comments that Taiwan outcompetes these world machinery powers in ICT and that IT product usage is ubiquitous in Taiwan (likely implying that per-capita smartphone/mobile device/PC ownership and Internet penetration are relatively high in Taiwan), suggesting that Taiwan has a solid foundation for the development of Industry 4.0 strategy, otherwise known as smart manufacturing that taps ICT technologies including Big Data and Internet of Things (IOT).
Ke, whose association represents nearly 3,000 local machine builders including machine tool makers, looks to the newly-elected president Tsai Yin-wen to fulfill her pledge to push forward the development of the intelligent machinery industry on the island, as she has for the first time included the industry in the five major innovative industries policy to be implemented by the new administration.
But he urges the new administration to treat the intelligent machinery industrial park planned for the Dadushan in Taichung, central Taiwan, differently from the Erlin precision machinery industrial park in the neighboring Changhua County because the former does not have water-pollution problems, implying that the project planned for central Taiwan deserves facilitated or expedited processing due to being more eco-friendly. Some major industrial park projects in Taiwan have been delayed due to inability to pass environmental assessments and protests by residents who fear pollution. 
The intelligent machinery park will not only keep local machinery manufacturers from migrating overseas but also create jobs, Ke says.
Ke notes that the association has designated 2015 as Year One for Taiwan's intelligent machinery industry, having held a series of seminars to promote the core elements, structure and principles of intelligent machinery to local machinery makers eager to migrate to the high-end sector, where profit margins are typically more attractive.
Citing studies from the government-backed Industrial Technology Research Institute (ITRI), Ke points out that Taiwan's machinery industry overall still remains between Industry 2.0 and Industry 3.0 in terms of the extent of flexible manufacturing capability, manufacturing process automation and informatization (or digitization), and robot applications. Industry 2.0-level machinery typically include electrically-driven products and 3.0 generally consists of computerized machines.
In the light of the rising mainland Chinese homegrown supply-chains, which are encroaching on market shares of Taiwanese makers of many industries including machinery, Ke suggests that the island's machinery makers need to urgently step up development of intelligent equipment to differentiate from and stay ahead of mainland Chinese rivals. In other words, Ke suggests Taiwanese makers develop products that tap ITC technologies as the fly-by-wire airplanes that are technologically superior to pre-1970s counterparts.  
His association projects the island's machinery industry to see both output and export revenue increase five percent in 2016 from 2015 partly thanks to many local makers having begun to develop intelligent machines in 2015, with the machine-tool sector alone likely to grow 10 percent year on year.
Taiwan's machinery makers should not only make products intelligent, but also equip mid-range and high-end lathes bound for the mainland, the biggest export destination for Taiwan-made machines, with controllers either made on the island or on the mainland. Otherwise, all such machines will no longer be granted by the mainland duty-free treatment beginning the first day of 2016 as they have been for the past five years, instead to be subject to a 9.7 percent tax. This term is spelt out in an article of the Economic Cooperation Framework Agreement (ECFA) signed in 2010 between the two sides of the Taiwan Strait.
Ke points out that to be excluded from duty exemption will definitely impact seriously mid- and small-size manufacturers in Taiwan. He has repeatedly expressed the idea of extending the deadline to 2021 to executives of the China Machine Tool & Tool Builders' Association (CMTBA), who he says do not have objections.
Also he has suggested the newly elected Democratic Progressive Party (DPP) administration resume the trade-in-goods talks between Taiwan and mainland China as soon as possible.
However, news reports say that the mainland is unlikely to extend the grace period on the Taiwan-made machines because it has a firm policy to protect its homegrown machine-tool sector along with flat-panel, petrochemical, and automotive industries, which are designated as pivotal industries to be rapidly developed as China continues to try to move up from being a global factory of low-end products to ones with higher added-value and margins, not to mention an economy more dependent on services.