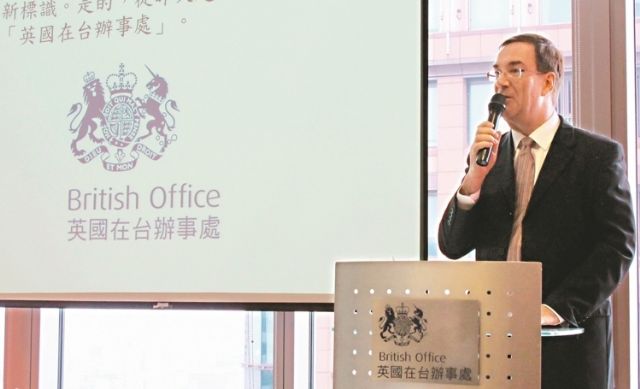 Representative Chris Wood of British Office Taipei.
Chris Wood, Representative of the British Office Taipei, the de facto British embassy in Taiwan, has announced that the British Department for Business, Innovation and Skill (BDBIS) lists Taiwan among its 12 most crucial global markets.
In an effort to maximize British exports to Taiwan and interactions between high-level officials from the two sides, the department has designated Co-Chairman Richard Oliver Faulkner of the British-Taiwanese All-Party Parliamentary Group as its trade envoy.
Wood notes that Taiwan is Britain's sixth-largest trade partner in the Asia Pacific region, next sequentially only to mainland China, Japan, Hong Kong, South Korea, and Singapore. The trade between Britain and Taiwan reached NT$278.40 billion (US$8.43 billion) in 2014, with the 2015 figure still under calculation.
He says the British Trade Envoy program, which began in 2012, appoints parliamentarians as the envoys to engage with one or more emerging markets where UK Trade and Investment (UKTI) has identified substantial trade and investment opportunities. They support the drive for economic growth by building on the UK's existing relations with these markets and maximizing bilateral trade, thereby generating real and long term benefits for the country.
There are currently 24 British Trade Envoys working on around 50 markets, including the ASEAN Economic Community, South Africa, Tanzania, Kenya, Iraq, Jordan, Kuwait, Palestinian territories, Saudi Arabia, Mexico, Uganda, Rwanda, Egypt, Canada, Angola Turkey, Algeria, Vietnam, Laos, Cambodia in addition to Taiwan.
Wood says Taiwan is an important market to Britain so his country will appoint non-ministerial politicians to help build, augment relationship between Britain and Taiwan.
The British Foreign & Commonwealth Office (FCO) will send its chief scientific advisor, Professor Robin Grimes, to visit Taiwan in March. In late March, the British government and enterprises will organize a trade delegation to participate in the 2016 Smart City Summit & Expo in Taipei, as will the Bristol City Council send representatives; while the Mayor of the City London will visit Taiwan this July.
Wood points out that Britain and Taiwan will begin trade talks in the second half of this year to substantially discuss how to promote bilateral trade and market rules.
The two sides, Wood adds, will sign an agreement to enable expatriation of citizens of both sides who are convicted of crimes to their homeland to serve prison sentence for more convenient visits by families. 
The British Secretary of State for Foreign and Commonwealth Affairs Philip Anthony Hammond has congratulated on the British government website the newly-elected Republic of China President Y.W. Tsai. Wood says the British government remains politically neutral towards any of Taiwan's ruling party and will soon set up the usual communication channels and protocols with the incoming Democratic Progressive Party (DPP) government as it has done with the outgoing Koumintang, the Nationalist Party.