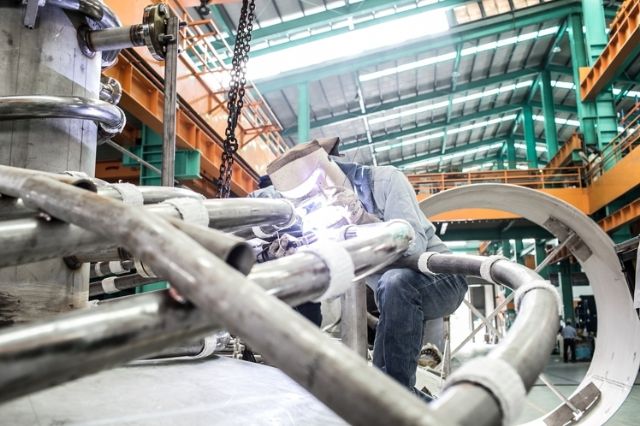 IEK forecasts output value of Taiwan's metal products and machinery to continue shrinking in 2016 (photo courtesy of UDN.com).
After a disappointing year in 2015 when exports were widely reported to have declined for many months consecutively, Taiwan's economy may probably regain momentum this year, as total output value by local manufacturing industries is forecast to bottom out by 0.96 percent year on year in 2016, according to a recent report issued by the Industrial Economics and Knowledge Center (IEK), a market research division under Taiwan's government-funded R&D body Industrial Technology Research Institute.
The latest statistics by the Directorate-General of Budget, Accounting and Statistics (DGBAS) under Taiwan's Cabinet indicate that Taiwan's GDP growth for 2015 hit a six-year nadir of only 0.85 percent, 0.21 of a percentage point below its earlier forecast, mainly due to unprecedented shrinking exports and sluggish consumer spending.
But the good news is that, DGBAS officials stress, the steadily softening of the island's economy during the second half has showed a sign of bottoming out, as reflected by the GDP growth for the final quarter which improved significantly to minus 0.28 percent from minus 1.1 percent seen a quarter ago.
Betting that last year's decelerating downturn indicates a turning point, IEK believes prospects for Taiwan's manufacturers will likely improve this year, hence estimating the overall output by local manufacturing industries at NT$1.794 trillion (US$53.55 billion) for 2016 to post a 0.96 percent increase over 2015 in its report issued on January 26.
Among Taiwan's four mainstay manufacturing industries designated by the government, namely metal products & machinery, IT (information technology) & electronics, chemicals and commodities, IEK projects the output of metal products and machinery to keep declining 2.28 percent year on year, and that of the other three sectors to grow at a 2.16 percent, 3.0 percent and 0.6 percent rate, respectively.
On the outlook of the IT and electronics industry, which makes up over 30-percent of Taiwan's overall exports, IEK comments that after witnessing a 0.6 percent drop in output in 2015 mainly due to lukewarm global demand for consumer electronics and electronic parts, the sector is likely to turn around this year, when more new ICT or information and communication technology-based devices will be launched, with inventory backlogs held by downstream customers to also be gradually cleared.
Citing a report by the International Energy Agency, an intergovernmental organization in cooperation with the Organization for Economic Co-operation and Development, that says international prices of crude oil have little room for further drops after hitting sub-US$30 per barrel in mid-January, IEK opines Taiwan's chemical industry, after suffering a sharp decline of 16.7 percent in output last year, is expected to enjoy a strong rebound amid growing anticipation of recovering oil prices this year. Such upbeat forecast is in tune with recent TV reports on CNN and CNBC that the Organization of the Petroleum Exporting Countries and Russia have of late met to discuss plans to cut oil production amid the current glut, coupled with the recent lifting of sanctions on Iran that will worsen such oversupply, to ease the no-holds-barred competition among oil producers for global market share.
As to local commodity manufacturers, IEK feels that with the sector's growth mainly correlating to domestic consumer demand, its output value this year will continue to grow, despite as slightly as 0.5 percent seen last year.
On another front, IEK expects output by the local metal products and machinery industry to keep declining 2.28 percent this year after diving 9.2 percent last year, primarily because of the persistently bearish global steel market, as reflected by the continuously shrinking capacity utilizations among global steelmakers in response to lingering oversupply since 2015. IEK implies that the Taiwanese metal products and machinery industry is unlikely to recover until the steel market truly can rally from the current quagmire due to the supply glut, which, unfortunately, will take steelmakers some time to solve.
Although having raised its growth forecast for the overall output by Taiwan's manufacturing industries for 2016, IEK, in fact, remains cautious about such prediction, and concedes that it may not hold if the global economy continues to fluctuate dramatically as have global stock markets since the beginning of 2016.
IEK points to five major factors that may cast shadow on the global economic climate, whose trend in 2016 remains uncertain: the recent interest rate hike by U.S.'s Federal Reserve Bank which has triggered anxiety about if a new round of global currency devaluation may be near; whether China's economy and financial health can be stabilized, especially after its stock market saw a major correction late in 2015 and was halted by a circuit-breaker in 2016 due to panic selling; if international oil prices continue to be volatile amid the growing geopolitical risks in the Middle East; whether Taiwan's investment environment has improved enough to better sustain its manufacturing activities and economic growth; and if Taiwan can make progress in joining regional economic integration pacts, including TPP (Trans-Pacific Partnership) and RCEP (Regional Comprehensive Economic Partnership) agreements.
Growth Rates of Output Value by Taiwan's 4 Major Manufacturing Industries
Industry

2014

2015

2016
(forecast)

Metal Products & Machinery

6.1%

-9.2%

-2.28%

IT & Electronics

9.4%

-0.6%

2.16%

Chemicals

-1.6%

-16.7%

3.0%

Commodities

2.0%

0.5%

0.6%

Growth of Combined Output Value

4.37%

-7.37%

0.96%

Source: IEK