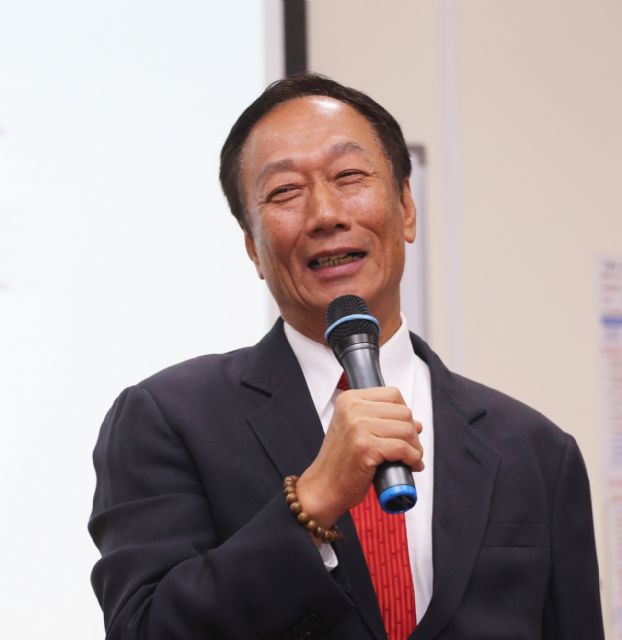 Foxconn Chairman Terry Guo remains confident to acquire Sharp of Japan.
Chairman Terry Guo of the Foxconn Technology Group says he is quite confident of outbidding other suitors to acquire the financially struggling Sharp Corp. of Japan due to his group's most attractive offer. Guo also said the outcome will be disclosed as early as Feb. 5, touting his group is the right choice for Sharp.
According to a Bloomberg report online of Jan. 31, Guo's offer is designed to defeat an alternative deal with Innovation Network Corp. of Japan (INCJ), the Japanese government-backed organization founded in 2009 mainly aiming to boost the competitiveness of Japanese firms by promoting a philosophy of "open innovation" and creating next-generation businesses in promising new technologies by providing capital and managerial support, and would include about 390 billion yen (US$3.22 billion) to buy new shares for a controlling stake. 
Though the Taiwanese company is bidding higher, Sharp is leaning towards a deal with INCJ, which would keep its technology within Japan to enable closer cooperation with domestic companies, people familiar with the matter have said. However Guo expressed confidence in believing the government's word not to interfere in the deal, also refuting reports that INCJ is a government entity and that Foxconn is competing against the government.
Guo, whose group is recognized as Taiwan's biggest business conglomerate in terms of revenue, has dismissed all the bids by Foxconn as reported in the news, which says the group had offered 625 billion yen (US$5.16 billion). Sharp is predicted to further lose 82 billion yen (US$677.68 million) in fiscal 2015 which ends in March 2016, albeit the brand being a household name for TVs in Japan, according to Bloomberg. Sharp also has a debt of 510 billion yen (US$4.21 billion) that is due by March 2016.
To smooth obstacles in the way of his group's acquisition, Guo recently visited ranking officials of the Japanese government and Sharp to offer assurance that the acquisition will not destroy the century-old brand, with its current staff and management to be retained without Foxconn taking over Sharp to result in potential reshuffling of corporate hierarchy.
The press has reported of the slim chance for Foxconn to take over Sharp after the Japanese government has intervened because of its defiance against INCJ through private-public partnership.
Being a seasoned businessman, Guo stresses that Foxconn would never work against the Japanese government and its funded organizations.
Guo says that ranking Japanese government officials have been very politically-correct and diplomatic to tell him that Japan is a developed nation with a government open to business, hence the Japanese government is willing to work and prosper with Taiwan's tech and electronics industries.
Bloomberg reports that although Foxconn's offer is double that from INCJ to buy Sharp, Sharp executives prefer to accept INCJ's offer, also suggesting that creditor banks would again bail out the consumer electronics firm as necessary.  
The media also reports that the Japanese government does not wish to see Sharp falling into the hands of foreign investors, which it fears may use the company's crucial display technologies to compete against Japanese makers.
Industry executives believe Foxconn's display-panel subsidiary, Innolux Corp., stands to considerably strengthen its manufacturing capability with the acquisition of Sharp.