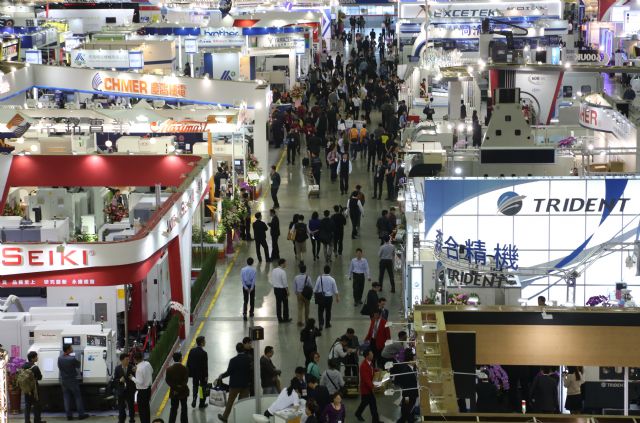 Taiwan's machinery industry is projected to grow 5 percent year on year to generate revenue of NT$1 trillion in 2016. (Pictured is a machine tool trade show in Taipei.)
Chairman B.X. Ke of the Taiwan Association of Machinery Industry (TAMI) projects the island's machinery industry to generate five percent higher output revenue this year than it did in 2015 to likely achieve the highly-coveted goal of NT$1 trillion (US$30.30 billion).
He bases such upbeat prediction on the forecasts by several organizations that the global economy will improve with a modest degree of certainty this year from last year, as well as the reality that many local machinery makers have been aggressively developing equipment featuring higher added-value and higher cost/performance ratio.
The Taiwan industry generated total revenue of NT$955.0 billion (US$28.93 billion) in 2015, falling three percent year on year to miss the association's 10-percent growth goal. The export revenue was US$19.43 billion, sinking 6.9 percent from 2014.
Machine tools account for around 15 percent of the Taiwan machinery industry revenue, and saw output revenue down 12 percent year on year to NT$128.0 billion (US$3.87 billion) and export revenue losing at annual rate of 15.1 percent to US$3.19 billion in 2015. Ke estimates the island's machine-tool sector to generate 10 percent growth in output revenue year on year in 2016.
Ke says that many forecasters predict the global economy to possibly strengthen this year from last year, so the association will organize its members to participate in around 40 international trade shows to promote higher value-added, higher cost/performance machines with more government funding.
He notes that Taiwan's machinery sector, as well as electrical and electric industries, heavily depend on exports, with the machinery industry alone depending on exports for 70 percent of sales revenue; with such potentially risky reliance also compounded by the three industries' susceptibility to the fluctuation of the NT-dollar-to-greenback rate.
He urges the newly-elected president Tsai Ing-wen of the Democratic Progressive Party (DPP) to implement defensive devaluation of the NT-dollar to shore up the competitiveness of the island's machinery exports against that of South Korea, whose won has devalued relatively more to enhance its export advantage.
Citing forecasts by Samsung Securities of South Korea, Ke points out that the won will lose 10 percent of value against the greenback to an eight-year low in 2016, when the NT-dollar is projected to drop to 34 to 36 per US-dollar. Even at such projected rate range, the NT-dollar is still stronger than the won to keep Taiwan-made machines less competitive than their South Korean competitors.
Output and export revenues of Taiwan's machinery industry (2011-2015)
Revenue

Year

Output revenue

Export revenue

2011

NT$960bn

NT$619.17bn

2012

NT$950bn

NT$613.36bn

2013

NT$930bn

NT$604.00bn

2014

NT$985bn

NT$653.34bn

2015

NT$955bn

NT$615.30bn

Source:TAMI