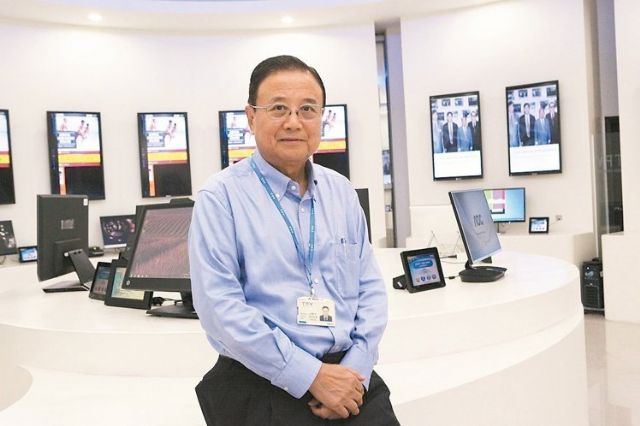 Jason Hsuan, Chairman and CEO of TPV Technology Ltd., the world's largest contract assembler of LCD monitors and distributor of its own AOC and Envision branded products. (photo from UDN)
Jason Hsuan, Chairman and CEO of TPV Technology Ltd., the world's largest contract assembler of LCD monitors and the distributor of its own brands of AOC and Envision, recently summed up the dilemma of the oversupply problem of thin film transistor-liquid crystal display (TFT-LCD) panels due to new production capacity at Chinese panel makers as an issue that simply can't be overcome in the near term, also implying that Chinese investors and tech industry operators likely have little choice but to continue adding capacity to existing technologies as TFT-LCD panels, and that without new technologies in thin-panel displays, Chinese makers can only add capacity to current plants. While the industry tycoon urges Taiwanese panel suppliers to leverage their technical advantages and niche products to bet on quality and innovation.
TPV is reportedly an internationally-renowned PC monitor (world's No.1) and TV (No. 4) manufacturer, having been listed on both the Hong Kong and Singapore stock exchanges since 1999. In 2009 and 2011, TPV entered into noteworthy licensing agreements with Philips to secure the rights to sell Philips-branded monitors globally and Philips-branded TVs in China. In April 2012, the Group established TP Vision, a joint-venture company with Philips, to oversee Philips' TV business in most regions of the world. In June 2014, TP Vision formally became a wholly-owned subsidiary of TPV.
The world-leading LCD monitor maker has maintained close partnerships with Taiwanese panel suppliers such as Innolux Corp. and AU Optronics Corp. (AUO). In recent years, TPV's annual panel procurement value with Taiwanese suppliers often outstripped NT$100 billion (US$3.01 billion).
During an interview with the Chinese-language economic daily 
Economic Daily News (EDN)
, an affiliate of CENS, Hsuan said that the line dividing monitor and TV is getting increasingly blurred, as the latter is starting to function also as a monitor, a trend that is picking up speed. TPV's shipments of monitors and TVs are expected to continue increasing in 2016, Hsuan said, and the system maker is expected to also expand its panel procurement from Taiwan.
TPV shipped about 44 million LCD monitors, about 17 million LCD TVs, and about 2.5 million all-in-one (AIO) PCs in 2015, with the company's leading position in the business giving it ample influence, as well as making TPV a trend-setter in the global TFT-LCD industry.
Oversupply
As Chinese panel makers have been expanding production capacity, Husan said, the overall global supply of TFT-LCD panels looks to endure for some time. That is the result of China's "planned economy", which aims to achieve higher self-content ratio by capacity expansion and rapid volume production at scales that cause increasing fierce competition in the global market.
China has been the world's largest panel market for many years, Hsuan explained, as high as 50 to 60 percent, or even 70 to 80 percent in some categories of the world's panel-application consumer-electronic products are made in the nation, including TVs, monitors, cellphones and tablet PCs. In the past about 90 percent of needed panels were supplied by foreign makers, but now the Chinese central government has decided to set up local supply chains. According to the chairman and CEO, China has decided to develop its panel industry by taking into account industry development, infrastructural construction, employment etc. With such plan, he added, the targeted product line will not be profitable in the early stage, but will be after the peripheral parts supply chains will have been set up, implying that the business model calls for long-term development.
China already knows that its panel industry will face challenges of oversupply in the short term, Hsuan said, but the country is banking on huge demand to occur over the next five or 10 years. So he said, China regards its panel-industry development as similar to infrastructural construction, which requires intensive investment and extended time before returns are seen, in which the scale of investments by Taiwan, Japan and South Korea are much more conservative in comparison.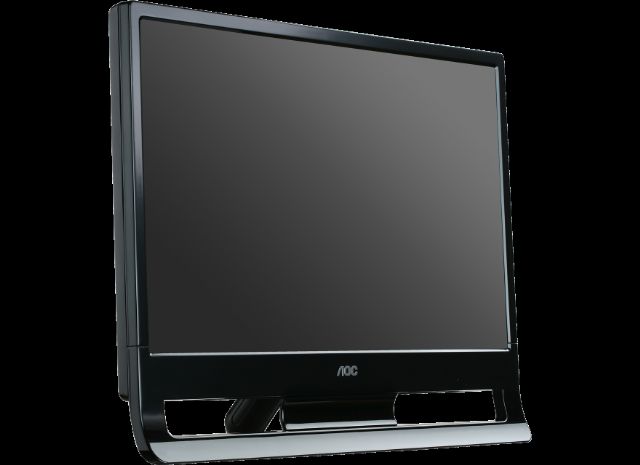 AOC-branded monitors have a 36-percent share in the China market.
Sinophobic Taiwan
Describing the regretful past of the panel industry development in Taiwan, Hsuan pointed out that it was a pity that about five years ago China invited Taiwanese panel suppliers to set up joint ventures with Chinese partners or acquire technical shareholding in Chinese panel makers, a window of opportunity that was finally shut for the island's makers by the government's ban on offshoring of the panel industry. In conjunction with the aggressive development in China, he added, it's  inevitable that Chinese panel suppliers will recruit more Taiwanese talents, implying that the said ban lacks long-term effect to protect the island's panel sector, while the widely reported brain-drain from the tech sector in Taiwan will only worsen. 
However, Hsuan stressed, some Taiwanese panel makers, such as Innolux and AUO, still own some technological edge over Chinese rivals; but they have to continue striving to differentiate products to tap qualitative advantages to compensate for disadvantages in volume.
About TPV's procurement policy related to Taiwan, Hsuan said that in fact TPV may be seen as a Taiwanese company since its predecessor was AOC, a TV maker headquartered on the island. In the 1970s to 1980s, AOC was widely recognized as the No. 1 or No. 2 vendor of TVs, and the firm shifted focus to monitors in the 1990s while moving production to Fujian Province, China. Notwithstanding, the AOC nameplate maintains a degree of presence in the market.
Currently TPV still keeps its R&D and procurement center in Taiwan, Hsuan said, with a total of about 1,800 employees on the island, including more than 1,000 R&D engineers. TPV procures key monitor and TV parts from many Taiwanese suppliers, including TFT-LCD panels from mainly AUO and Innolus; as well as ICs from MediaTek Inc., Mstar Semiconductor Inc., Novatek Microelectronics Corp., Realtek Semiconductor Corp. etc. Its annual procurement value on the island is about NT$100 billion (US$3.01 billion), Hsuan said.
Niche-oriented
Speaking as an industry insider, Husan outlined the future development of the monitor market as one with expanding applications and increasingly larger screen sizes. Larger-size monitors, such as 27-, 28- and 32-inch models, will rapidly be adopted for medical equipment, graphic design, automotive, high-resolution applications, with the profitability of the business being positively proportional to screen size, Hsuan added.
Currently, TPV accounts for 36 percent of the global monitor contract-production shipments, and the company targets to further raise the ratio to some 40 percent. In the past, Husan said, desktop monitors were a key peripheral of PCs, but has been increasingly adopted for point-of-sale systems, traffic hub systems, security and surveillance systems, and many others.
Leading Position
Hsuan said that AOC-branded monitors have a 45 percent market share in China, exceeding South Korean rivals as Samsung, LG etc. due to its brand image, sales-channel advantages, and comprehensive after-sales services.   
According to the chairman, TPV kicked off monitor production in Fujian in 1990 and began vending such product in China two years later. The early development of business based on the firm's vision is one of the decisive factors leading to TPV's current success in the big Chinese market. In conjunction with business development in the past 20-plus years, TPV now sells more than 10 million monitors per year in China. AOC branded monitors defeated Samsung and LG about five to six years ago in the Chinese market, in which the company also distributes other own-brands such as Envision, Maya, Great Wall, etc.
Tablet Biz
Regarding TPV's 2016 operations, Husan said that the company shipped about 20 million LCD TVs in 2015, and the annual volume is expected to further increase this year, in which the company will strive to improve the brand image of Philips in Europe. TPV acquired the Philips TV business and set up TP Vision in 2012, and the company has been striving to restructure and improve the European brand's partnership operation, product lines, and sales organizations.
Hsuan also said that TPV will have to enter the cellphone and tablet PC businesses, as mobile Internet has become a very mature technology after continual development for 10 to 15 years. In the mobile Internet ecosystem, Hsuan said, contents can be easily shared between different screen-integrated devices, so TPV will not overlook such segment with massive market potential.
Despite being a relative-latecomer in the cellphone and tablet PC market, Hsuan said, TPV avoided climbing the steep technological learning curve to have saved ample tuition fee in the unfamiliar field. When TPV decided to jump onto the bandwagon, the chairman said, the firm can utilize the advantage of its average annual shipments of some 70 million monitors. For example, he explained, TPV might adopt a sales strategy in which a tablet PC or a cellphone would be a bundled as gift with a 55-inch TV or large-sized monitor, coupled with the added bonus of the mobile devices to work as remote controller while their contents able to be shown on the larger screens.
TPV will try to tread its own path and target cross-platform customers by differentiating future products, Hsuan said, but without engaging in price-cutting competition. In addition, TPV will also target automotive display etc. products in the future, after completing its cross-platform integration plan.
Migration
As for TPV's investments in Taiwan, Hsuan said TPV has set up a Taiwanese subsidiary, Chi Lin Optoelectronics, with different partners on the island to produce backlight units (BLU), liquid crystal modules (LCM), as well as Philips-branded TVs for sale in Taiwan. 
However, the chairman said, regarding Taiwan's efforts to bring back expat tech operators in China, that labor rates between Taiwan and China are already very close. If the Taiwanese government does not first solve the problems of labor, land, and power shortages, then maybe only one percent of expat Taiwanese firms in China would relocate production back to the island.