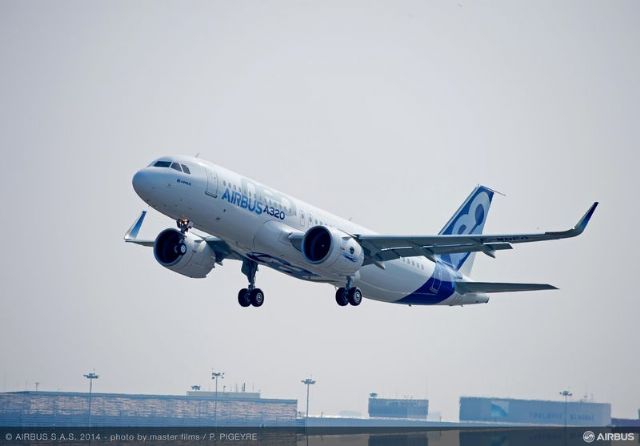 Airbus's recent delivery of A320Neo single-aisle jetliner to Lufthansa seen to generate opportunities for Taiwanese aviation parts makers. (photo from Airbus)
Airbus, recognized as the largest European aircraft maker, recently announced its delivery of the first A320Neo (New Engine Option) to the German airline Lufthansa. The foreseeable strong demand, to be buoyed by very low fuel prices that could last for some time with OPEC still unwilling to cut production to hold market share, for the A320 family aircraft is expected to benefit aviation parts suppliers in Taiwan, according to industry experts,
The A320 single-aisle jetliner family (composed of the A318, A319, A320 and A321) is reportedly the world's best-selling single-aisle aircraft series. To keep its competitive edge, Airbus continues to invest in improvements across the product line, including the A320Neo family, enhancements to the jetliner's aerodynamics such as Sharklets wingtip devices, upgrades to the widest passenger cabin in its class, and extended service intervals for the airframe. Improvements in the A320Neo family has achieved in the form of a per-seat fuel burn saving of 20 percent compared to current engine options on jetliners as far as 2020, along with extended range, reduced engine noise and lower emissions.
Designated the Neo Family, this lineup of aircrafts has been minimally changed with maximum improvement, including incorporating the last two latest-generation engine choices – CFM International's LEAP-1A and the PurePower PW1100G-JM from Pratt & Whitney (P&W)– along with the use of fuel-saving Sharklets wingtip devices.
Airbus says that from the first launch in 2010 it had booked almost 4,500 firm orders from about 80 customers worldwide with new engine options through December, 2015, comprising an important percentage of the more than 12,400 overall orders logged by Airbus for the entire A320 Family. And the European aircraft maker is very optimistic about increasing orders after its first delivery of the A320Neo.
Taiwan's flag-carrier China Airlines has just kicked off its fleet renewing project, reportedly planning to purchase at least 50 single-aisle jetliners together with affiliate including Mandarin Airlines and Tiger Airways. The planned, collective purchase being evaluated is comparing the A320neo to the B737max. 
Tapping Foreseeable Potential
With the abovementioned trend and upbeat market prospects, many Taiwanese aviation parts makers have been gearing up to explore opportunities and fill orders that will be generated by purchases of the A320Neo.
Aerospace Industrial Development Corp. (AIDC), recognized as the largest aircraft manufacturer on the island, says it is constructing its Engine Cell Manufacturing Center (ECMC) in southern Taiwan's Kaohsiung, where it will in the future have the full capability to manufacture engine cells in diameter up to 2 meters, including those that are applicable to A320Neo's LEAP engines.
Magnate Technology Co., Ltd., reportedly a major aviation component and assembly supplier, already supplies many items for the CFM56 aircraft engine currently adopted by A320, B737, etc. single-aisle jetliners. The Taiwanese aviation parts maker has also successfully tapped into LEAP's supply chain, and is expected to ship more items for the A320Neo lineup in the future.
Aerowin Technology Corporation, reportedly a maker specializing in super-alloy parts, who has already supplied aircraft engine maker P&W, has also tapped into the A320Neo supply chain, while continuing to explore opportunities to land more orders.