The establishment of the ASEAN Economic Community (AEC) on the last day of 2015 is a major milestone in the regional economic integration agenda in the Association of Southeast Asian Nations (ASEAN), offering opportunities in the form of a market with potential value of US$2.6 trillion and over 622 million consumers. In 2014 the AEC was reportedly the third largest economy in Asia and the seventh largest in the world.

Currently ASEAN has 10 member states: Indonesia, Malaysia, the Philippines, Singapore, Thailand, Brunei, Cambodia, Laos, Myanmar, and Vietnam; plus two observer states, Papua New Guinea and Timor-Leste (East Timor).

All major Taiwanese shipping and logistics companies, especially Evergreen Marine Corp. (EMC), Wan Hai Lines Ltd., Dimerco Express Corp., and T3EX Global Holdings Corp., despite recently reported overcapacity in the marine shipping sector, are aggressively eyeing potentially lucrative business opportunities created by increasing product shipments between Asian countries.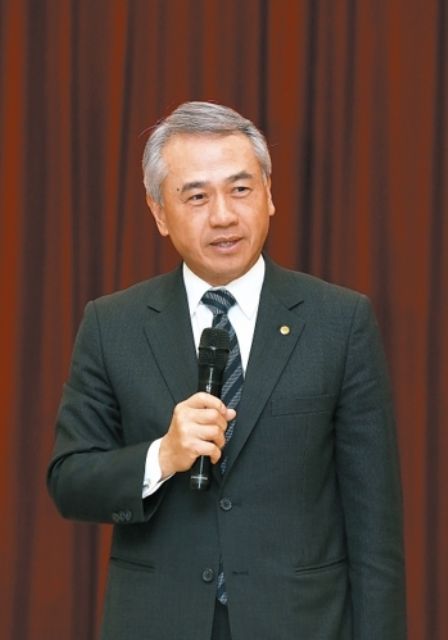 Bronson Hsieh, Evergreen's second vice group chairman. (photo from UDN)
Bronson Hsieh, Evergreen's second vice group chairman, pointed out that in recent years many shipping companies continued to build big ocean-going cargo ships, leading to oversupply of shipping capacity and underselling competition, albeit a few near-sea shipping routes in Asia remain profitable. After the establishment of the AEC, he added, freer flows of labor, services and capital within the regional market are expected to drive Asia's economic development and raise cargo-shipping volumes.
In 2015, Evergreen ordered 10 2,800 twenty-foot equivalent unit (TEU) container ships, 10 each from the Taiwanese shipbuilder China Shipbuilding Corp. (CSBC) and 10 from the Japanese company Imabari Shipbuilding Co., Ltd.
Evergreen plans to deploy all 20 of the new ships in the intra-Asia trade lanes. As ships operating in the intra-Asia trades spend much of their time in coastal areas and make frequent port calls, the ships are designed to reduce impact on port communities and their environments, Evergreen said. Evergreen's B-type vessels will be 211 meters in length, 32.8 meters wide, and have a design draft of 10 meters. The ships are designed to hold 13 rows of containers on deck, which is within the span of existing gantry cranes in the major ports on the intra-Asian trade routes.
An Evergreen container ship.
In addition to purchasing the mid-to-small-sized container ships, Evergreen has also been strengthening its deployments in shipping routes in Asia by offering new service routes to the Philippines, Vietnam, Malaysia, Singapore, etc. in the ASEAN.
Intra-Asia routes are already a focus of operation for Wan Hai, which has also been trying to develop more China-ASEAN and intra-ASEAN routes to expand operation and explore new territory.
T3EX, a major logistics firm based in Taiwan, already operates branches in Vietnam, Thailand, Cambodia and Indonesia, but plans to set up a new subsidiary in Singapore as group headquarters in ASEAN. T3EX's Singapore subsidiary is expected to help the company find more business opportunities in Malaysia, the Philippines, and Myanmar, where it may set up strategic alliances with partners in these targeted markets in the initial stage.
Dimerco has been cultivating logistics business in Southeast Asia for dozens of years, and set up its Filipino subsidiary as early as 1978. Currently, the firm's pan-Southeast Asia (including India and Oceania) service points have reached 32.
Edward Lin
,
 Dimerco's CEO, says that the ASEAN 10+6, i.e. ASEAN's 10 members in Southeast Asia and six partner countries including China, Japan, South Korea, India, Australia and New Zealand, are expected to soon form a focus in the global economy through the signing of the Regional Comprehensive Economic Partnership (RCEP) in the future, albeit the stages of economic development in the said countries vary. Continuously rising labor rates in China, abundant natural resources in ASEAN and wages in most ASEAN members that are lower relative to those in the West are expected to help make the region the next global factory, Lin said, implying that ASEAN has the potential to take over part of the capacity sidelined by China as it tries to shift from mainly contract manufacturing to an economy mainly driven by services and private consumption amid slightly declining GDP figures over the past couple years.