The ongoing issue of thin film thin film transistor-liquid crystal display (TFT-LCD) oversupply -- exacerbated by China's aggressive investment in production capacity as well as high equipment utilization -- will continue well into 2016, according to IHS Inc., a NYSE-listed firm that has been since 1959 offering critical informational and insight to government, industry in 180 nations.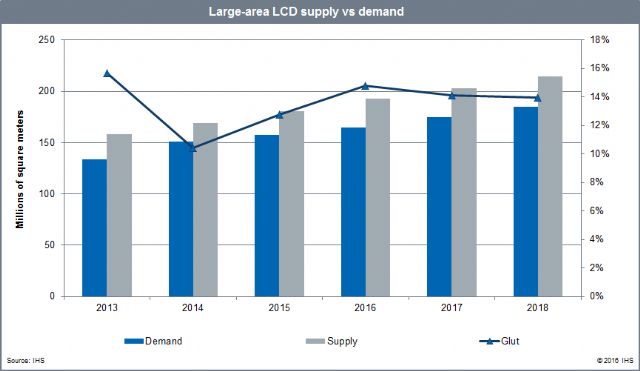 Large-area LCD Supply vs Demand 2013-2018. (Source: IHS)
The supply of large-sized TFT-LCD panels is expected to be 14 percent higher than demand in 2016, and to be 12 percent more than 2015, the research firm added.
Chinese TFT-LCD suppliers are maintaining high manufacturing targets and expanding capacity, partly thanks to Chinese government subsidies for start-up and infrastructural costs. On the other hand, IHS said, LCD TV demand, particularly in Russia, Brazil and other emerging countries, has not grown as expected, because of currency depreciation of the ruble and rial due to the crude oil glut, international sanctions, and corruption of the Brazilian state oil firm, coupled with slowing global economic growth and the recently exposed Zika virus in Brazil that is impacting tourism and hence forex earnings to undermine consumer demand there.
"Panel prices have declined to the degree where the breakeven point for manufacturers was reached in the fourth quarter of 2015," said Yoshio Tamura, displays director for IHS Technology. "Due to declining value of currencies in emerging countries, demand for higher priced LCD TVs will not rebound in 2016. Even so, Chinese panel makers are not planning to lower fab utilization anytime soon to expand market share, which means large-area LCD manufacturers will be in the red in 2016."
Chinese LCD panel suppliers are expected to adjust equipment utilization in the middle of 2016, according to IHS, and LCD oversupply will be eased in the second half of 2017. "If Chinese manufacturers don't lower their fab utilization in 2016, there will be an even greater negative impact on global LCD suppliers' profit margins," Tamura said.