While crude oil prices have plummeted to 13-year lows of around US$30 a barrel as of Feb. 1, 2016, according to global news media, sales of electric scooter (e-scooters) in Taiwan continue to increase steadily year by year, with a few major vendors commanding the lion's share of the market. 

China Motor Corp. (CMC), the local assembler of Mitsubishi- and CMC-brand passenger cars and trucks as well as the vendor of its self-developed line of e-moving e-scooters, continued to be the No. 1 e-scooter seller on the island in 2015 by vending a total of 6,589 new e-scooters. CMC is an affiliate of the domestic Yulon Group, and e-moving has been the largest e-scooter brand over the past six years in a row with market share that once soared to about 90 percent.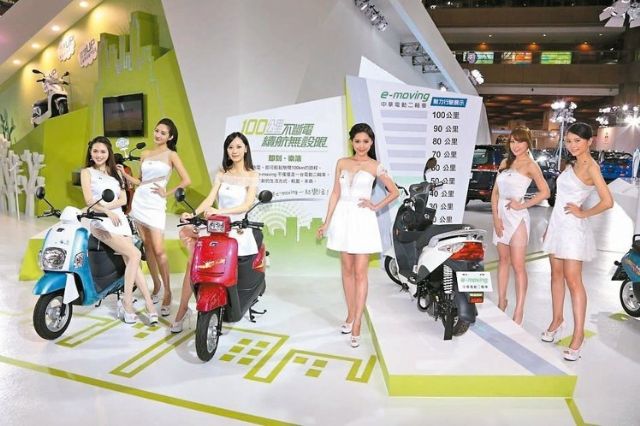 CMC's e-moving e-scooter line-up again put the vendor in No. 1 in 2015 e-scooter sales in Taiwan. (photo from UDN)
As the sales leader again last year, CMC said that it is still very optimistic about sales in 2016, in which the firm anticipates to ship some 8,500 new e-scooters to local consumers and post higher export volume, leading to a volume growth of more than 30 percent.
Record E-scooter Sales in Taiwan
Statistics compiled by Taiwan's Ministry of Transportation and Communications (MOTC) show that annual sales of e-scooters reached 11,087 units in 2015, higher than the originally targeted 9,000 units and for the first time outstripped 10,000 units annually.
CMC won a 60-some percent market share in last year's e-scooter market, and reported year-on-year (YoY) volume growth of 32 percent. In December 2015, the company hit record monthly sales volume of 1,051 units. To celebrate its sixth sales championship in a row, as well as encourage domestic consumers to replace their powered two-wheelers (PTWs) with environmentally-friendly commuting vehicles, CMC now provides a NT$3,000 (about US$100) incentive to buyers of  certain popular e-moving models. Any consumer wishing to buy one of the designated e-moving models with a scrap-ready two-stroke internal combustion engine (ICE) PTW, or an old e-moving model, is eligible for the cash incentive.
In the past six years, CMC said, it has sold more than 30,000 e-moving e-scooters in Taiwan. To provide high caliber and satisfactory services to riders, CMC has set up 40 regional service centers throughout Taiwan, providing regular inspections, vehicle repair and maintenance, road assistance, courtesy vehicles etc.
PTW Electrification
Currently there are about 14 million PTWs licensed on the island, including more than two million two-stroke, highly-polluting models (with 18 times hydrocarbon and double CO emissions than four-stroke models).   
To help develop the local e-scooter industry as well as promote the sales of such eco-friendly, short-distance commuting vehicles in Taiwan, the Cabinet set up a policy in 2009 aimed at replacing 50cc internal combustion engine (ICE) light scooters (mainly powered by two-stroke engines) with e-scooters. In 2014, the "Intelligent EV development Strategy and Action Plan" was passed, after which the government began subsidizing e-scooter purchases and has carried out various e-scooter demonstration projects (especially on closed circuits or roads such as school campuses). The e-scooter subsidies program will remain effective throughout 2017.
In the past few years, the government has subsidized about 43,000 e-scooter purchases. A piece of encouraging statistic is that e-scooters accounted for more than 60 percent of Taiwan's overall light-PTW market (including motorcycles and motor scooters) in 2015, up from only 0.3 percent in 2009.
Alongside the e-scooter subsidy program, the government has also been promoting low-carbon tourism on Taiwan's offshore islands by subsidizing various e-scooter leasing projects. A good example is I Sun Green Energy Co., Ltd., an e-scooter leasing firm established by auto leasers, which has purchased 2,444 e-scooters for operation on Penghu, Kinmen, Green Island, which are islets off Taiwan that are popular tourist destinations. Many other e-scooter leasing companies have followed suit, won government subsidies, purchased between 200 to 400 e-scooters, and are leasing the scooters on the said offshore islets.
As of the end of 2015, the government said, 6,981 e-scooters were available for lease via operators throughout Taiwan and on offshore islets. The government's program to promote e-scooter adoption and green tourism in Taiwan continue to drive the eco-conscious cause that is politically-correct, as well as enabling such green vehicles to gain popularity as practical options in urban, short-distance commuting.