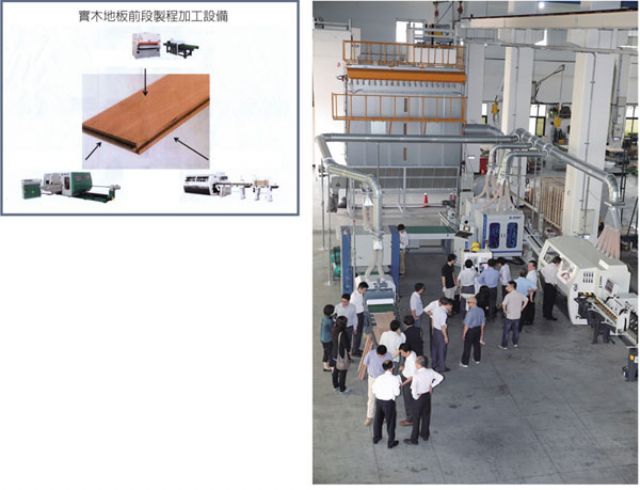 An automated turnkey production line by the W-Team.
Various trade groups and governmental bodies have been working aggressively to help Taiwan to meet the goal of becoming the world's No.3 woodworking-machinery supplier in 2016 and boosting production revenue of its machine-tool industry to US$6.91 billion by the end of 2020.
Currently, Taiwan is the world's No.4 woodworking machine tool supplier by market share, trailing only Germany, Italy and mainland China. Its machine-tool production revenue was US$4.49 billion in 2015, ranking No.7 globally.
To attain the ambitious goal, the island's woodworking-machinery industry has been earnestly developing high value-added products. In 2012 and under the coordination of the Industrial Development Bureau (IDB) of the Ministry of Economic Affairs (MOEA), local woodworking-equipment builders launched a partnership named W-Team, short for Woodworking Team or Win Team.
Under this project, local makers have so far formed seven teams with the mission to develop seven different types of automated turnkey production lines for world buyers, according to the non-profit Precision Machinery Research & Development Center (PMC).
Team 1, composed of around 50 makers, has unveiled an automated turnkey line for solid-wood flooring production by putting together a four-sided molder, double-end tenon jointer, sander, wood-dust collector, and central vacuum. This model boasts dust-free plant or work setting throughout production, able also to achieve 30 percent higher output with only three machine operators, better than the seven normally required.
Another notable rollout is the multinational production line for making cabinets developed by Team 5, which integrates the line with an automatic panel saw, double-edge banding machine, and automatic through-feed drilling machine plus a computerized production management system.
The line can put out 1,450 boards for cabinet production per day at processing rate of 20 meters of board per minute, with maximum cutting size set at 100cm x 60cm.
PMC points out that this production line can make boards of different sizes thanks to its flexible production design, which enables this line to complete boards originally needing six single-function machines.
Team 7, mainly made up of Kuoming Electric Co., Ltd. and E-Chain Machinery Co., Ltd., has introduced an automated plywood production line, consisting of a double-sided glue applicator, an automatic feed machine, a high-frequency processing machine, a longitudinal double-end sizer, a cross-feed double-end sizer, and a computerized management system.
The plywood line processes boards that are traditionally completed on eight single-function machines.
According to PMC, the seven teams have generated total sales revenue of around US$344.50 million since 2013, or as much as US$214.50 million in 2015 alone. They have shipped the automated production lines to Canada, Australia, mainland China, and Vietnam. The woodworking machine tool industry in Taiwan, composed of over 300 equipment makers, as a whole generates sales revenue up to US$666 million a year.
According to IDB, a key motivator behind the W-Team project, points the finger at reckless underselling by mainland Chinese equipment manufacturers that is practically destroying profitability of Taiwanese manufacturers. Senior bureau officials emphasize that the island's woodworking-machine industry must evade competing against low-end Chinese makers whose forte is single-function machines as Taiwan moves towards becoming the world's No.3 woodworking-machine exporter by 2016.
They are confident that Taiwan manufacturers will overtake their mainland Chinese competitors as the world's No.3 woodworking-equipment supplier in consideration of Taiwan's well developed information-communication technology (ICT) and cloud-computing technology, which are crucial to computerized control systems that make automated turnkey lines possible.
Although Taiwan still lags the mainland on the global woodworking-equipment market in terms of market share, PMC contends that the island has actually exceeded the mainland as the No.3 supplier in terms of the technologies included in the machines.
In the global market of machine tool, Taiwan led the mainland with export revenue of US$3.1 billion in 2015 alone, ranking as the globally No.4 exporter. Still, the revenue represents a 14.9 percent decline year on year due chiefly to decelerating demand in mainland China, which is the primary export destination for Taiwan's machine tools; and the strong NT-dollar-to-greenback rate relative to weaker counterparts of South Korean won and Japanese yen.
According to market consultancy Topology Research Institute (TRI) of Taiwan, in 2015 Taiwan's machine-tool industry generated revenue of US$4.49 billion, making it the world's No.7 manufacturer. It projects the Taiwanese industry's revenue to rise to US$6.91 billion in 2020, with export revenue estimated at US$4.65 billion, in anticipation of the growing markets in Southeast Asia, Latin America, and developed economies.
The world's top-four machine-tool exporters are Germany, Japan, Italy and Taiwan. However, mainland China is the world's No.1 maker by production revenue, followed by Germany, Japan, South Korea, and Italy.