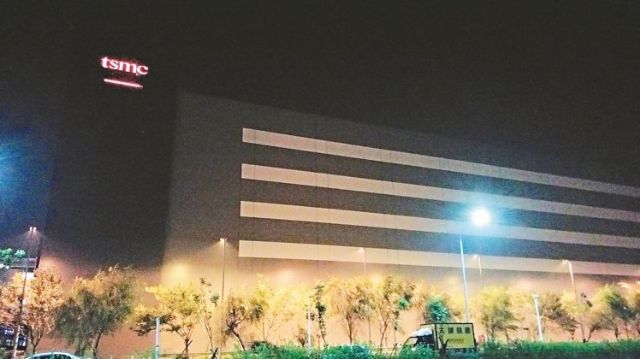 TSMC raises revenue guidance for Q1 by 1-1.5 percent in spite of losing 120,000 wafers in the Feb.6 earthquake. (The company's factory at the Southern Taiwan Science Park shown)
Taiwan Semiconductor Manufacturing Co. (TSMC) has announced revising upward its consolidated revenue guidance for the first quarter by 1 to 1.5 percent, to somewhere between NT$201 billion (US$6.09 billion) and NT$203 billion (US$6.15 billion), despite its 120,000 silicon wafers of chips having been damaged in the 6.4-magnitute earthquake that struck southern Taiwan on Feb. 6, where TSMC, recognized as the world's No.1 contract-chip maker, operates several sizable factories.
The company bases its growth forecast mostly on encouraging order volume and the devaluing NT-dollar-to-greenback rate that makes chip exports more competitive.
The forecast is calculated based on the exchange rate of NT$33.18 to one US dollar to suggest the company expects the NT-dollar to further fall around 2.1 percent by the end of this quarter.
Although the company has raised the target for its consolidated revenue, it has cut the targets of its gross margin ratio and operating income ratio for this quarter by around three percentage points. Industry executives associate such cuts with the cost the company will pay to clear the broken silicon wafers and purchase new wafers.
Industry executives believe TSMC's prompt forecast announcement is simply efficient damage control in the wake of the quake that even toppled a high-rise condo to have buried alive over 100 residents, tilted a high-rise hotel under construction, sank several low-rise row houses and resulted in liquefaction in southern Taiwan. By doing so, the company wants to quickly put shareholders and customers' minds at ease. 
They say after the disastrous quake, global chip supply chains are worried that supply shortages will hit the contract-chip making sector and have begun vying for secure contract-manufacturing capacity.
TSMC says none of its factories at the Southern Taiwan Science Park sustained structural damage in the quake, but the violent shakes have broken 120,000 wafers of chips under processing at its Fab 14A and Fab 6, which are a 12-inch wafer factory and an eight-inch wafer factory, respectively.
The latest broken-wafer number publicized is around twice as many as the number industry executives had originally estimated and exceeds that the company had announced on the day of the earthquake.
The two factories, TSMC says, will take longer time than originally estimated to resume production to normal levels.
TSMC says Fab 14A has around 100,000 damaged wafers to delay deliveries by 10 to 50 days, with Fab 6 suffering the remaining 20,000 broken wafers to push backward deliveries by five to 20 days.
The chipmaker's Fab 14B factory at the science park was totally spared by the quake. All of its factories at the Central Taiwan Science Park and the Hsinchu Science Park have also been left completely unscathed.
TSMC says it will make all-out effort to work with customers and repair damages to refill orders as soon as possible.
Industry executives point out that TSMC and United Microelectronics Corp. (UMC), recognized as the No. 2 contract-chip supplier in Taiwan, are competing to buy silicon wafers from Formosa Sumco Technology Co., Ltd. and Topco Scientific Co., Ltd. to make up for the lost wafers. Topco is reportedly Taiwan's No.1 maker of 12-inch wafers with annual output capacity of 280,000 units while Topco is Shin-Etsu Chemical Co., Ltd. of Japan's Taiwan agent.
Although TSMC has raised its revenue target for the first quarter, the forecast represents a 1.5 percent decrease or is just on a par with the level in the previous quarter.
In January alone, the company generated consolidated revenue up to NT$70.85 billion (US$2.14 billion), ending the downtrend in the previous three months to rise 21.4 percent from a month earlier.