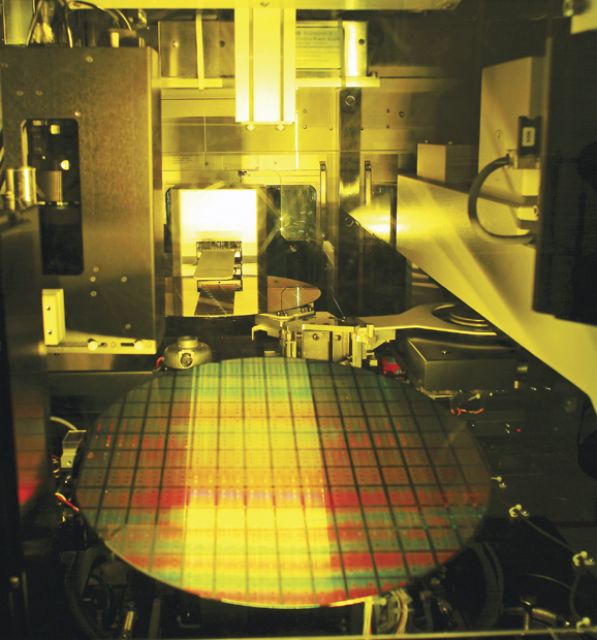 IEK forecasts Taiwan's semiconductor industry to generate revenue up to NT$2.3tn in 2016. (Photo courtesy of TSMC)
The overall revenue of Taiwan's semiconductor industry is projected to rise 2.2 percent year on year, to NT$2.3 trillion (US$69.69 billion) in 2016, according to the Industrial Economics Knowledge Center (IEK) of the government-backed Industrial Technology Research Institute (ITRI).
The organization recently released the forecast along with its projections on the development of the island's other top-nine information-communication technology industries in 2016.
It estimates the silicon-foundry sector of Taiwan's semiconductor industry to alone rise by the industry-peer-leading 6.5 percent and memory-chip making sector to, in contrast, plunge by a steep 20 percent.
According to the IEK, last year integrated device manufacturers (IDMs), chipmakers furnished with integrated manufacturing capability encompassing chip designing, manufacturing and, sometimes, assembling, as a whole outperformed pure IC design houses in terms of revenue generated as a result of their increasing involvement in developing system-on-chips (SoCs), or multitasking chips.
IEK executives note that the trend suggests IDMs have more or less reduced placing contracts with silicon-foundry providers, or pure chipmakers.
The center predicts automotive electronics to become the most promising market in 2016 for the island's chipmakers in terms of growth pace in light of increasing availability of onboard Internet-based applications. This market, the organization reports, was first identified by Taiwan's chipmakers.
IEK executives estimates the compound annual growth rate (CAGR) of global automotive-electronics market at around 6 percent between 2014 and 2019, with the market revenue projected to rise to US$168 billion by 2019.
They project electronics to constitute up to a half of the cost for building a car over the next few years, up from 35 percent in 2010.
They also estimate increasing availability of onboard smart devices to drive up adoption of semiconductor devices in a car to an average US$610 by 2018. For instance, at the Consumer Electronics Show (CES) 2016 in Las Vegas, the world's top-nine carmakers competed to exhibit smart concept cars that automatically stop upon being flagged by owner and start engines upon receiving encrypted signal from owners' smartphones.
Also, the smart technology allows owners to view data of their cars on home TVs and enable control of their household appliances via cars as they approach their homes.
IEK executives point out that cloud computing and Internet of Things (IoT) will drive the development of a multitude of new ICT products before the next stellar industry or trend forms. Accordingly, to occupy an advantageous position in the competition for supremacy in the next star industry, they suggest local ICT makers ride the wave to tap opportunities presented by IoT and cloud to the next trend-setting market by working with brand-name and generic suppliers as well as innovation startups.
Quanta Computer Inc., for instance, has built direct-marketing model for its generic cloud data center service and is trying to bring onboard Cisco Systems Inc., Hewlett-Packard Co., and Huawei Technologies Co., Ltd. with their sharing network function virtualization (NFV) platforms.