Worldwide notebook PC shipments totaled 164.4 million units in 2015, representing a year-on-year (YoY) decline of 6.3 percent, according to the market research firm TrendForce, which attributes such clear decline to the impact of currency depreciations in Europe and the emerging markets, such as Latin America. In addition, the release of Windows 10 operating system (OS) in the third quarter and Intel's Skylake central processor in the fourth quarter also delayed consumers' notebook purchases.

"HP and Lenovo will still be rivaling for the top spot in the notebook market during 2016," said TrendForce notebook analyst Anita Wang. "HP has a good chance of holding the most market share this year and maintaining its leadership position because of the relatively stronger U.S. market. Dell will likely retain third place in the notebook shipment ranking for this year. As for ASUS, Apple and Acer, their struggle for the fourth, fifth and sixth positions in the 2016 ranking will be fierce since they have similar market shares of just around 10 percent."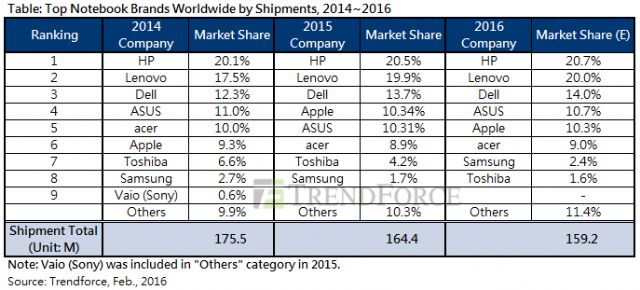 Top-9 Notebook PC Brands Worldwide by Shipments 2014-2016. (Source: TrendForce)
Wang added that competing brands are waiting to take over Toshiba's remaining international market share as the Japanese brand may soon give up selling its notebooks abroad. Furthermore, South Korea's Samsung may try to revitalize its notebook business this year and aggressively expand the brand's market share. Microsoft and new entrants such as Xiaomi and Huawei will also roll out notebook products. However, shipments from these three brands will be limited this year because they will be just testing the market initially.
Key Players
The strong U.S. demand drove HP's notebook shipments from the beginning of last year's second quarter. Though HP's shipments for 2015 were smaller in volume compared with 2014's, the vendor retained its No. 1 ranking with a 20.5 percent market share worldwide.
Lenovo's 2015 notebook shipments grew 6.9 percent YoY and followed closely behind HP with a market share of 19.9 percent (figures excluding shipments from brands acquired by Lenovo). Despite the demand in Europe being generally weak, Lenovo continued to develop its sales channels there. By expanding its market share in Europe, the Chinese brand was thus able to increase its overall notebook shipments against headwinds.
Dell retained third place in the 2015 ranking on account of the robust sales of its Chromebook in North America. The brand saw its notebook shipments grow 4.3 percent annually and took 13.7 percent of the global market.
Apple's Up
The competition among the fourth-, fifth- and sixth-place brands had been fierce throughout 2015. Apple managed to overtake ASUS and Acer to become the No. 4 brand in the annual ranking. New MacBook models and strong demand in the U.S. drove Apple's notebook shipments, bringing its global market share to 10.34 percent.
A notebook PC made by ASUS, the No. 1 vendor in Taiwan, and No. 4 in the world. (photo from ASUS)
Taiwanese PC vendor ASUS focused its sales efforts on notebooks during last year's final quarter, resulting in a massive quarterly shipment growth of over 70 percent. Nonetheless, the Taiwanese brand's annual result was still below Apple's. ASUS accounted for 10.31 percent of the global market by the end of 2015 and fell to the fifth place in the ranking.
Another PC vendor headquartered in Taiwan, Acer's notebook business faced challenges in different regions during 2015. The Taiwanese brand lost market share to Lenovo in Europe, and its Chromebook sales in the U.S. were impacted by tough competition from HP and Dell. Consequently, Acer's 2015 notebook shipments fell considerably by 16.6 percent from the the previous year. The company retreated to No. 6 in the annual ranking, taking just 8.9 percent of the global market.