The Aerospace Industrial Development Corp. (AIDC), Taiwan's largest aircraft maker by size and also known for developing the AIDC F-CK-1 Ching-kuo fighter several decades ago, recently said that its delegation led by company chairman Anson Liao had gone to the Singapore Airshow 2016, Asia's largest and one of the most important aerospace and defense exhibitions in the world.

Despite being absent as exhibitor at the show, AIDC said that it has landed a big ticket order to supply several key parts for the MRJ (Mitsubishi Regional Jet) developed by Mitsubishi Group of Japan, with whom AIDC has since the start worked on the jet development project.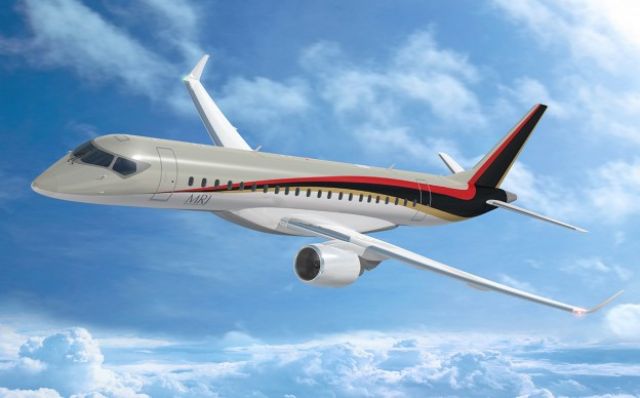 MRJ, a brand-new regional jet with key parts supplied by Taiwan's AIDC, an ODM from the project outset. (photo from Mitsubishi Aircraft)
According to Mitsubishi Aircraft, Aerolease Aviation, a Florida-based lessor with a portfolio of 40 used Boeing 757s, signed a letter of intent (LOI) for 10 MRJs plus 10 options, during the Singapore Airshow 2016. Aerolease became the first lessor to commit to the MRJ. The 10 firm MRJ90s are slated to start for delivery to Aerolease in 2018. Mitsubishi Aircraft expects the LOI to be turned into a definitive agreement in the next month or so. The value of the firm order reportedly is about US$940 million.
MRJ
MRJ is a family of 70- to 90-seat next-generation aircraft featuring the Pratt & Whitney's revolutionary PurePower engine and state-of-the-art aerodynamics to drastically reduce fuel consumption, noise, and emissions, while offering top-class operational benefits, an outstanding cabin designed for heightened passenger flying comfort with large overhead bins. The MRJ took off on its inaugural flight on November 11, 2015.
The new jet will also mark the first extensive use of composite materials in the main wings and empennage (tail assembly), feature a game-changing engine, and state-of-the-art aerodynamic design, which will significantly cut fuel consumption contributing to improved competitiveness and profitability for airlines.
In 2009, Mitsubishi Aircraft signed a contract with AIDC, under which the Taiwanese firm will design and manufacture slats, flaps, belly fairings, rudders and elevators for the MRJ. AIDC is also the only foreign key-parts supplier to MRJ.
AIDC chairman Liao pointed out that differing from AIDC's role as a second- or third-tier component supplier to Boeing and Airbus' aircraft models, the MRJ development project is the first regional jet Original Design Manufacturing (ODM) project AIDC has taken part in as a tier-1 partner. The MRJ project takes on groundbreaking significance for AIDC, Liao added, as most aircraft makers have seldom launched brand-new aircraft models in recent years, so AIDC's participation in the jet developmental plan is expected to further upgrade its technical capability and international reputation.
The Singapore Airshow has been a major platform for global aerospace and defense companies showcasing their latest products to buyers especially in Asia, a region that continues to generate reportedly the highest demand for new aircraft in the world despite uncertain economic growths in the U.S., China and the European Union. Every two years, high-level government and military delegations, as well as senior corporate executives around the world attend the Singapore Airshow to forge partnerships and seal deals in this region. As Asia's largest airshow, this is the place for leading aerospace companies and budding players eager to make their mark in the international aerospace and defense market.
In the Paris Air Show 2015, AIDC signed agreements with international aircraft-engine makers GE and Rolls Royce to win supply contracts with duration ranging from four to 13 years. In Farnborough International Airshow 2014 held in the U.K., AIDC won Airbus' order for belly fairings on A320 jetliners; and Boeing's for different items on B787 Dreamliner, a long-range, mid-sized, wide-body, twin-engine jet airliner.