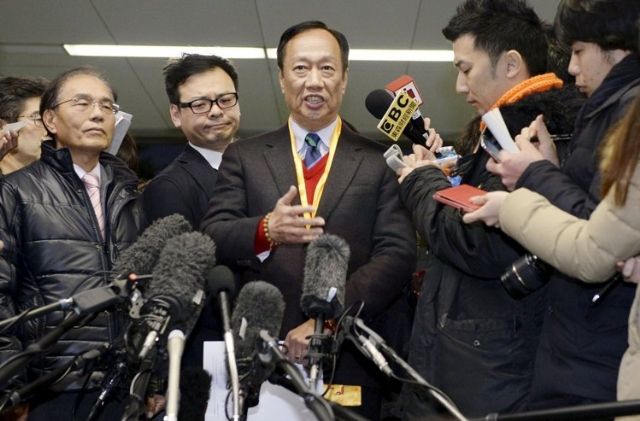 Hon Hai-Foxconn CEO Terry Guo announces postponed signing of Sharp acquisition.
The Hon Hai-Foxconn Technology Group has reportedly announced its decision to put on hold its deal to acquire the financially troubled Sharp Corp. of Japan, due to its having to clarify the contents of a document that Sharp Corp. delivered on Feb. 24.
The announcement came shortly after Sharp had announced its agreement to the buyout, which is estimated at around 489 billion yen (US$4.3 billion).
The document delivered by Sharp, according to the Wall Street Journal, is a 100-point list of Sharp's 350 billion yen (US$3.0 billion) related to contingent liabilities.
Chinese news reports in Taiwan allege dishonesty or cover-up on the part of Sharp as Terry Guo, Hon Hai CEO, has been feverishly working over the past year to finalize the acquisition. Hon Hai-Foxconn said most of the points in the list had never been revealed in any acquisition talks between the two sides and it did not receive the document until the day before Sharp's board of directors held a meeting on the buyout decision.
People familiar with the deal point out that Hon Hai-Foxconn, recognized as Taiwan's No.1 manufacturing conglomerate by revenue, will not rush to sign the deal before February 29 until it has a clear picture of Sharp's hidden debts.
Sharp stocks once plunged 17 percent on February 24 after trading resumed following a pause for Sharp's board meeting that approved the acquisition. Industry executives associate the plummet in share price with Hon Hai-Foxconn's decision to postpone the signing.
According to the Journal, Foxconn had already notified Sharp on the same day before Sharp held its board meeting last Thursday that it intends to better understand the contents.
Sharp's directors agreed to accept Hon Hai-Foxconn's offer of 489 billion yen for 65.9 percent ownership in the century-old Japanese electronics giant after selling new stocks to the Taiwanese conglomerate.
Sharp plans to issue 3.28 billion new common shares at 118 yen (US$1.04) per share, with 1.3 billion shares set for subscription by Hon Hai Precision Industry Co., Ltd., 915 million shares for Foxconn Far East Ltd., 640 million shares for Foxconn Technology Co., Ltd., and 420 million shares for SIO International Holdings Ltd., which is held by Hon Hai-Foxconn CEO Terry Guo. The issue is estimated to raise 387.2 billion yen (US$3.4 billion) for Sharp.
Also, the Japanese company will issue 8.62 million preferred shares at 11,800 yen (US$104.42) apiece to raise 101.72 billion yen (US$900.17 million).
Shortly after Hon Hai-Foxconn announced the postponement of the signing, Sharp President Kozo Takahashi on Feb. 26 rushed to ask to meet Guo at Hon Hai-Foxconn's main factory in Longhua Sub-district, Shenzhen, southeastern China, where Guo was on a supervisory trip. The two parties had reportedly met at 8 p.m. but not finished negotiations as of 10 p.m. on the day.
Although Takahashi arrived in Shenzhen at midday, Guo was reportedly too busy to meet the Japanese executive until 8 p.m.
Industry executives feel that Guo must have been annoyed by Sharp this time. Four year ago on the eve of signing the deal Sharp stocks tumbled, but Sharp insisted selling its stocks to Hon Hai-Foxconn at 550 yen (US$4.86) per share. Guo and his group refused to buy to result in the deal falling through and Sharp's criticism of Hon Hai-Foxconn lacking integrity. This time, Sharp again tried to label Hon Hai-Foxconn as being short on integrity, albeit neglecting its own dubious, last-minute disclosure of the contingent liabilities.
The two sides finally decided in the Feb. 26 meeting not to set a definite date for the signing although some Japanese news media report that the two will delay the date to March 7.
Industry executives point out that Hon Hai-Foxconn's takeover of Sharp would be the most expensive acquisition of a Japanese company by a foreign company in history. However, the acquisition will result in sizable return on investment for the Taiwanese contractor, for Apple's orders for Sharp's display panels total NT$100 billion (US$3.03 billion) a year.
Sharp fills around 30 percent of Apple orders due to its iPhones and iPad tablet PCs.
Sharp has unseated Samsung Electronics as Apple's biggest supplier of the panels after the South Korean electronics giant became Apple's foremost rival in the smartphone industry and has reportedly infringed on Apple's patents several times.
Industry executives estimate Apple will begin to integrate organic light emitting diode (OLED) display panel into its iPhones by 2018 in consideration of the growing maturity of the technology. Sharp's indium gallium zinc oxide (IGZO) has made its OLED screens much more energy efficient and clearer than Samsung's and LG's.
Display-panel industry executives point out that the acquisition will boost Hon Hai-Foxconn's panel subsidiaries thanks to the unique technology, which Sharp has asked Hon Hai-Foxconn to retain as proprietary secret.