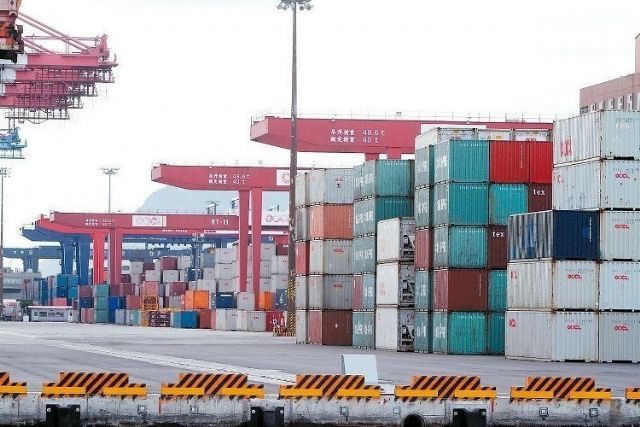 Taiwan's export orders in Jan. sees the steepest drop in six years.
Taiwan had US$34.19 billion in export orders in January, contracting 12.4 percent year on year to mark the island's steepest export-order recession in six and a half years for the second consecutive month of double-digit decline, according to Taiwan's Ministry of Economic Affairs (MOEA).
Lin Li-chen, director of the ministry's Department of Statistics, predicts the island's export order to continue declining throughout most of the first quarter of this year as it did throughout the second half of last year, with positive growth unlikely until May.
She ascribes the export order reduction in January mostly to the decelerating global economy, anemic market demand for mobile computing devices, lingering weak commodity prices, and comparatively high base period in the same month of last year.
Recent TV news reports on CNN, CNBC and Bloomberg say that China's manufacturing activity continues to slide as it tries to stimulate consumer spending to prop up its slowing economic growth; while sub-35-greenback per barrel crude oil prices weigh on the economies of Saudi Arabia, Brazil, Venezuela, Russia, the U.S. And the mineral-dependent Australian economy trudges along amid the weakening Aussie dollar. Such discouraging scenario, coupled with weak demand for mobile digital devices that likely is associated with the Chinese stock market sell-offs of late, also helps to explain the declining Taiwanese exports.
Taiwan's industrial sectors that saw order reduction included information-communication technology (ICT), electronics, precision instruments, base metals, chemicals, machinery, and plastic/rubber products. 
MOEA's statistics show that the island's ICT industry as a whole saw orders fall around 10 percent year on year to less than US$10 billion in January due to weak global market for smartphones and low season for laptop computers.
In the meantime, the island's machinery industry had only US$1.5 billion of export orders, down 16.6 percent year on year and fewer than the orders received last December. However, the pace of downtrend represented a slowdown from the year-on-year rate registered a month earlier.
Lin puts Taiwan's export orders at between US$26 billion and US$27 billion for February, the lowest February result for the island's export orders in seven years partly because of relatively fewer workdays due to the Chinese New Year break that spanned Feb. 6 through 14.
The ministry points out that this year Taiwan's export orders will vary closely according to three major global factors: crude oil prices, competitive currency devaluations in Asia, and manufacturing overcapacity in mainland China, which reportedly buys some 40 percent of Taiwanese exports.
With international crude oil prices having dipped to around US$30 a barrel as of late February from US$40-50 quoted last year, Lin says crude oil prices will continue affecting the global economy this year, thereby affecting Taiwan's exports.
In January, the NT-dollar-to-greenback rate fell 1.9 percent from a month earlier, on average. In the meantime, the Chinese yuan, or renminbi, devalued 1.8 percent against U.S. dollar, with the South Korean won falling a staggering 2.5 percent, suggesting the intense currency devaluation competition has not slowed among major Asian nations.
Overcapacity in mainland China's steel-making and display-panel industries will continue to hobble Taiwan's exports of the two products to the mainland and Hong Kong, Lin says.
In January, Taiwan received US$8.26 billion of orders from the mainland and Hong Kong together, down 11.9 percent year on year. Lin points out that most of the recession was attributable to lower orders for the island's display panels and ICT products.
She notes that Taiwan depends on the mainland and Hong Kong for over 60 percent of orders for display panels. And although Taiwan's display panel industry has migrated to high-end products, Taiwanese manufacturers still have been hit hard by the mainland's overcapacity, which has further fueled underselling competition.
Despite decreased orders for the island's total exports in January, Taiwan's silicon foundry industry in that month received increased orders relative to the final month of 2015 thanks to clearing of inventories throughout the semiconductor supply chain worldwide, according to Lin.