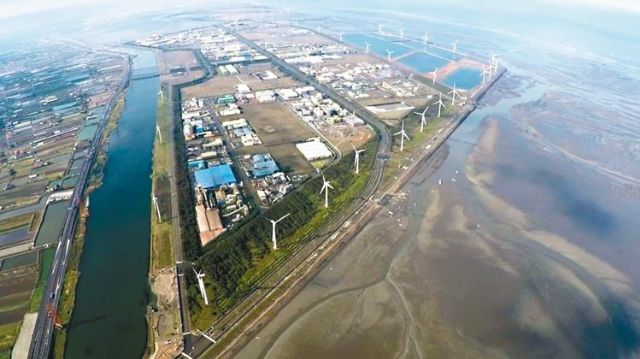 Bird's-eye view over wind turbines installed in the Changhua costal area, central Taiwan. (photo from UDN)
Taiwan Power Co. (Taipower), the state-owned power monopoly in Taiwan, recently announced it plans to invest some NT$400 billion (US$12.12 billion) into the development of renewable energies, of which more than 80 percent of such investment to go to offshore wind farms.
According to Taipower's plans, the company will install 300 wind turbines in the Changhua costal area that lies off the county in central-western Taiwan, including 22 turbines that are scheduled to start up by 2018 to provide about 2.5 percent of the total power supply in Taiwan after completion.
Other renewable-energy projects include setting up a geothermal electric power plant on Taiwan's offshore Green Island (about 37 km. east of Taitung, a town on the southeast coast), which is expected to kick off operation by 2017; a small hydroelectric power generator at Liyutan Reservoir (central Taiwan) that is planned for start-up by 2020.
Amid recent news reports of power shortages in Taiwan after the decommissioning of its nuclear power plants and protests against reactivation, to achieve the goal of making renewable energies account for 15 percent of Taiwan's overall electric power supply by 2030, Taipower has mapped out a mid-term plan to pour more than NT$400 billion (US$12.12 billion) over the next 15 years to install total renewable-energy power capacity of 3,500 megawatts (MW), including 1,800MW of offshore wind power, 1,000MW of solar power, and 700MW of terrestrial wind and geothermal power.
A senior Taipower official pointed out that the planned construction of the targeted offshore wind power capacity will cost about NT$330 billion (US$10 billion), or more than 80 percent of the total investment. In the future, he added, about 80 percent of the planned wind-power capacity will be installed in the Changhua costal area, with the remaining 20 percent in Penghu or Pescadores, an islet off the south-central coast of Taiwan about midway in the Taiwan Strait renowned as a tourist destination because the seabed in Changhua is flatter.
The first-stage wind farm construction project in the Changhua coastal area is scheduled to kick off by 2017 and begin supplying electricity by the end of 2018, the Taipower official said. The initial stage will see installation of 22 wind turbines, which can add about 110MW of electric power to the total.
He also added that a trial low-depth geothermal generator will be installed on Green Island and the whole project is scheduled to start up in the second half this year with a test well to be drilled. The generator will be installed in 2017 for trial operation, with initial-stage generation capacity of 400 kilowatt (kW). In the future, the official said, the project is expected to generate capacity of 2,000 kW, about half of the needed electricity on the offshore island.
Taipower has also completed feasibility studies for Liyutan Reservoir (4,000 kW), Hushan Reservoir (2,000 kW), and Jiji Diversion Weir (6,500 kW), all in central Taiwan. The hydro-power project at Liyutan will kick off by 2017 and is expected to start commercial operation by 2020. In addition, the power company said that some other locations have also been chosen for hydroelectric power generation potential.