Television technology occupied center stage at the 2016 Consumer Electronics Show (CES) in Las Vegas, with major vendors showing off their latest high-resolution sets during the event, according to WitsView, a division of TrendForce, which says its website was founded in 2000 and headquartered in Taipei, Taiwan as a global provider of market intelligence on the technology industries, with membership base of 410,000 subscribers.

Ultra-high-definition (UHD) resolution is the basis on which TV brands will make further improvements on their products. As the market gradually matures, the TV industry aims to rekindle consumers interests with features such as high dynamic range (HDR) imaging, active-matrix organic light-emitting diode (AMOLED) displays and ultra-thin sets, said Boyce Fan, senior research manager for WitsView.

Besides LCD TVs, the emerging application of automotive displays has also generated excitement in the panel market. Many news reports continue to detail the rising investments by Taiwanese AMOLED display makers who find better profitability in automotive applications.

Ultra HD Premium
During this year's CES, WitsView said, the TV industry has established the "Ultra HD Premium" standard to meet the demand for superior viewing experience.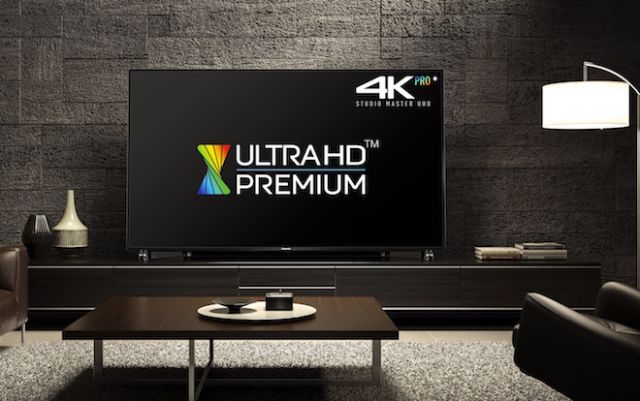 An Ultra HD Premium TV set unveiled by Panasonic. (photo from Internet)
WitsView projects the market penetration of 4K TV sets to reach 22 percent in 2016 as the popularity of the UHD format continues to grow. Also consumers' demand for superior picture quality has again pushed the concept of HDR to the forefront of innovations. The previous promotional efforts for HDR came from the hardware side of the industry. This year's HDR campaign, however, is industry-wide and integrates all the critical elements – content offerings, channel broadcasting and end devices, WitsView said. Moreover, the industry group UHD Alliance tapped the 2016 CES as an opportunity to introduce the Ultra HD Premium, the next-generation UHD standard.
AMOLED
Another notable observation by WitsView at CES 2016 being South Korean panel makers' accelerated development of active matrix organic light-emit diode (AMOLED) technology to widen their lead over Taiwanese and Chinese competitors. South Korean makers of consumer electronics are regularly reported as being archrivals of Taiwanese counterparts.    
LG Electronics (LGE), Panasonic and several Chinese TV brands all unveiled their AMOLED UHD products at this year's CES. Shipments of AMOLED TV sets worldwide may hit 1 million units this year, according to WitsView.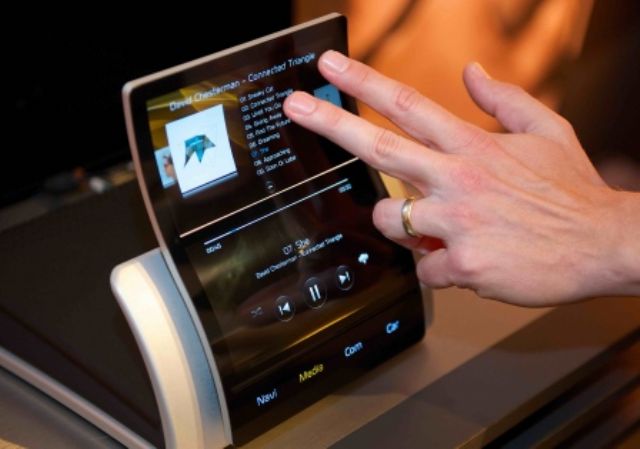 Increasingly more vehicular infotainment systems will adopt curved displays to be compatible with stylish interior designs. (photo from Internet)
The cellphone-application panel market is also seeing increasing adoption of AMOLED technology as Samsung Display Corp. (SDC) of South Korea steps up sales of such technology to other branded smartphone makers. Consequently, more Chinese smartphone brands have released models with AMOLED displays, and the technology's influence in the high-end smartphone market is expected to grow.
Likewise, WitsView added, monitor and notebook brands have been exploring the prospect of using AMOLED displays for their high-end products as well. Fan noted the absence of significant differences among panel products in the saturated thin film transistor-liquid crystal display (TFT-LCD) market. Therefore, AMOLED has become the new rising star on the block wielding an advantage for South Korean panel makers as they again try to extend their competitive lead over their Taiwanese and Chinese rivals. South Korean panel suppliers' plan to accelerate their AMOLED development is evident in their increasing investments in the technology.
Finally but no less influential, according to WitsView, is that the growth in the automotive-application panel market will drive demand for specially shaped and curved display screens in vehicle applications in the future.
Fan pointed out that advances made on infotainment systems, advanced driver assistance systems (ADAS) and other telematics platforms have greatly fueled potential consumer demand for in-vehicle infotainment displays. These various sources of demand, WitsView said, will in turn spur the growth of the panel market for automotive applications. Also, aesthetics plays a major role in the development of new panels for vehicle applications. The demand for specially shaped and curved panels is likely to rise rapidly in response to changing design requirements of future vehicles.