After years of focusing on rolling out speedy, high-precision and high value-added machine tools able to process workpieces along multiple axes, Quick-Tech Machinery Co., Ltd. is now shifting emphasis to develop user-friendly control system and innovative functionalities.

Among the latest machines underscoring the company's cutting-edge designs are the patented T8 Hybrid series and the i-42 Ultimate series CNC turning-milling combo. These models are equipped with dual-cutting units, a tempered glass door displaying icons showing operational status, an adjustable control panel, and a wired control unit.

On the T8, a 5-axis synchronous machine, the dual-cutting units consist of a motor-driven turret-type main spindle system for heavy-duty cutting and a cartridge-type sub-spindle system for cutting more complex workpieces of typically various configurations or composed of multiple surfaces along various planes.

Synchronized Cutting
The i-42 Ultimate is a 14-axis machine also equipped with a main spindle system and a sub-spindle system capable of synchronized cutting. It is differentiated from the T8 by its dual spindle system with a gantry-type automatic tool changer, coupled with capacity to run two processing programs simultaneously.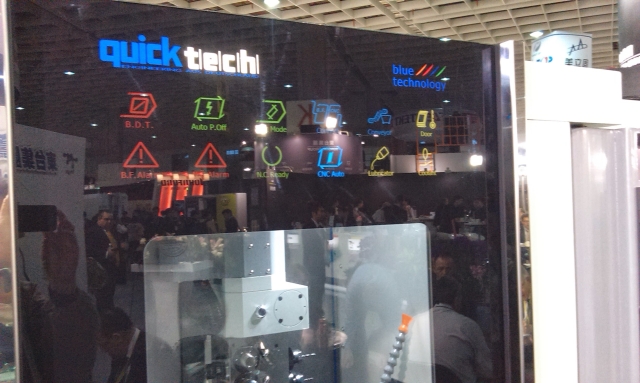 On-door color-coded indicators make it easy for operators to handle several Quick-Tech machines at once.
The two spindles on both the T8 and i-42 work smoothly when engaged in synchronized machining thanks in large part to a unique design that prevents damaging overlapping and encroachment of the cutters on the two spindle systems. This design is the most challenging technology in T8 to develop but also the most sought-after technology among manufacturers who need a machine with capacity to handle multi-configuration or complex workpieces, says company managing director, Jacky Huang.
The two-in-one design does not at all compromise the performance of each spindle system for a dedicated turret-type or a dedicated gantry-type turning machine, thanks to the design that prevents overlapping and encroachment, Huang adds.
The two machines can reduce cycle time by up to 45 percent overall, says Quick-Tech.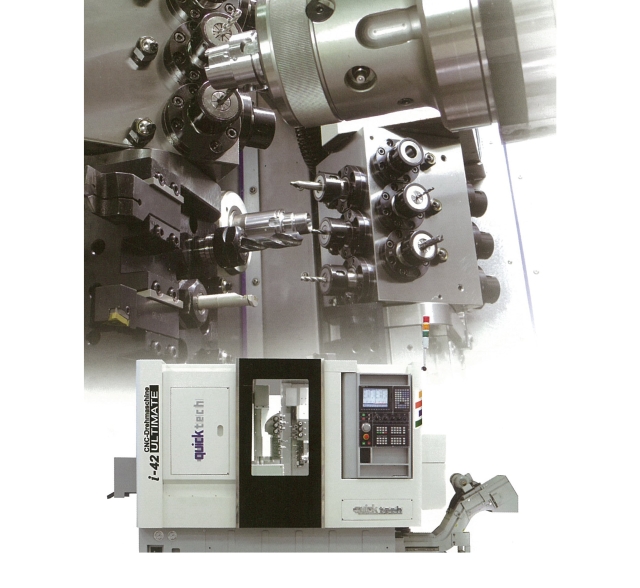 The i-42 Ultimate is a typical Quick-Tech machine with dual cutting units to boost production efficiency.
The tempered-glass door of the two machines has 10 color-coded indicators for various warning levels, including four red indicators for situations like power outages and door malfunctioning; three orange caution indicators for situations such as low lubricant volume; and three green indicators for normal situations, such as normal lubrication and normal conveying.
The highly-visible indicators on the door make it easy for operators to monitor several running machines at one once by instantly seeing specific problems related to each machine on the control monitor.
According to Huang, the idea of displaying machine operating status on the glass door came from head-up-display (HUD) technology, which is sometimes available on premium cars and was originally developed for jet fighters. 
User-friendly
T8's and i-42's control computers are user-friendly with adjustable height, panel and keyboard tilt angles to perfectly fit an operator's height and line of sight. A wired handheld calibration unit enables an operator to lean over the machines as necessary to facilitate fine-tuning by comparing data on the unit's display screen with components being machined.
Both the T8 and i-42 Ultimate are built with quality components. T8's turret spindle system is driven by a Mitsubishi 11-kilowatt AC servo motor, turning at maximum speed of 4,000 revolutions per minute (rpm) with boring capacity of 66mm. The system comes with 12 cutter stations, half of which can be optionally equipped with motor-driven tools. The spindle, when connected with cutters, is able to machine along the C-axis with positioning accuracy of 0.001mm and index time of only 0.2 second.
Driven by a Mitsubishi 5.5-kw AC servo motor, the sub-spindle system is equipped with a gantry-type automatic tool changer handling 12 cutters and P4-grade preload bearings, which is notable for high stability when doing axial and radial cutting. The spindle system is assembled, sealed and tested in a temperature-controlled clean room to achieve maintenance-free operation.
The milling spindle head has a B-axis tool for drilling and tapping oblique angles. Its gear-driven gantry system is highly flexible to enable attachment of five external cutters, nine internal cutters and 12 live cutters.
The i-42 Ultimate's main spindle system is driven by a Mitsubishi 7.5-kw AC servo motor with 44mm boring capacity. The sub-spindle system, powered by a Mitsubishi 3.7-kw AC servo motor, has boring capacity of 30mm with a spindle speed of 6,000 rpm.
The i-42 Ultimate can machine workpieces along 10 servo-driven axes (X, X1, Y, Y1, Z, Z1, B, B1, C, and C1), with four spindle heads rotating around four axes (S1, S2, S3, and S4) and 24 live cutters, all of which programmed by the Mitsubishi M700 controller.
Like the T8, i-42 Ultimate's B-axis milling head has capacity for free drilling and tapping oblique angles.
The machine has a wide range of applications, including machining of high-precision components for medical equipment.
Outside-the-box mindset
Huang says that the T8 Hybrid and i-42 Ultimate have been developed with the company's think-outside-the-box mindset: an attitude that has guided the company since its inception in 1996.
"When we began in the business, there were only dual-axis, horizontal-traverse lathes available in the market and most of them did not have cutter changing mechanisms. Even though there were turret lathes, changing cutters was time-consuming. Eventually we released a tri-axis lathe with vertical traverse and a spindle able to carry cutters for different specifications," Huang says.
Such innovative way of thinking has made Quick-Tech a well-known machine tool brand, particularly in Europe. "You may not have heard of Quick-Tech in Taiwan's machine-tool industry," Huang concedes, "But our name is as well-known as renowned Japanese brands in the German machine tool market."
Being born in the X Generation certainly made a difference to Huang's success as he set up his machine-tool business at the age of 26, when he would have had ample access to abundant education related to information technology or computer science in the 1980s, which enabled him to tap his expertise in computer programming as the foundation for the innovative approach.
This kind of unconventional thinking contrasts sharply with the typically sheepish practice among Taiwan's machine tool manufacturers who tread well-worn paths of German and Japanese manufacturers. "While most of our local industry peers unimaginatively develop machines based on German and Japanese models to sharpen their competitiveness in the international market, we break such mold to think afresh," he stresses.
Modularized Advantage
The company's "modularized operation" gives it another strong advantage. Such business model is akin to carmakers using a few basic chassis on which to build many models that can share many common parts. 
"This operational model enables our dealers to offer quick repair and maintenance services to customers and gives buyers access to a wide range of specification options," Huang says.
The modularized operation saves the company's 47 dealers around the globe the trouble of stocking components with all kinds of different specifications, thereby minimizing the risk and cost of inventory overhang. "The building of new machines on standard modules offers efficiency not just in the speed of product development, but in cost as well. You simply rearrange the modules to come up with new machines just like rearranging Lego bricks to turn out a new model," says Huang.
Standardizing modules has another advantage, in which it enables the company to accurately measure the size of machines to enhance efficiency in container loading as it is easy to figure out how much volume of machines will need in a shipping container. "Volume varies proportionally with shipping cost, which is a major concern to buyers," Huang notes.
Leading modularization
By rearranging modules the company has been able to introduce machines with a wide range of specifications, from 2-axis to 14-axis. "Eighty percent of our modules are interchangeable among different machines to make ours the highest rate of modularization in Taiwan's machine tool industry," Huang says.
The company's machines, with their wide range of specifications, are highly sought-after by manufacturers specializing in precision components for products essential to daily life such as sanitary hardware, kitchen ware, small household appliances, and connectors. "Our wide range of specifications makes us more like a total solution provider than a machinery manufacturer," Hung notes.
Obviously undaunted by the sharp devaluation of the Japanese yen against the U.S. dollar, which is making Japanese machines more competitive in the global market, Huang says such trend will not affect his company's business. Nor is his company afraid of the Free Trade Agreement (FTA) mainland China has signed with South Korea, which is aggressively developing presence on global machine-tool market by rolling out relatively cheaper products. "Our machines never compete on pricing, but on innovation. So there is no reason for us to worry," says Huang.
Clearly an executive who believes in dressing traditionally, in contrast to his unconventional business strategy, for the part, Huang wears a neat suit every day to work at the helm of his 126-employee company, in starched white shirt, dark vest, necktie, dark pants topped off with baseball cap. From the dress of a business owner one can judge the culture of his or her company. "My office wear represents efficiency, quality and cleanliness to reveal conscientiousness and self-awareness," says Huang.
Quick-Tech's efficiency standards are reflected not only in its work environment but also in the machines it turns out. To boost production efficiency by making workers more comfortable, the company has equipped the plant with air-conditioned production lines, which helps to turn out machines known for easy installation and speedy output.
To uphold world-class quality, the company frequently sends R&D and QC engineers for long-term training in Germany, with its R&D team consisting of 15 specialists, including Huang himself.
Despite being typically categorized as a traditional industry that evokes images of grimy floors and machinery, the company's work environment across the 30,300-square-meter campus in the Tainan Technology Industrial Park in southern Taiwan is as bright, clean as any fabrication plant stamping out computer parts. No oil stains are visible on the production lines, all the tools are neatly arranged, and all the workers are in clean uniforms, with the new machines displayed in the lobby accompanied by casual music.