Taiwan is a key trading and investment partner of Thailand for quality manufacturing equipment and Manufacturing Expo 2016 to be held 22-25 June, 2016 at BITEC, Bangkok is a great opportunity to expand this market into Thailand and AEC and to build networking opportunities to ASEAN countries.
In his keynote speech Mr. Piroon Laismit, Executive Director, Thailand Trade and Economic Office in Taipei said that Thailand is located towards the center of ASEAN and has developed strengths in the support industries especially in the automotive parts, metal working, and electronic parts with their highlyskilled labor supply. The Thai government has a policy to promote the industrial sector to reach international standards in their production technology to compete in the world market.  This is reflected in large imports of high value, quality machinery and equipment every year. Thailand and Taiwan are strategic partners and are mutually supportive in economic, social and security issues. The Thai government is ready to support Taiwanese investments in Thailand to benefit from AEC as a single market. 

Mrs. Achana Limpaitoon, President of Thai Auto-parts Manufacturers Association expanded this observation, speaking on 'Trends and Opportunities of Taiwanese Machinery Brands in Thai and AEC Automotive Industry'attributed Thailand's success to promotion of super clusters for automobile and electronics parts in central and eastern Thailand. The densely located clusters helped manufacturers and parts makers to supply each other with ease.  This led to growth of world class automotive and electronics industries and parts suppliers.  Today Thailand is the 11th largest automobile manufacturer in the world and produces almost all parts in the country.  The Thai government is actively promoting future investments in automobile engines, parts using more advanced technology, safety and energy efficient systems, equipment for hybrid, EV, PHEV vehicles; fuel injection and parts/transmission/engine systems.  For motorcycle, Thailand is looking for investment in manufacture of engines large than 248 cc.

Mrs. Achana Limpaitoon showed that during 2015 ASEAN was impacted by the slow pace of world economic recovery which reduced domestic demand and thereby reduced production overall.  Out of 3.6 million vehicles produced in in AEC countries in 2015, Thailand has 44%, Indonesia 32%, Malaysia 18%, Vietnam 4% and Philippines 2%. In motor cycles production Indonesia led with 66% Thailand 20% Philippines 9% and Malaysia4% out of a total of 8.1 million units.

Indonesia with its large population led in domestic vehicle salesat 34%, Thailand 25%, Malaysia 22%, Philippines 4%, Vietnam 5%, Singapore 2% and Brunei 1%.

To improve its manufacturing sector Thailand has a strong 2-way trade with Taiwan.  In 2015 Thailand imported 111,151.6 million baht's worth from Taiwan, and also exported 38,413 million baht's worth.  Both imports and exports were in the categories of machine parts, machinery and equipment, farm equipment and machine tools.

On prospects of Taiwan ASEAN trade and investment Prof. Kristy Hsu - Director, Taiwan ASEAN Studies Center, Chung Hua Institution for Economic Research described the trade with ASEAN countries from 2005 to 2015, as growing steadilyrising from 12.7 % to 15.6%.  Investments in automotive industry also show steady growth in Thailand, Indonesia and in the Philippinesthrough this decade.  There is little Taiwanese investment in Vietnam.

Ms Chanapa Lertrungruang, Group Project Manager, Reed Tradex Company highlighted the opportunities that exist at Manufacturing Expo 2016 with focus on 'the Vision of Productivity'.  Here Thai and Taiwanese manufacturers can exchange knowledge, future trends and potential collaborations in automotive and other support industries.  Describing Manufacturing Expo as the most comprehensive event for Manufacturing and Support industries, it includes InterMould Thailand 2016 for mould and die manufacturing; Automotive Manufacturing 2016 for Automotive Parts manufacturing, Assembly and Automation 2016 for Automation and assembly technology, and Surface and Coatings 2016 for surface treatment, paints and coatings, and also M Fair which is a business matchmaking platform for Manufacturers Network in Asia.  This year the show is co-located with NEPCON Thailand 2016 which is related to assembly, measurement and testing technologies for electronics manufacturing sector.  Reed Tradex is also actively promoting this event to the Philippines, Cambodia, Korea, Myanmar and Laos to bring participants from all ASEAN countries.

Bringing leading technologies under these various sectors, over 2,425 brands from 46 countries will showcase their technologies to the theme of 'The Power of Once – The vision of Productivity'.  At least 6 countries i.e. China, Korea, Singapore, Vietnam and of course Taiwan have confirmed to hold international pavilions.  Again, business delegations from at least 12 countries i.e. China, Cambodia, India, Indonesia, Japan, Laos, Malaysia, Myanmar, The Philippines, Singapore, Taiwan and Vietnam have confirmed to join.  Participants are expected to number at least 59,000 coming from 62 countries.

In order to maximize benefits for overseas visitors, Manufacturing Expo 2016 offers "Overseas Business Delegation Package" which means  2 complimentary roomnights supported by Thailand Convention and Exhibition Bureau (TCEB), invitation to participate in the Opening Ceremony and Automotive summit 2016, visit to a leading auto-parts manufacturer, exclusive briefing to give sneak preview of the event, access to Business Delegation lounge, VIP badge upon arrival.

Exclusive to visitors from the Taiwan visiting Manufacturing Expo 2016, TCEB offers the 'Connect business big bonus campaign' for business promoter who organizes a group of 5-9 delegates will get 2 nights free accommodation.  A group of 10 or more will get 2 nights free plus a lump sum of 100$ per visitor for the group and the group leader will get 1 round trip air ticket to Bangkok. Each delegate must achieve at least 3 business matching meetings.

More information about business delegation contact details at delegation@reedtradex.co.th

Manufacturing Expo 2016 will be held from 22 to 25 June 2016 at BITEC, Bangkok.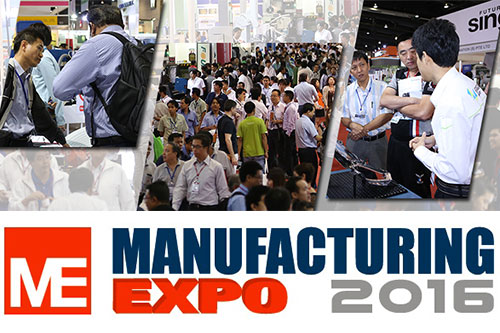 www.manufacturing-expo.com