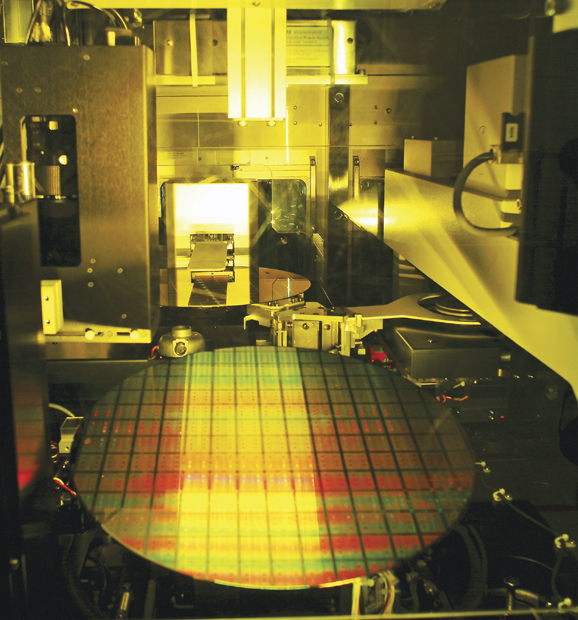 TSMC and ARM collaborate on 7nm FinFET process technology for high-performance computing. (Picture courtesy of TSMC)

Taiwan Semiconductor Manufacturing Co. (TSMC, the Taiwan-based firm generally recognized as the world's largest made-to-order chip foundry) and ARM Holdings Plc. (the British multinational semiconductor and software design company founded in 1990 and headquartered in Cambridge, England with primary business in the design of ARM processors or CPUs) have entered into a multi-year cooperation on the development of a 7-nanometer Fin Field-Effect Transistor (FinFET) process technology, which includes the design solution for future low-power, high-performance system-on-a-chip (SoC).
Pete Hutton, executive vice president and president of product groups of ARM, pointed out that future ARM technology designed specifically for data centers and network infrastructure and optimized for TSMC 7nm FinFET will enable the two companies' customers to scale the industry's lowest-power architecture across all performance points.

He added that existing ARM-based platforms have been shown to deliver an increase of up to 10 folds in computing density for specific data center workloads

TSMC's vice president for R&D, Cliff Hou, said solutions optimized by TSMC and ARM together will enable the two companies' customers to deliver disruptive, first-to-market products.

Hou noted that the two companies' customers designing their next-generation high-performance computing SoCs will benefit from TSMC's 7nm FinFET, which will deliver more performance improvement at the same power or lower power relative to the company's 10nm FinFET process node.

He added that thanks to its 7nm FinFET process technology, the company has expanded its process and ecosystem solutions from mobile to high-performance computing.

The new agreement expands the two companies' long-standing partnership and advances leading-edge process technologies from mobile into next-generation networks and data centers. Also, it extends previous collaborations on 16nm and 10nm FinFET featuring ARM Artisan Physical IP.

The joint innovations from previous TSMC and ARM collaborations have enabled their customers to accelerate product development cycles as well as take advantage of leading-edge processes and IP. Recent benefits include early access to Artisan Physical IP and tape-outs of ARM Cortex-A72 processor on 16nm FinFET and 10nm FinFET.