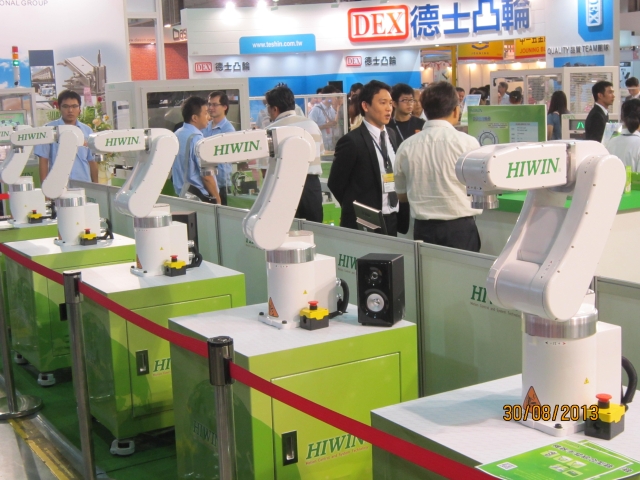 Robot sales are predicted to help boost Hiwin`s 2016 revenue to new high.
Industry executives project Hiwin Technologies Co., Ltd.'s consolidated revenue for 2016 to hit a reported new high of NT$16 billion (US$484.84 million) as the company is stepping up efforts to boost sales of automation equipment and robots, while the Japanese yen has risen recently to about 113:1 against the greenback, to hence make Taiwan-made equipment more price-competitive relative to those from Japan. 
The company will break ground in late March to construct a factory in Suzhou, mainland China, as part of its plan to build capacity to meet the mainland's brisk demand for automation equipment and robots.
The factory calls for an estimated NT$1.5 billion (US$45.45 million) in investment and is scheduled to start production by 2017.
On the same day of the groundbreaking, the company, reportedly the world's No.2 maker of ball screws and linear guideways for precision machinery such as machine tools, will hold a forum in the mainland Chinese city on the topic of Germany's Industrie 4.0 and Made-in-China 2025, both of which revolve around industry upgrading via automation and robotics.
Amid continuing reports of the economic slowdown in China, where exports have plummeted recently, partly because of overcapacity wracking many of its information technology and communication as well as commodities sectors, and partly because of its manufacturing sector continuing to shed jobs to see economic growth shifting towards services and private consumption, Hiwin executives point out that although the global market for machine tools has not recovered, the company is able to make up for the reduced shipments of machine-tool components by increasing shipments of robots and automation systems.
In the last two years, the company has vigorously expanded its production of robots and automation equipment, started constructing a manufacturing site each at the second campus of the Taichung City Precision Machinery Innovation Technology Park (central Taiwan) and in Offenburg, Germany in the third quarter of 2015, with plans to build the Suzhou factory and a factory in Chicago in the first half of this year.
Although the company saw revenue stand above NT$1 billion (US$30.30 million) in January alone thanks to surging orders from Italy, its revenue for the following month slumped 1.5 percent year on year, to NT$845 million (US$25.60 million). Totally, the two months saw revenue of NT$1.84 billion (US$56 million), down 20.1 percent from the same period of last year.
Nevertheless, industry executives are still optimistic about the company's revenue for the first quarter in consideration of the company's increased output of industrial robots so far in March. In addition, the company's robots for the medical, biotech, and semiconductor industries have won certification one after another.