Taiwan's overall sales by local non-traditional (such as online retailers, TV shopping channels etc.) retailers totaled NT$216.7 billion (US$6.57 billion) in 2015, up 5.3 percent over a year ago to represent a 9-year growth trend, according to the latest report issued by the Department of Statistics (DoS) under Ministry of Economic Affairs.

The report shows that food, beverage and tobacco contributed 32.9 percent to the overall non-traditional retailing revenue last year, compared to 30.6 percent in 2014, as the largest product category in the segment, while pharmaceutical & cosmetic products came second by commanding a 17.1 percent share, up from 16.7 percent. Meanwhile, ICT (information and communication technology) products, and educational & entertainment products both posted 10.3 percent share to collectively share the No. 3 spot in the year, significantly increasing from 6.3 and 8.8 percent, respectively, in 2014.

Such results suggest mirroring of the same trend in North America, the U.K., Germany and Switzerland, where the shares of online retailing commanded 8-plus percent in 2011 of overall retail sales (according to China Chain Stores and Franchise Association (CCFA), iResearch); while the said figures also show Taiwanese consumers' growing preference for buying non-daily, high-unit-price products from online shops, as well as the changing strategy of non-traditional stores in Taiwan to offer greater product lineup to meet consumers' preferences. In fact, major TV shopping channels in Taiwan issue catalogues containing everything from green tea, designer purses, nutritional supplements, lingerie, casual wear, to smartphones and even foldable sofa-beds. 

In comparison and according to a PwC report of Dec. 2011, online retail sales in China accounted for 4.3 percent of the total retail sales in 2011, and are set to reach 6.3 percent by 2015. The share of online transaction in total retail sales still lags behind that of other developed countries. For instance online retail sales accounted for 12 percent of total retail sales in the U.K., 9 percent in the U.S. and 9 percent in Germany.  

As to the sources of products sold in the segment, the report says that about three- fourths of the total sold products were supplied domestically, with the biggest suppliers being trading, wholesale and retail companies, which contributed 65.6 percent to the total, down 10.4 percentage points as seen in 2012. About 7.7 percent of local non-traditional retailers' products were supplied by their parent companies, affiliates and contract manufacturers, rising 3.2 percentage points over that in 2012.

In terms of the segment's products outsourced from overseas suppliers, which commanded a quarter of the total last year, the U.S., Japan and Europe were the largest three sources with shares of 16, 4.5 and 2.2 percent, respectively.

The report also discovers other encouraging signs of local non-traditional retailers. For example, the sector's overall pretax income between 2011 and 2014 showed a 15.3 percent growth on average, to NT$19 billion (US$575.76 million) in 2014 from NT$12.4 billion (US$375.76 million) in 2011, while its profit margin also increased two percentage points to 9.2 percent in 2014. This suggests the increasing profitability of the business model.

With online shopping obviously gaining popularity in Taiwan's retail market, DoS officials state that this year's sales by local non-traditional retailers are expected to break the NT$230 billion (US$6.97 billion) mark for a 6 percent growth over 2015, mainly based on several facilitating factors, including the continued uptrend in rent of brick-and-mortar stores (especially in prime areas in major urban centers), growing popularity of mobile Internet devices, increasing product diversity offered by non-traditional retailers, and enhanced integration between physical and virtual retail channels, not to mention that many residents in rural, less-developed areas without easy access to traditional stores can shop for merchandise offered online that otherwise would not be available nearby.

However, DoS also points to two offsetting factors that may impede the sector's growth in the near future, namely Taiwan's relatively underdeveloped market for third-party payment (such as PayPal of the U.S. and Alipay of China), and the intensifying competition between local online retailers and conventional retailers such as department store operators, wholesalers and convenient store operators as 7-Eleven.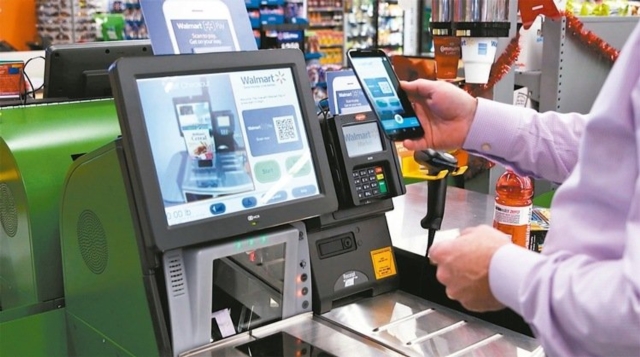 Taiwan's relatively slow development of third-party mobile payment market may impede growth of the local non-traditional retail sector (photo courtesy of UDN.com).