Independent cylinder rubber compression machine, shoes injection molding machines, footwear making machines
Tien Kang Co., Ltd., founded in 1982 in Taichung City, central Taiwan, and focused on the development and manufacture of various footwear-making machines, is  promoting its ingeniously designed  Independent-Cylinder Rubber Compression Machine dubbed TK-361, which has just been patented in Taiwan and China for its performance-enhancing mechanical design in 2015.

TK-361 is notable for its next-generation mold clamping system integrated with two independent cylinders, which enables  compression molding of rubber by two sets of clamped molds that are driven by the twin cylinders at every station of a production line. With such cutting-edge design, TK-361 offers greatly enhanced productivity and production flexibility to stand out from competing models, coupled with its highly automated operation, that is expected to help footwear makers significantly boost profitability, production efficiency and quality. 

In addition to TK-361, Tien Kang's product lineup also includes linear EVA injection molding machines, EVA hot presses with vacuum hood machines, thermoplastic multi-color static injection molding machines, automatic rotary PVC/TPR sole & shoe direct-injection molding machines, automatic PU casting machines, among others, all developed and manufactured under strict quality control in the firm's ISO9001-2008-certified factory.

To celebrate its 35th anniversary in 2016 and to show its continued marketing effort, Tien Kang will attend global trade fairs related to plastic and rubber-processing machinery, including the 7th ExpoPlast Peru, scheduled May 3-6 in Jockey Plaza Convention Center in Lima, Peru; and K 2016, to be held October 19-26 in Düsseldorf, Germany. Its presence at the said events targets building  global exposure, making new contacts, as well as provides footwear makers worldwide improved machinery that offers upgraded performance, which is especially sought-after amid intensifying competition, manpower shortage and occasionally unpredictable raw material prices.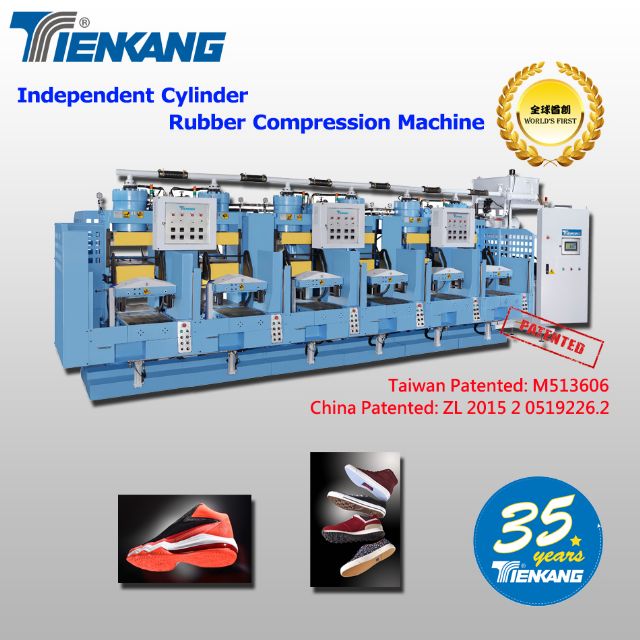 Tien Kang's TK-361 Independent-Cylinder Rubber Compression Machine is patented in Taiwan and China.
Tien Kang Co., Ltd.
No. 427, Xihu Rd., Dali Dist., Taichung City 412, Taiwan
Tel: 886-4-2493-8669
Fax: 886-4-2493-8801
Email: tienkang@seed.net.tw
Website: www.tienkag.com.tw