One of the most important activities in Taiwan's transportation vehicle industry every year, the 4-in-1 show for auto parts, automotive electronics, electric vehicles (EVs) and motorcycles, has just opened in Taipei, northern Taiwan.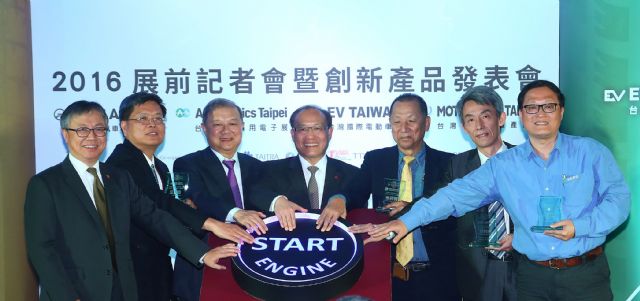 Peter Huang (center), president and CEO of TAITRA, and winners of Innovation Awards Gold prizes jointly push an engine-start button to herald the upcoming 2016 TAIPEI AMPA, AutoTronics Taipei, EV Taiwan and Motorcycle Taiwan (April 6-9, 2016) at the pre-show press conference held in late March.
A 4-day trade fair held from April 6 through 9 in the Taipei World Trade Center Nangang Exhibition Hall (in suburban Taipei) and Exhibition Hall 1 (Shinyi Rd. near the TAITRA headquarters in Taipei), this year's 4-in-1 show includes the 2016 Taipei Int'l Auto Parts & Accessories Show (TAIPEI AMPA), International Automobile Electronics Show (AutoTronics Taipei), Taiwan International Motorcycle Industry Show (Motorcycle Taiwan), and Taiwan Int'l Electric Vehicle Show (EV Taiwan).
The show organizer Taiwan External Trade Development Council (TAITRA) says the event is Asia's only specialized exhibition for two-wheeled and four-wheeled vehicles, with about 1,400 exhibitors (collectively attracted by the four shows) manning more than 3,900 booths (including 1,131 exhibitors using 3,188 booths in TAIPEI AMPA / AutoTronics Taipei; 163 exhibitors occupying 351 booths in Motorcycle Taiwan; and 56 exhibitors manning 143 booths in EV Taiwan).
TAITRA points out that the 4-in-1 mega show is expected to attract 7,000 buyers from 130 countries. While a large number of foreign buyers have taken part in the show to source quality products, the organizer reports, a total of 15 heavyweight buyers, who are remarked for generating turnover of over US$100 million annually, have also been present there, including Worldpac Inc. and US Auto Parts Network of the U.S., Mekra Lang GMBH & Co. KG of Germany, Pol-Mot Auto S.A. of Poland, Sunstar Singapore Pte. Ltd., etc. 
Huang rides on the Gold-award winning item, TGB 1,000cc ATV.
2016 Innovation Awards & Supplementary Activities
As part of TAITRA's effort to encourage new product R&D among exhibitors, 2016 Innovation Awards saw a total of 24 award winners in the categories of automotive parts, automotive accessories, automotive electronics end products, and automotive electronics parts, all of whom, selected jointly by industry representatives, experts and scholars, were already announced in the pre-show press conference.
Those winners are selected based upon five criteria: innovation, contribution to industry, market value, energy efficiency and aesthetics, and the award-winning products are being displayed under the themes of artificial intelligence, renewable energy and artistry in Nangang Exhibition Hall's Light Gallery during the show.
Peter Huang, president and CEO of TAITRA, says that the Innovation Awards has entered its 10th anniversary, and every year the award-winning items outline the market and technology development trend. Among the winning products, he adds, many are globally-patented pioneers, such as an advanced upgrade automotive headlight that is noted for allowing remote control through a smartphone loaded with a specialized app developed by Taiwanese auto-lamp maker Depo Auto Parts Ind. Co. Ltd.; a palm-top multifunction power bank that can work as a emergency car-boosting power; an advanced front blind-zone detection system; and a 1,000cc ATV, etc.
The 4-in-1 show also features 17 educational and thought-provoking presentations and seminars during its four-day run, with topics on EV industry's future development, automotive industry's future, Internet of Things development in automotive applications, etc.
Winners of 2016 Innovation Awards

Booth No.
Exhibition
Award
Company
Product
A0425a

TAIPEI AMPA

Gold

Zonesking Technology Co., Ltd

Palm size Multifunction
Vehicle Jump Starter Power bank

M1329

TAIPEI AMPA

Silver

Daigin Chemical Co., Ltd

AQUALUX

B0837

Motorcycle Taiwan

Silver

Wintec Co., Ltd.

MR-200 Professional
Motorcycle FM Transceiver


A0812

TAIPEI AMPA

Bronze

MtTek Co., Ltd


Automatic angularly
adjusting vortex


B0531A 


Motorcycle Taiwan

Bronze

HaiHao Technology Co., Ltd.

Cam-Wiper Helmet


I1009a


TAIPEI AMPA

Bronze

Jing Jyun Industry
Co., Ltd.

Hi-power Led car lights &
warning lights with remote
control

J0818

TAIPEI AMPA

Gold

Depo auto parts
Ind. Co., Ltd.


Auto lamp APP control
system


A0411a

Motorcycle Taiwan

Silver

ADI OPTICS CO., LTD.


Electric-motorcycle-S2 H/L
Beam LED module


A1130

TAIPEI AMPA

Silver

NANKANG RUBBER TIRE
CORP., LTD

AS-2+

D0630

Motorcycle Taiwan

Bronze


GIANT PROTECH CO., LTD

Forged wheel rim

M0711a 

TAIPEI AMPA

Bronze

Hwang cherng bin
Specialty tools inc.

Hydraulic Macpherson
Spring Dumper Compressor

A0525a

TAIPEI AMPA

Bronze

Activa Health Tech
Co., Ltd.

E-compressor

D0032

Motorcycle Taiwan

Gold

Taiwan golden bee
Co., Ltd


TGB 1000cc ATV


L 0311

AutoTronics Taipei

Silver

Mobiletron Electronics
Co., Ltd.

Advanced Intelligent Tire
Monitoring System

J0212

TAIPEI AMPA

Silver

Cub Elecparts Inc.


1:16 MULTI CRADLE (TPMS sensor)

B0503a


Motorcycle Taiwan

Bronze

ADIVA CO., LTD.

ADIVA AD3 300


D0722


EV TAIWAN


Bronze

Passion Mobility

U-Kart

M0509

TAIPEI AMPA

Bronze

Medical Intubation
Technology Corporation

X1000 Industrial Videoscope

A0528

TAIPEI AMPA

Gold


CHIMEI MOTOR
ELECTRONICS CO., LTD.

Front Blind Spot Detection
(FBSD)


L0110

AutoTronics Taipei

Silver

E-LEAD ELECTRONIC
CO., LTD.

Smart Head-Up Display 2
(SmartHUD2)

L0405a

AutoTronics Taipei

Silver


ATBS Technology Co., Ltd.

Smart OBD2 HUD TPMS


L0231

TAIPEI AMPA

Bronze

BETA  TECHNOLOGY
CO., LTD.

Include IC driver package

N0016

TAIPEI AMPA

Bronze

Zealio Electronics Co., Ltd.

warning device with
luminous element

A0533a

TAIPEI AMPA

Bronze

G.SOL TECHNOLOGY
CO., LTD.

3DX Mirror 2


Source: TAITRA.