Looking at Taiwan's investment-friendly environment and high-quality labor resources with favor, the Switzerland-headquartered chemical maker vanBaerle AG has just broken the ground on its new silicate production plant in Taichung Port, one of the island's major commerical ports and in the central region, as part of its constant effort to explore the Asian market.

At the ground-breaking ceremony held on March 30, where a lot of Taiwanese officials and industry insiders were present to greet the Swiss companny, CEO-cum-owner Daniel Schenk of vanBaerle indicated that the company wants to secure a second production plant besdie its main manufacturing site in northwestern Switzerland, and looks forward to building a solid foothold with the Taiwan plant in the Asia-Pacific market for silicate, which has been widely used in making building materials.

With construction of the new plant scheduled to begin in April, 2016, which will be run by its subsidiary vanBaerle Silicates Taiwan, vanBaerle stressed that it will employ 10 people on the island initially in the production facilities and the laboratory. The first manufacturing trials are planned for this autumn and vanBaerle expects the plant to reach full capacity early in the year 2017. The new plant will be dedicated to production of the vanBaerle INOBOND, INOCOT and INOSIL silicate product lines.

Founded in 1888 as a soap factory, vanBaerle is today a world-caliber enterprise with business units Hygiene and Silicates, and branches in more than 50 countries in Europe, Asia and North America.

The firm's move to set up the Taiwan silicate plant is of significance, given that its production plants of the business units Hygiene and Silicates, the laboratories for development, application technology and quality management, as well as the warehouses and the administration buildings are all located at the Münchenstein base, which annually produces 38,000 metric tons of chemicals.

After activated, Schenk said, the Taiwan plant will be fully engaged in serving customers across the Asia-Pacific region, to become a new growth engine for vanBaerle in the near future.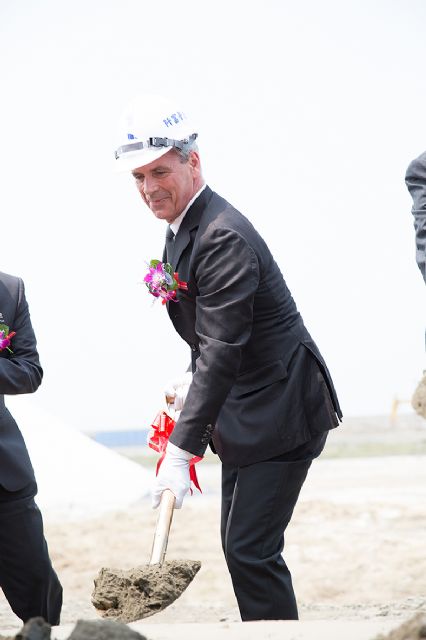 vanBaerle's CEO-cum-owner Daniel Schenk was present in the ground-breaking ceremony held in Taichugn Port in late March for the planned silicate plant in Taiwan.