To showcase its considerable technological capability achieved via continued R&D efforts, AU Optronics Corp. (AUO), widely recognized as the second-largest maker of thin film transistor-liquid crystal display (TFT-LCD) panels in Taiwan, recently exhibited a series of new products at the CITE 2016 (China Information Technology Expo) held from April 8 to 10 in Shenzhen, China.


AUO was founded in Aug. 1996, headquartered in Hsinchu, northern Taiwan, and produces TFT-LCD modules, LTPS modules, AMOLED, TV total solutions, and solar PV modules, with more than 45,000 employees as of Jan. 2013, says its website.

 
 
With the exhibition theme of "Infinite Visual Experience", AUO exhibited an  industry-leading ultra-narrow-bezel video wall featuring super energy-efficiency, a complete lineup of LCD panels for gaming, ultra-high-resolution free-form car displays, and active matrix organic light-emit diode (AMOLED) panels for virtual reality (VR) applications, incorporating numerous pioneering display technologies and products to have amazed the attendees.
Bezel-less ALCD TV Display
AUO continuously raises the bar as it aims to integrate and innovate display technologies, which was shown at the event in its 65-inch edge-to-edge bezel-less advanced LCD (ALCD) TV display, taking the edge-to-edge bezel-less design to a new frontier with various advanced display technologies such as UHD 4K ultra high resolution, curved configuration, wide color gamut and HDR (High Dynamic Range). AUO's self-developed GOA (Gate on Array) technology and bezel-less production method to significantly lower the number of display driver ICs, while expanding the field of view to its maximum to create visual impact and sensation as striking as that of infinity pools. The vivid and intricate picture quality together with bezel-less design is expected to make such LCD TV an essential element of any upscale home environment. AUO has stepped closer with the said collective technologies and designs to achieve the ultimate goal in TV display, to offer imaging that is lifelike. 
AUO`s bezel-less ALCD TV display expands field of view to its maximum. (photo from AUO)
AUO showcased its complete series of ALCD TV displays with sizes ranging from 55-inch to 85-inch, boasting exceptionally detailed image quality. ALCD's quantum dot wide-color-gamut boosts color accuracy that brings out fully saturated colors in  images. The HDR technology with high contrast ratio also enhances deeper blacks and vivid details. In addition, the ultra slim UHD 4K LCD TV panel with paper-thin  thickness of mere 4.7mm provides super sleek and clean back cover design, setting new standards in LCD TV design aesthetics.
The Taiwanese panel maker also exhibited the 55-inch ultra-narrow bezel and super energy-efficient video wall which is multifunctional to be adaptable to all sorts of environments. Sporting the industry-leading 1.8mm ultra-narrow bezel design that removes visual barriers, the video wall introduces a new dimension and concept by offering images that seem to float midair without being bound by conventional bezels to enhance the experience of viewing both images and videos. By enhancing the design of backlight module, AUO significantly reduced the panel's power consumption to achieve unprecedented  power-saving when numerous panels are assembled together to operate for extended hours.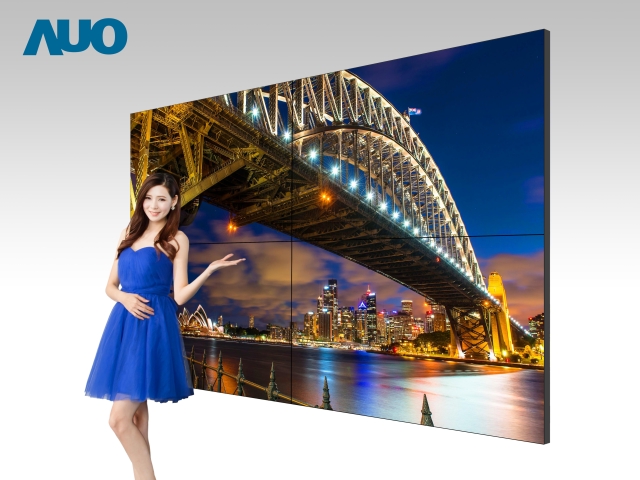 AUO`s industry-leading 1.8mm ultra-narrow bezel video wall at CITE 2016. (photo from AUO)
Gaming Displays
To meet enthusiast gamers' demand for high speed motion display, AUO's complete series of professional-grade gaming displays are equipped with 144Hz ultra-high-frame rate, capable of minimizing image blurring even under fast-moving action without lag. The series, ranging from 24 to 35 inches, include edge-to-edge and ultra-wide curved design with the world's highest 1800 R and are equipped with QHD (2560x1440) and WFHD (2560x1080) ultra-high resolution. These are the best professional-grade gaming displays available with finely-detailed picture quality and high color saturation, demonstrating AUO's global leadership in gaming displays.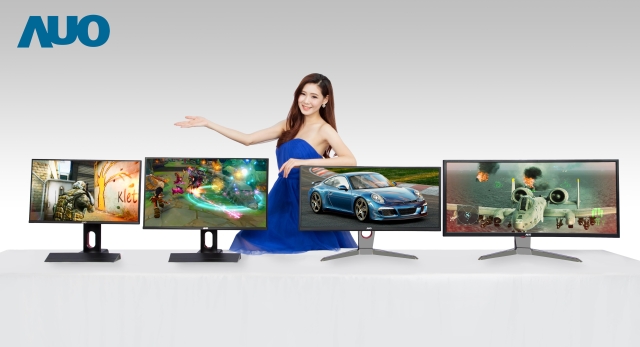 AUO's complete series of professional-grade gaming displays. (photo from AUO)
Ultra-high Resolution Free-form Car Displays
Dedicated to developing display products and total solutions for smart cars, AUO presented a 12.3-inch car display with 2880x1080 ultra-high resolution, applying free-form cutting technology to create a smooth, streamlined contour. The display fulfills both the need for precise image quality and design to suit upmarket car interiors. The complete lineup of ultra-high- resolution car displays come with high color saturation, wide viewing angle and high weather resistance.
AMOLED Applications
Amid the growing trend to develop VR products, AUO has leveraged its technological strengths and mass production experience related to AMOLED to present the 5.5-inch full HD AMOLED panel for VR headset devices. The panel features not only fast response time, high color saturation and high contrast, but its high pixel density of 403PPI (pixel per inch) is perfect for delivering all-round realistic VR experience, giving users an immersive sensory feast.
In terms of smartwatch applications, AUO is the world's first to have successfully manufactured full-circle AMOLED panel. The complete series of full circle and square-shaped AMOLED panels were showcased, with various forms of design resembling much more traditional wrist watches, meeting the demand among the fashion-conscious who want information-age tech without sacrificing style so as to avoid looking geekish.