Continuing an uptrend in growth from 2013, when about 80 million units were sold, sales of new cars worldwide increased by 2.3 percent to reach a new record high of 87.28 million units in 2015, driven by robust demand from major markets like the U.S. and Western Europe; while sales in China, the world's largest automobile market continued to rise slightly, according to the Automotive Research & Testing Center (ARTC).

The ARTC, says its website, was established in 1990 by Taiwan's Ministry of Economic Affairs and Ministry of Transportation and Communication, the Environmental Protection Administration and corporate representatives based on the Automotive Industry Development Policy, to engage in  R&D of automotive technology, improvement of product quality and internationally-recognized testing and certification services, as well as assist the government in stipulation and management of regulations and standards.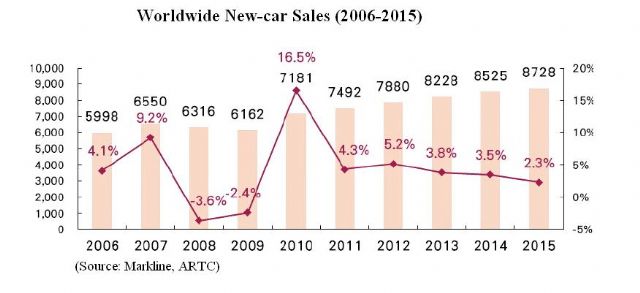 Worldwide New-car Sales (2006-2015) (Source: Markline, ARTC)
As is typical in recent years, Asia and North America were the main regions of new-car sales in 2015; while western Europe reported sizable growth last year, compared to drops in Central Europe and Eastern Europe.
The world's top-five automobile markets in 2015 were China, the U.S., Japan, Germany, and India, reporting sales volumes of 24.6 million (up 4.7 percent from the previous year), 17.92 million (up 5.9 percent), 5.04 million (down 9.3 percent), 3.49 million (up 5.4 percent), and 3.43 million (up 7.8 percent), respectively.
Suffering obvious impacts from plunging crude oil prices relative to those in 2014 and western sanctions against Russia's annexation of Ukraine (intervention in Crimea) in 2014 that have disrupted even daily life in Russia, whose ruble has dived in value against the greenback, where citizens continue to suffer from economic recession and depressed spending power to result in declines in car sales, with Russia's down 35.7 percent to 1.6 million units, Brazil's down 26.6 percent to 2.57 million.
Europe
The European automobile market finally turned around in 2014 from a minor drop in 2013, and continued to grow by about 3.4 percent in 2015 to about 18.3 million units.
In Germany, some 3.46 million new cars were licensed, up 5.4 percent YoY from 3.31 million. In the U.K. the volume increased by 7.7 percent to reach 3.06 million in 2015 (2.84 million in 2014), while France and Italy posted new-car sales gains of 6.8 percent and 16.2 percent, respectively, to 2.33 million (2.17 million) and 1.70 million (1.46 million) units.
ARTC points out that Europe has been one of the world's most important automobile production bases and accounts for 25 to 30 percent of the global new-car demand. Every year, except 2009, Europe's annual automobile production often outstrips regional sales by 1.5 million to 3.5 million units, which were for exports. However, the center says, driven by the rapid demand growth in emerging markets and an increasing number of European automakers  trying to elevate overseas production volumes (such as Volkswagen and BMW in China, and BMW's start of mass production also in Brazil in 2014 etc.), Europe-made automobiles' global share has been falling, to about 22 percent in 2015 compared to 32 percent in 2005.
In 2015, the top-five new-car markets in Europe were Germany, the U.K., France, Italy and Russia, together comprising about 65 percent of overall regional sales volume.
Western Europe led the growth, due to improving job market that cut unemployment figures to the lowest in seven years. February car sales in western Europe rose 14 percent relative to a year ago, the third double-digit rise in the past  four months, says a report by Carlos Gomes posted on Global Auto Report dated April 8, 2016.  
U.S.A.
In the United States, the world's second-largest automobile market, new-car sales grew by about 5.9 percent to 17.92 million units in 2015 (16.8 million in 2014), marking the fifth consecutive year of growth.
General Motors (GM), the iconic carmaker once said to be the world's biggest firm in the 1980s, maker of the renowned Chevy Corvette and Camaro as well as Cadillac that has recovered strongly after being bailed out by the U.S. government in 2008, reported the highest sales among major counterparts in 2015, selling 3.08 million new cars in the country to win market share of about 18 percent, compared to Ford's 2.6 million (15 percent share) and Toyota's 2.5 million.
China & Japan
According to the Jan. 8, 2010 report posted on The Guardian, China has overtaken the U.S. to become the biggest car market globally as government policy initiatives spur demand. China sold more than 13.5m vehicles in 2009, said the official Xinhua news agency, compared with 10.4m cars and light trucks sold in the US, the lowest level in 27 years.
China reported 4.7 percent new-car sales growth in 2015, to 24.6 million units, a new record again. Sales across the first half last year, in fact, saw YoY decline up to September, when the Chinese government began  stimulus programs.
In China, major car producers include Volkswagen, Hyundai-Kia, and GM. In the U.S., Ford, GM, Fiat-Chrysler, Toyota and Honda. In Germany, Volkswagen, BMW, Mercedes-Benz and Ford are the major producers.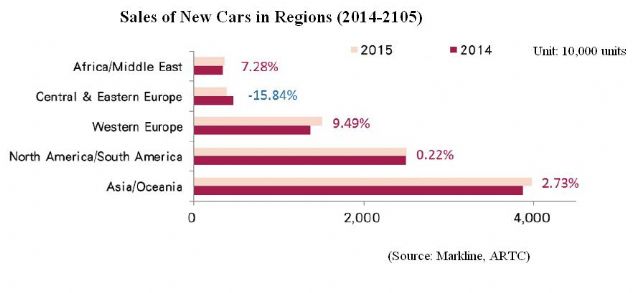 Sales of New Cars by Region (2014-2105) (Source: Markline, ARTC)
The Japanese automobile market has been shaken in the years since the 2011 earthquake and tsunami that struck Sendai. Production of new automobiles in Japan last year were 9.2 million and 5.04 million units, respectively, down 5.4 percent and 9.3 percent. ARTC says that new-car sales in the nation were disrupted by tax reform.
New passenger vehicle registrations in Japan were down by 8.2 percent in May 2015 – the first time this year that the decline was slower than 10 percent. Year-on-year car sales comparisons in Japan at the start of the 2015 has been affected by the relatively strong start to 2014 when buyers pushed ahead purchases to avoid a general increase in sales tax on April 1, 2014. Changes in the taxation of minicars from April 2015 also dampened car sales in Japan, according to a report of June 16, 2015 by Henk Bekker posted on best-selling-cars.com.
Brazil, traditionally the single largest automobile market in South America, had enjoyed a boom in new-car sales for many years, thanks mainly to rapid economic growth and improved infrastructure. Brazil had been the world's fourth-largest automobile market since 2010, however, new-car sales in 2014 stopped growing to slip by 7 percent to only about 3.5 million units, and continued to plunge by 26.6 percent to 2.57 million units in 2015, when the country fell to the world's seventh-largest automobile market. 
Giving reasons for weak car sales in Brazil is Navya Kumar's report of Jan. 14, 2014 posted on dupress.com, which says Brazil had a dispirited third quarter, and a significant uptick in growth is unlikely for the rest of 2013 and 2014. While weak external demand continues to weigh on exports, inflation and policy hurdles are hampering consumption and investments. Deteriorating public finances are adding to the country's woes. Relatively low crude oil prices since 2014 have certainly undermined the Brazilian economy, whose crude oil production had exceeded 2,400 BBL/day since Jan. 2015 compared to the historical low of 330.   
Volume and Capacity
Japanese automaker Toyota held its lead as the world's No. 1 in 2015; but the maker's  global sales volume decreased by 0.8 percent from the previous year to about 10.15 million units. Sales growth came mainly from the U.S. and Western Europe, but dropped in Eastern Europe and Asia-Pacific. Prioritizing to make products more eco-friendly, Toyota has focused on hybrid and alternative-energy models in recent years, having launched its fuel-cell driven  Mirai and announced the goal to totally phase out gasoline and diesel engines by 2050.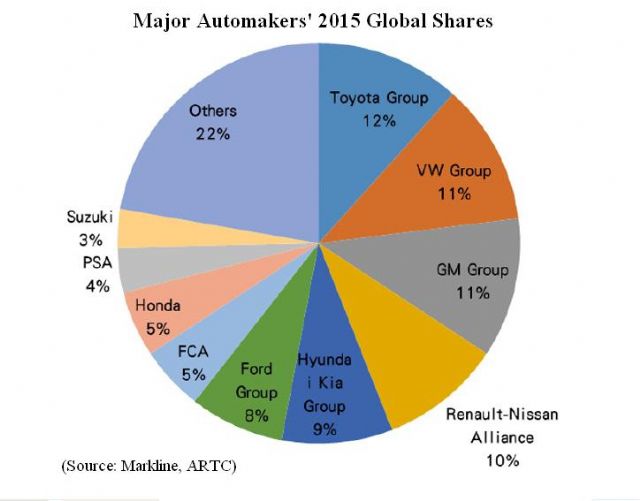 Major Automakers` 2015 Global Shares (Source: Markline, ARTC)
Long-term development and continued sales increase in the big Chinese market, as well as smooth sales worldwide, helped  Germany's Volkswagen to become the world's No. 2 auto brand. The company sold 9.93 million new cars worldwide in 2015, down 2.0 percent from 10.14 million in the previous year, due mainly to the exposure of its device that evades detection of diesel-engine emission in the second half. Volkswagen, as a result, suffered the stiffest volume drop in 2015 among the world's top-six.
American automaker GM, the No. 3 automaker, posted sales gains in Asian and Western European markets, though sales in the home market dropped, leading to a minor 0.2 percent YoY volume increase in 2015, to 9.84 million units (9.92 million in 2014). ARTC says that GM has been trying to aggressively catch up to Volkswagen by  upgrading consumer confidence worldwide, as well as efforts to drive sales in Asia.
Prospects
ARTC says that the 2016 global automobile market will see increasing sales of the so-called "crossover" models, which have been in-turn launched by major automakers, such as the Mercedes-Benz GLA, BMW X1, Nissan Juke, Mazda CX-3, Honda HR-V, Suzuki SX4, Skoda Yeti, Ford Ecosport etc. that are mid-sized to be relatively nimble, fuel-efficient, and are especially popular in emerging markets as China where owners prefer to have higher seating enabling extended forward view as well as multi-functionality as off-road capability.
Higher eco-consciousness is also changing the market landscape, in which carmakers' promotion of technologies for energy-saving and carbon-reduction continues to  attract consumers' attention. New designs such as smaller-displacement, turbo-charged engines for less emission, similar power as larger displacement engines, lower vehicle tax; mass-reduced chassis with stronger structure that help fuel-efficiency (Audi Ultra, Mazda Skyactive) etc. all address such concerns.
Electric vehicle (EV), new-energy vehicles and hybrids continue to catch headlines as Tesla has booked record-setting orders for its popular-priced Model 3 that will see production in 2017; while driverless cars set a new frontier to pose formidable  challenges for developers, and ride-sharing service providers as Uber disrupt existing car ownership and driving habits, with BMW even offering a fleet of cars in a ride-sharing service in Seattle. An increasing number of carmakers have launched vehicles with full-electric drive as the BMW i3, and the plug-in hybrid sports car i8, and Toyota's fuel-cell driven Mirai to set enviable examples for other carmakers.