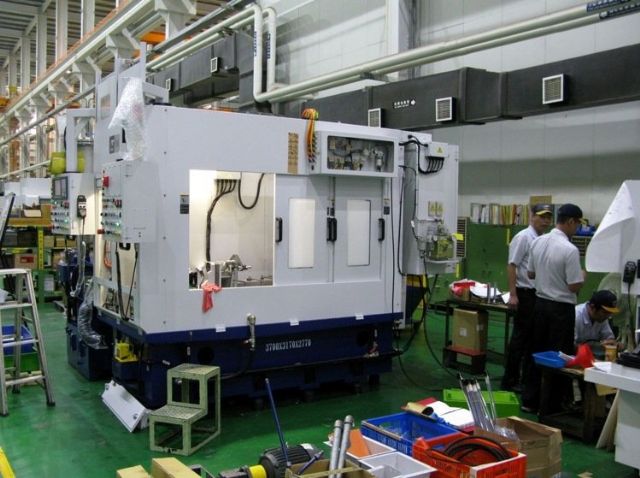 Taiwanese machine-tool builders generally enjoy robust revenue in May thanks to market recovery (photo courtesy of UDN.com).
Mainly fueled by strong orders from downstream manufacturers in such sectors as automobiles, smartphones and aerospace, Taiwanese machine-tool makers generally witnessed robust revenue in May after nearly a year of depression.
Among them, Tongtai Group scored combined revenue of NT$894 million (US$27.93 million) in the month, surging by 30.06 percent from last May partly on growing operating incomes from its reinvested companies overseas, namely PCI-SCEMM in France, ANGER in Austria and HPC in the U.S. For the first five months of this year, Tongtai Group raked in cumulative combined revenue of NT$3.445 billion (US$107.65 million), up 8.11 percent from the same period of last year.
Tongtai's directors attribute the group's comparatively brisk revenue growth as reported so far mostly to the recovering global aerospace industry along with China's buoyant auto parts market. Verifying the market booms, the directors note that the group still holds on hand unfilled orders worth NT$2.13 billion (US$66.56 million), including NT$200 million (US$6.25 million) newly added in the past five months, from Chinese auto parts makers, with order visibility extended to September.
Also, after garnering a big order for 16 five-axis vertical machining centers from the Taiwan-based Aerospace Industry Development Corp., an aircraft and related component maker, last year, the group has delivered these ordered machines continually between the first and second quarter of this year, effectively maintaining its growth momentum.
Meanwhile, Kao Fong Machinery Co., Ltd. posted combined revenue of NT$196 million (US$6.125 million) in May, soaring 19.76 percent year on year, adding to its January-May revenue of NT$862 million (US$26.93 million), slightly down 4.15 percent yearly.
Kao Fong's executives owe the significant revenue recovery in the month mainly to a lucrative order placed by a Chinese optoelectronic company for 65 vertical lathes, with some NT$20 million (US$625,000) worth of these machines being delivered in May alone. The remainder will be shipped between June and July. Also notable is that the machine-tool maker still has undelivered orders valued over NT$700 million (US$21.85 million) for the moment, with its production lines already booked through August.
The currently buoyant machine tool market also benefits upstream parts and component makers, such as Hiwin Technologies Corp., a world-caliber supplier of robots and precision linear motion components.
Hiwin Technologies raked in NT$1.482 billion (US$46.31 million) in its combined revenue for May, up 1.22 percent yearly and an all-time high for the month in its history. For January-May, the firm's cumulative revenue totaled NT$5.79 billion (US$180.93 million), 10.85 percent less than a year ago.
Hiwin's directors note that the rosy May revenue is attributable largely to a constant influx of rush orders from machine tool, automated equipment, smartphone and electronic industries. Also, ordinary orders the firm received from customers in Europe, the U.S., Japan and China have shown solid growth to sustain its May performance, the directors add.