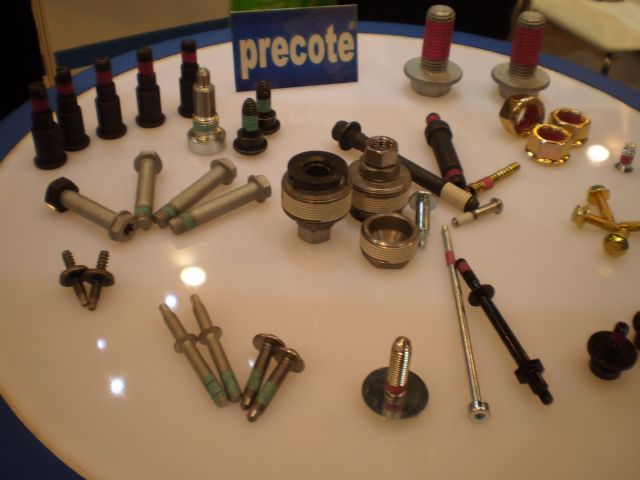 Auto fasteners have been increasingly a major growth drive of Taiwan's fastener industry for the years.
Following over six decades of development, fastener manufacturing has been one of Taiwan's traditional industries with sustaining global competitiveness. Having upgraded from low-end, DIY-caliber fasteners to higher ends, Taiwanese fasteners suppliers have increasingly joining the global supply chain of automotives to carve out niches.
With more and more insiders venturing into the production and development of auto fasteners, such products have become a major growth drive for the industry in recent years. Calling for more advanced technological specifications and manufacturing capabilities, auto fasteners have been increasingly regarded by insiders as a category enabling them to withstand underselling by emerging rivals.
Chun Yu
Chun Yu Works & Co., Ltd., founded in 1949 in Kaohsiung City, southern Taiwan, as one of the oldest manufacturers in the line, is a top-end supplier of auto fasteners on the island. Worth mentioning is that the company is now Taiwan's first and only fastener maker certificated by IRIS (International Railway Industry Standard), and has supplied its railway fasteners to Taiwan's High Speed Railway Corp. and Japan's Shinkansen on an OEM (original equipment manufacturing) basis
Arthur Wu, manager of Chun Yu's Fastener Export Division, said that his company has expanded its business scopes to various auto fasteners, including weld bolts, flange screws, press crews, hex bolts, wheel hub bolts and those with customized specifications, for years. "Chun Yu is Taiwan's first fastener maker certificated by TS16949 standards in 2003," says Wu. "Presently, over one third of the company's total output is delivered to carmakers and related subcontractors all around the world. Large-sized international carmakers like PSA, Honda, Daewoo and Yulon are among our customers."
In addition to its proactive thinking toward profitability of auto fasteners, the company's current success in the segment is also attributable to its persistent improvements of manufacturing capabilities. In the face of an uncertain global economy, Wu stated that his company, however, decided to invest more in upgrading its production equipment and technologies in 2011. The investment has paid off, as the company has effectively shortened its prototyping time to boost its R&D efficiency, and become one of only a few Taiwanese manufacturers capable of turning out cold-forged auto fasteners with a maximum diameter size of M30, Wu said proudly.
The company's competitiveness has also been leveraged from its world-caliber QC lab accredited by A2LA (American Association for Laboratory Accreditation). Wu said that with the lab, in which a full line of state-of-the-art inspection instruments are employed and by-the-book standards are strictly carried out, his company can handle almost all ordinary and special tests on the nature of auto fasteners independently to satisfy customers with unquestionably guaranteed quality.
TSLG
Beginning in 1984 in Taoyuan County, northern Taiwan, by providing fastener manufacturers with pre-applied adhesive and sealants, Taiwan Self-Locking Fastener Group (TSLG) is also noted for its cutting-edge pre-coating technology.
Rainey Chang, TSLG's sales chief, introduced the advanced pre-coating technology, which provides six functions, including thread locking, sealing, protection, masking, lubrication and over-tightening protection for fasteners. Drawing on the technology, the company has also worked out Nylok, Precote, 3M and Loctite series adhesives and sealants to supply a variety of industrial fasteners. More notable is that the company's technologies and fasteners have also been certificated and adopted by NASA and major international carmakers.
Citing Precote, Chang said that it is a microencapsulated pre-applied chemical adhesive available in several strength grades and is suitable for all metallic fasteners, with many plated surfaces. The principle of micro encapsulation consists of a liquid plastic material and hardener encapsulated in a thin polymer film. When fitting a bolt with this patch, the two capsules will burst under the pressure and friction between the two threads thus giving the required thread locking.
Fasteners applied with Precote and displayed at TIFS have lots of features to mention. Chang emphasized that with only thread adhesive coupled with dual microencapsulation to maintain high integrity of chemical components, these fasteners have no needs for additional locking devices and allow users to increase productivity at the assembly lines. Besides, these fasteners measure up with requirements of IFI-125 and IFI525 and standards required by most carmakers. With try-to-touch, non-tacky finish, the fasteners are impervious to atmospheric conditions and humidity, while friendly and non-toxic to assemblers.
Chang furthered that the company's Nycote series is also sought-after by fastener manufacturers, which is a non-conductive Teflon PFA powder coating applied to threaded fasteners for thread masking and protection. The patented process provides guaranteed protection against thread contamination from electrodeposited paints, primers and adhesion of weld spatter, which can compromise quality and safety, with the coating that can be applied to virtually any fastener to add lubricity and reduce torque versus tension scatter. The coating technology and fasteners with it have been approved by world's famous carmakers, including GM, Ford, Chrysler, BMW and Mercedes-Benz.
Operating five plants across Taiwan and China now, the company has been a globally prestigious provider of professional pre-coating services for local fastener manufacturers, whose products and technologies, Chang said, have helped customers to go upmarket and make more profits with auto fasteners.