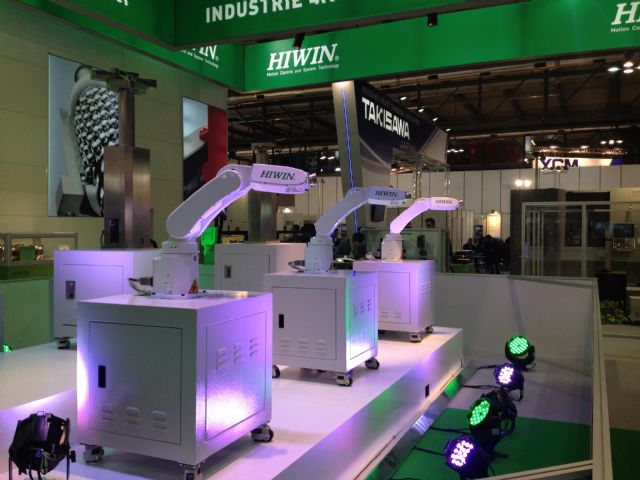 Hiwin is going to boost its output of robotic arms in China in response to growing local market demand for industrial automation equipment.
At an investor conference held June 28, Chairman Eric Chuo of Hiwin Technologies Corp., a leading Taiwanese developer and manufacturer of precision linear motion components and robotic arms, stated that the firm's outlooks in the second half of this year are expected to get brighter than in the first half, given the stable global trend for industrial automation and smart factory.
Chou indicated that Hiwin experienced a disappointing year in 2015 mainly due to the demand slowdown in China and the growing rivalry from Japanese competitors who undersold linear guideways globally through their factories set up in China to cut production cost.
After lackluster performance last year, Chou feels his company has gradually turned around this year and is likely to see a rosier prospect in the second half than in the first half for a couple of factors.
First, Chou pointed to the persistently growing trend for industrial automation and smart factory worldwide, which has helped propel market demand for large-sized, high-end machine tools in China to benefit his company.
In response to the development, the chairman stressed that Hiwin is going to kick off its investment in constructing an operational headquarters in Suzhou, southeastern China, as well as to set up more production lines of robotic arms, with capital expenditure to increase from NT$2.8 billion (US$87.5 million) last year to NT$3-3.5 billion (US$93.75-109.37 million) this year.
One more reason among others Chou thinks Hiwin's performance will better improve in the months to come is the final result of the U.K.'s referendum for Brexit, which has led to panic selling of pound and euro by global investors to cause appreciation of Japanese yen. Given Japan is Taiwan's major rival in the global market for machine tools, the chairman emphasized that a high Japanese yen-to-U.S. dollar exchange rate will likely prompt global buyers to turn to Taiwanese machine-tool makers in the short term, which, in turn, will help prop up Hiwin's performance.
The firm reported combined revenue of NT$1.482 billion (US$46.31 million) for May, up 11.9 percent month on month or 1.2 percent year on year, a single-month zenith since December, 2014, as well as a record high for May in history, which, Chou noted, was the result of the increasingly strong market demand for industrial automation and robots worldwide.