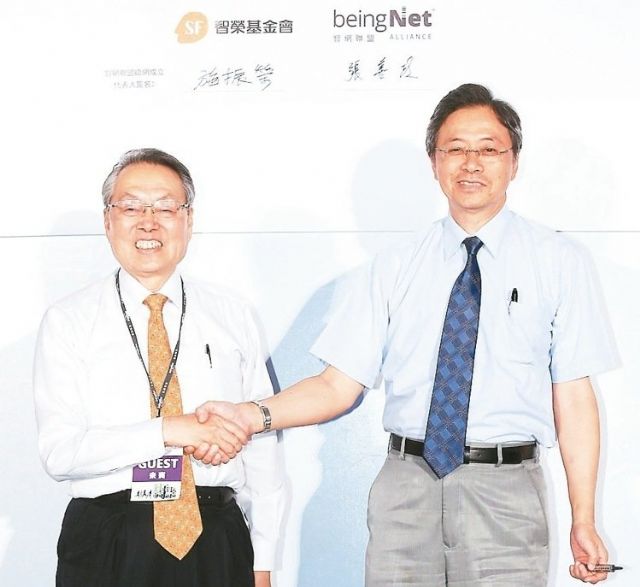 Acer founder Stan Shih (left) appoints Taiwan former premier Simon Chang as president of the beingNet Alliance (photo courtesy of UDN.com).
Stan Shih, founder of Acer Inc. and initiator of the beingNet Alliance, a consortium of Taiwanese tech firms and industrial federations which focuses on the development of the Internet of Beings (IoB) on the island, has appointed Taiwan's ex-premier Simon Chang as the president of the alliance, to kick off the alliance's plan to develop Internet of Medical Things (IoMT).
The beingNet Alliance was founded last December by several founding members, who respond positively to Shih's calls for synergies created by Taiwanese tech firms on development of the IoB on the island, and include Acer, Wistron Corp. (an original design manufacturer of consumer electronics), 5W Computing & Communication (an IoT solution provider), Stans Foundation and Global Bio-Industry Technology Development Foundation.
The first phase of the alliance's operational plan, which envisions IoT technology to be applied into every aspect of people's lives, revolves around the development of the Internet of Agricultural Things.
At a venue held last week to welcome the addition of new members to beingNet Alliance, Shih appointed Chang as the alliance's president, a move to herald the beginning of the alliance's second-phase plan that is focused on IoMT, given that the Taiwanese former premier, who once worked for Google as director of Google's hardware operation in Asia, has just been installed as chairman of Institute for Biotechnology and Medicine Industry, a government-funded organization dedicated to promoting Taiwan's biomedical industry.
Chang said the IoB is designed to make people's lives better in every perspective, and Taiwan has many geographic and technological advantages to develop IoB applications. After appointed as president, Chang went on to say, he will make his utmost to assist alliance members to complete more field trials for IoB applications in the future. In the long run, the new president stated that successful business models researched and developed through tapping synergies among alliance members are expected to be promoted globally and better upgrade Taiwan's industries.
Shih emphasized that at a time when the Taiwanese government is actively developing smart cities, which require integrated application of various technologies, the alliance therefore must step up integrating resources from local hardware makers, smart software developers and service providers to create more business opportunities. This, the Acer founder said, is the reason he insists Chang, who enjoys high reputations in both political and business communities, is the best candidate for the alliance's first president.
Noteworthily, beingNet Alliance's new members announced by Shih at the venue included Teco Electric & Machinery, a locally known branded vendor of white goods and heavy-duty machinery and wind turbine maker; Advantech Corp., a globally leading supplier of industrial computers; IBM Taiwan, and Chunghwa Telecom, the island's largest telecom company by size.