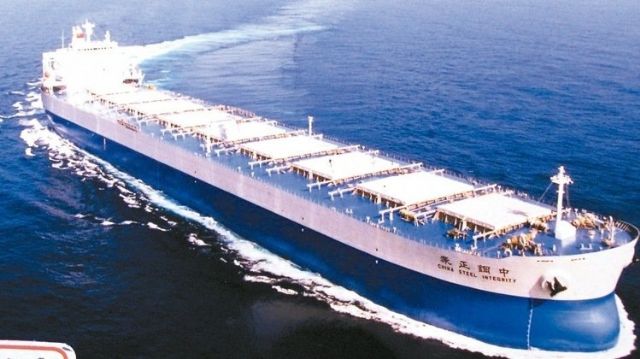 The steadily growing BDI over the recent days shows a positive sign of recovery of the global dry-bulk shipping market (photo courtesy of UDN.com).
With the Baltic Dry Index (BDI), which measures the freight rates of gigantic dry-bulk carriers, kicking off July with a strong start to continue its uptrend since late June, the global market for dry-bulk shipping is expected to rally back from long-term depression in the second half of this year, according to industry insiders.
As of July 5, BDI had gained 112 points to 692 from 580 seen 10 days earlier, representing a 19.3 percent increase, with the growth mainly led by the freight rates for cape-size carriers along with those for Panamax and handy-size models. At that time, the average daily freight rate for chartering a cape-size carrier already exceeded US$7,300, significantly rebounding from only US$4,800 early this year, showing a sign of turnaround of the dry-bulk shipping market.
Industry insiders point out that the recent rebound of BDI has heartened global dry-bulk shipping companies who have continuously suffered operating losses amid weak freightage caused by sluggish demand and oversupply problems since the end of two years ago, promoting them to start a new round of freightage hikes in the months to come.
The busier ship-breaking industry than the ship-building is also among the positive factors boosting shipping companies' confidence of a brighter outlook in the second half of this year than in the first half. John Peng, ex-chairman of Chinese Maritime Transport Ltd., a government-linked Taiwanese shipbuilder, indicates that a total of 63 cape-size bulk carriers were built during the first half, while 69 ones were demolished. Peng predicts that the gap is expected to keep broadening to some extent in the second half, to continue to ease the oversupply situation.
From a demand-side view, dry-bulk shipping companies also have good reasons to believe freight rates will turn stronger in the near future. The recent strong market demand for steels worldwide has significantly fueled the freight rates for chartering cape-size bulkers for carrying related raw materials, such as iron ore, not to mention the ongoing seasonal boom led by South American nations, which heavily export grains and crops starting in the third quarter of a year, to drive higher the freightage of Panamax-size carriers.