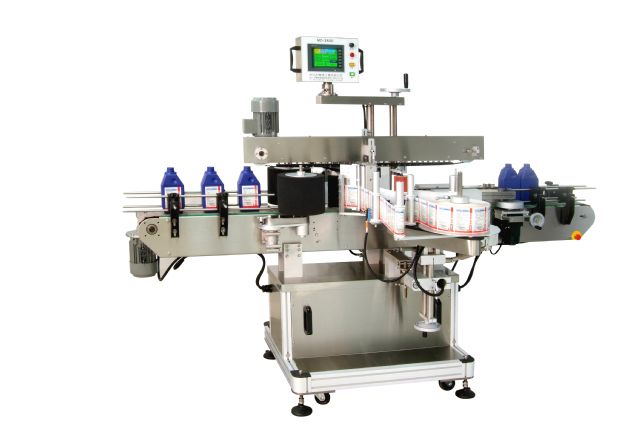 An advanced labeling machine developed in Taiwan.
The packaging machine industry has developed into one of Taiwan's export contributors over the past decades after local companies began production using skills and know-how absorbed from abroad to reduce the industry's dependence on imports, and many insiders have built reputations in the global market by taking advantage of division of labor and R&D to achieve flexible, efficient production and supply high-utility machines with stable quality.
According to Taiwan Association of Machinery Industry, the sector now consists of about 200 manufacturers presently, mostly clustered in Taiwan's northern and central region and small and medium in size. Most machines that the insiders supply are small and medium-sized models for universal packaging, and are especially sought-after by professional buyers from Asian nations as Singapore, Malaysia, S. Korea, Japan, Indonesia, etc.
However, the underselling competition by emerging rivals globally is still the main threat to the sector, resulting in an increasingly harsh landscape to Taiwanese suppliers, especially those who can't further upgrade products because of resources limitations. But, some of them remain undaunted, and have managed to engage themselves in developing higher-end models, in efforts to maintain their competitive advantages and sustainable development.
A technologically leading supplier of labeling machines in Taiwan, Gold Great Good Machinery Co., Ltd., founded in 1986 in Taoyuan County, northern Taiwan, has launched several cutting-edge models that can even match those made in Germany and Italy in performance and speed.
Among those machines, the automatic high-speed OPP labeling machine series provides a striking example of the company's strong R&D capability. Coded MD-6000-OPP, the latest model of the family is highlighted with a star-shaped wheel that firmly carries containers while dispensing to provide stable dispensing performance under high-speed operation, and a servo motor that synchronously track label supply and cutting, and a specially designed vacuum drum to enhance labeling precision.
Further, the machine adopts the so-called three-phase PLC and AV variable control with a synchronized tracking and control system to maintain label cutting accuracy in different running speed. For better stability, a welded, sturdy body enables the machine to turn out up to 600 bottles 3,000c.c. in capacity per minute without dysfunctions occurring.
Easy operation and maintenance, as well as enhanced safety, are also the machine's appeals. The equipment is designed with a centralized lubrication system and a sensor that detects material feeding so as the machine can automatically adjust speed according to feeding situations, and a system safety device that can immediately turn off the machine when irregular torques, abnormal feeding and other malfunctions occur.
A number of the best-known enterprises, such as Coca Cola, Pepsi, P&G, Unilever, Quaker, Uni-President, Taiwan's largest food and beverage supplier with the biggest convenient store chain, and Kinmen Kaoliang Liquor, a state-owned liquor brewing company in Taiwan, are on Gold Great Good's customer list, while nearly 99% of all bottled mineral water sold on the island is labeled by the company's machines.
Committed to continuous improvements of quality and functionality, L.H. Tsai, general manager, indicates that the company has just worked out an upgraded model of MD-6000-OPP, named MD-9000-OPP, which can turn out 900-1,000 bottles per minute with higher stability and more consistent quality to lead the industry.
Established in 1962 in Taoyuan County, northern Taiwan, Benison & Co., Ltd. is a veteran supplier of shrinkable packaging materials and machinery, and leads the sector by its superior technologies.
The company produced spray hoses, shrinking tubes and wiggery in the very beginning, and then began venturing into shrinkable packaging materials and machines in 1975. Following decades of development in the field, today the company employs more than 200 workers in plants in Taiwan, and some 100 ones in the Philippines, China and Thailand, as one of the largest suppliers in the line. Its available product category covers a broad range of packaging materials, such as polyolefin, OPP, PE, PVC, heat shrinkable labels and cap seals and insulating tubes, and packaging machines, like sealing machines, applicating machines and customized packaging lines.
Despite an increasingly disadvantageous competitive landscape his industry is faced with, Benker Liao, Benison's general manager, insists that his company should stay rooted in Taiwan to keep contributing to the industry's development, and says, "Working out high-quality packaging materials and machines to leverage the industry's competitive advantages is my aspiration; and only sound industrial development can create more jobs to assure young people a brighter future."
For instance, since side sealers are gaining popularity among professionals for higher material efficiency, more stable sealing, extendible packaging length, higher speed and better quality, Bension's USA-005P Auto Side Sealer for shrinking wrapping is built with 2 750W servo motors and 2 25W induction motors, and features an improved graphic operator interface with 40 sets of memory modules and multilingual options, a CE-approved control system with easy expandability, a adjustable speed motor-incorporated feeding device compatible with printing sensors, a conveyor device whose belts are made of imported PU from Japan to meet food safety regulations, and a side sealing device, in which temperature of cutters, all Teflon-coated for easy cleaning and maintenance, is consistently maintained by a SSR (solid state relay) controller and timing belts are used for sealing stability. The machine can seal objectives with height from 2mm to 140mm, with packaging speed of up to 40 packs per minute.