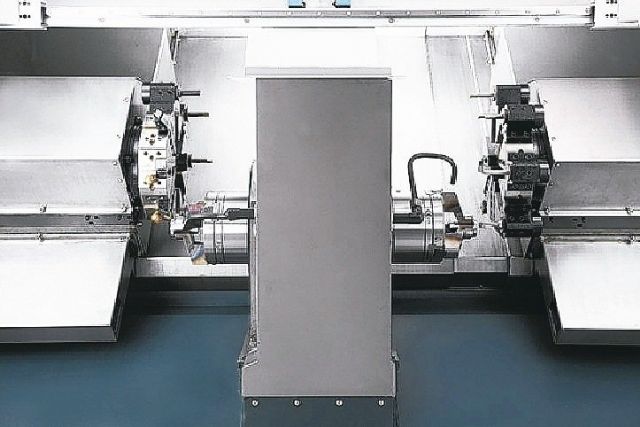 Taiwan's government-funded R&D body MIRDC aims to assist local machine tool builders in upgrading lifespan of turrets through its grey iron database (photo courtesy of UDN.com).
To help Taiwanese machine tool suppliers better compete against rivals from Europe and Japan in the global market, the Metal Industries Research & Development Centre (MIRDC), a government-funded R&D institute, has just finished constructing a grey cast iron FC250 prosperities database for insiders to improve turret's dimensional precision and lifespan.
MIRDC is inspired to take on the job mainly by the fact that high-end precision machinery industries in world's top technologically developed countries have generally set up thorough databases on technologies regarding precision mechanical designs and various material prosperities, which, however, are too secret to be accessible for foreigners.
To help Taiwan's machine tool sector achieve technological breakthroughs to catch up with rivals from developed nations, MIRDC therefore has completed a database containing results of ultrasonic testing on grey cast iron FC250, as well as variation of the material's dimensional stability during heat treatment and time-dependent relaxation of residual stress.
Through building the valuable database, MIRDC reported, it has therefore worked out a new technology that keeps time-dependent dimensional variation of the material to a minimum between plus and minus 4.2μm. The achievement will enable Taiwanese CNC drilling machine makers to effectively improve lifespan of high-precision, fast-indexing turrets, and greatly shorten R&D to launch new machine models.
Additionally, MIRDC has also been working with local machine tool makers on a 3-year joint research on traceability in dimensional measurements of FC250, FC300 and FC350 grey cast iron, with an aim to work out optimal processing techniques according to research results to afford local die casting and precision machinery suppliers.
Taiwan's machine tool sector has built a high profile in the global market over the past decades, and now is eagerly trying to upgrade machine precision and value to survive the intensifying competition. Presently, insiders generally lack effective methods and technology for measuring and testing time-dependent residual stresses of large die castings, therefore being unable to further enhance stability and quality of their machines. This makes sense that MIRDC decided to cooperate with an ultrasonic testing technology work group from National Taipei University of Technology to set up the abovementioned database and develop related technology and systems.