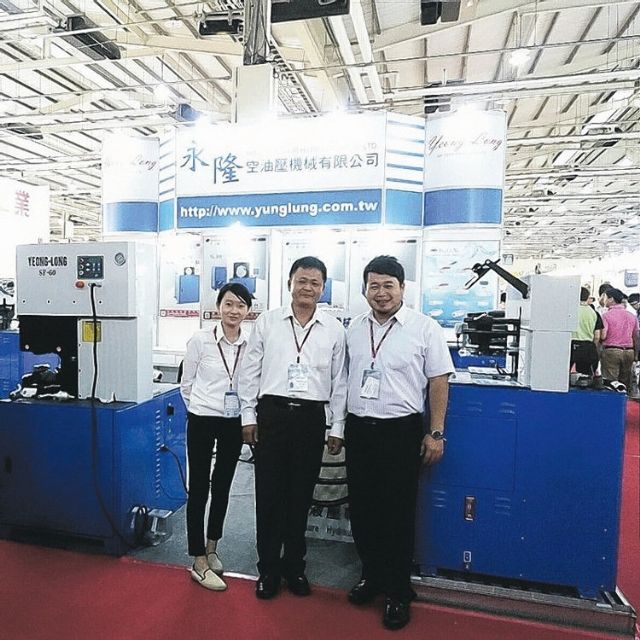 Yung Lung is a professional supplier of crimping machines for industrial application, and has obtained awards and patents worldwide (photographed by Chiang Chia-ling, reporter of EDN).
Yung Lung Air Hydraulics Co., Ltd., a professional maker of hydraulic components and systems, has promoted its award-winning hydraulic crimping machine YL-330, reportedly Taiwan's largest homegrown model, which crimps hoses and tubes up to 12 inches in diameter with crimping force to 8300Kn, and can be equipped with a die in size of 305mm to feature maximum crimping range of 335mm.
This crimper is applicable to various industrial hoses used in mining, oil, petroleum, gas, water canal, chemical transportation and construction industries, and has been sought-after by professional buyers from all over the world.
Bolstered by decades of manufacturing and R&D expertise, Yung Lung mainly supplies various hydraulic machines, such as crimpers and hose skivers, as well as related accessories and fittings, including hoses, back-stop devices, food pedals, etc. Sticking to continuous improvements of quality, the company's crimping machines are widely recognized by loyal customers for high crimping accuracy and precision, the privilege that prevents hoses and tubes from damages during crimping.
In addition to YL-330 mentioned above, the company's hot-selling models include YL-32 and YL-65 workshop crimpers and series production crimpers, all highlighted with quick die changing system, high-precision jigs and easy operation, and suitable for the crimping of oil hoses, air hoses, wire ropes and other products used in heavy-duty vehicles and machinery.
To learn more about Yung Lung, please dial 886-4-2283-3033; 886-49-232-2176, or browse the website: www.yeonglongs.com.tw