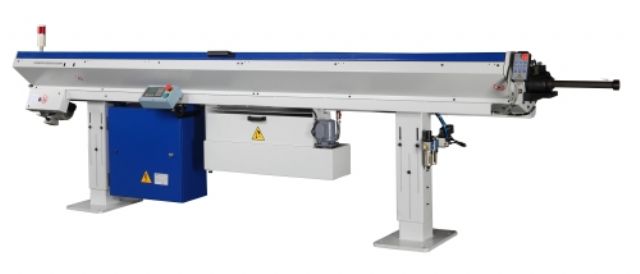 Sample of GIMCO's automatic bar feeder (photo courtesy of CENS.com)
​                           
GIMCO (Giuliani Iemca Machinery Co., Ltd.) is a Taiwan-based supplier of various bar feeders and a joint venture among Italy's IEMCA and GIULIANI of IGMI S.P.A., belonging to BUCCI INDUSTRIES Group, and local investors.
GIMCO's products have been well accepted by globally known machine tool builders in Taiwan and Japan, for high stability, reduced vibration and noise, as well as rapid delivery and timely after-sales service.                                                       
With technological support from its parent companies mentioned above, GIMCO mainly supplies high-profile automatic bar feeders from IEMCA as an increasingly important node of BUCCI's global marketing network focused on Taiwan and nearby countries.                                                
President Y.C. Lee of GIMCO stresses that among the firm's hot-sellers, the Master series automatic bar feeders highlight impressive stability, low vibration and high precision, ideal for the feeding of bars with diameters ranging from 50mm to 100mm and length of up to 3m to fixed headstock lathes. The products particularly meet requirements in the auto parts industry.
Furthermore, Lee states, the Master series bar feeders are all developed with oil film-type guide channels, which can dampen vibration to minimum and greatly reduce noise of bars rotating inside at high speed, so as to enhance machining accuracy and efficiency.
For more information, please contact GIMCO via 886-4-2406-6970, or visit the website: www.gimco.com.tw.