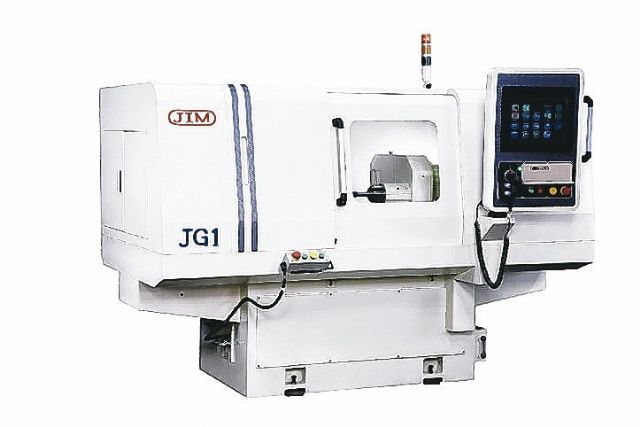 Lumax markets its grinding machines worldwide under its "JIM" brand (photo courtesy of UDN.com)
In response to the growing global trend for precision grinding on multifunctional, easy-to-operate and high-precision machinery, Lumax Machinery Co., Ltd., a Taiwanese specialist manufacturer of grinding machines and related components and cutting tools, takes the wraps off its CNC35-TDG1000 Precision Thread Grinding Machine.
The CNC35-TDG1000 has lots of features to note, including speedy grinding, high static and dynamic stiffness, a size tolerance down to minus and plus 1μmm, the built-in JIMATICF-9000 TD intelligent programs, easy-to-use interface, multi-step grinding, integrally die-cast base of FC-30 steel and with reinforced structural design, high rigidity for prolonged lifespan and low maintenance cost required, the use of numerical control system from Fanuc and user-friendly operations.
Obviously a high-performance CNC grinder, the CNC35-TDG1000 capably handles the grinding of ordinary threads, square threads and screw rods, with grinding diameter ranging from 6mm to 350mm, grinding distance of 600mm and center-to-center distance of up to 600mm. Maximum length of workpiece the machine is applicable to is 1,000mm.
For more information on the grinder, please visit the website: www.lumaxjim.com.tw