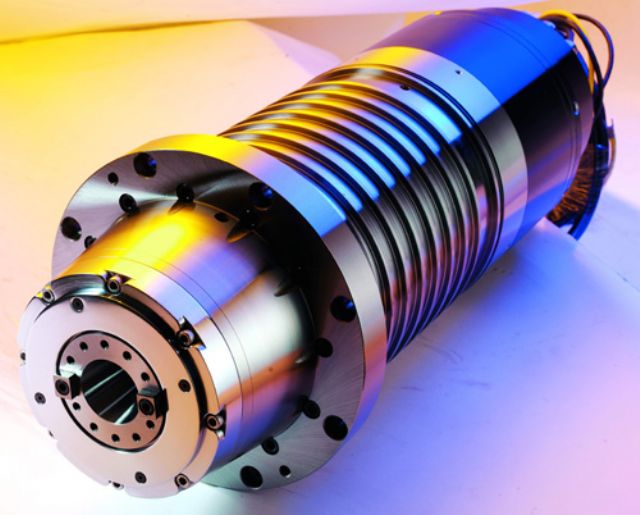 Royal Precision's high-speed spindle (photo courtesy of Royal Precision).
Founded in 2003 in Taichung City, central Taiwan, Royal Precision Tools Corporation has entered its 13th year of conscientiously supplying spindles with fine quality and stability to global machine-tool builders, and continuously upgraded its technology and production equipment, to be a top-end supplier of its kind across the Taiwan Strait.
Assistant manager C.S. Tsai of Royal Precision states that the company is specialized in designing, developing and manufacturing spindles for high-precision machine tools. To ensure customers high machining accuracy, stability, rigidity and efficiency, the company achieves vertically integrated production of spindles in its modern factory located in Taichung Industrial Park, where monthly output reaches 8,000 units. Presently, it commands some 40 percent share of the domestic market for high-end spindles.
In addition to Taiwan, Royal Precision has actively explored the Chinese, European and Asian markets, and seen the effort gradually paying off, mostly thanks to its commitment to satisfying customers with all-around service and high-quality spindles with competitive prices.
At present, Tsai says, Royal Precision runs a factory each in Taiwan and China, spread over 39,600 and 3,960 square meters, respectively. To enhance added-value of its Royal-branded spindles, the company has continuously procured state-of-the-art production equipment from Japan and Europe into the factories, and plans to invest more within the next five years, with an aim to achieve economies of scale in production and set itself apart from its counterparts.
To learn more about Royal Precision, please contact the firm via 886-4-2338-2068, or visit the website: www.royal-spindles.com.tw