TIMTOS 2017, which is scheduled to be held in Taipei from March 7-12, 2017, will attract participants from around 18 countries.

Sharing details about the expo with media persons at MT duo 2016 trade fair, Thomas Huang, Deputy Executive Director, Exhibition Department, Taiwan External Trade Development Council (TAITRA) , said "This is the first time for us to arrange TIMTOS pre-show press conference on the first day of TIMTOS ' sister exhibition-MT duo as both shows share similar properties."

In MT duo, you can see the latest products integrating Information Technology, Internet of Things and smart manufacturing. Simply to say, TIMTIS is an extensive exhibition of MT duo. Those being focused in MTduo will be brought into full play in TIMTOS.

The TIMTOS 2017 trade fair will be conducted in four exhibition halls viz Hall 1 and 3 in Taipei World Trade Center (TWTC), Hall 1 in Taipei Nangang Exhibition Center and Yuansan Expo Hall.

Ever since the registration commenced in April, 950 exhibitors have applied for over 9,000 booths, breaking previous participant records, Huang said.

The international exhibition is expected to attract more than 55,000 visitors including 7,500 foreign buyers.

To comply with the global trend of science and technology, he said the topic of the forthcoming exhibition will be "Industry 4.0 Plus and Smart Manufacturing."

The expo will integrate the advantage of Taiwan ICT technology with IoT and big data to provide the Industry 4.0 whole-plant output technology of "Smart Manufacturing" and "Smart Factory".

Also Read : MT duo 2016 kicks-off in Taipei, buzzes with latest in manufacturing technology

The famous Taiwan-based companies like Dah Lih, She Hong, Victor Taichung, Goodway, Yong Jin, TongTai, Far East, You Ji, Ching Hung, Shieh Yih, HiWin and Fair Friend will show five-axes processing machine.

The five-axes processing central machine exhibited by Litz can apply to high precision parts processing while FEMCO-owned Far East Machinery Group will display aluminum wheels automotive production line equipped with Automatic Virtual Metrology (AVM) system.

Among other international players, MAZAK, DMG MORI, HAAS, YASDA, JTEKT, SODICK, MITSUBISHI, TRUMPF, FANUC, SIEMENS, BOSCH, CITIZEN AND IGUS will participate in the forthcoming expo.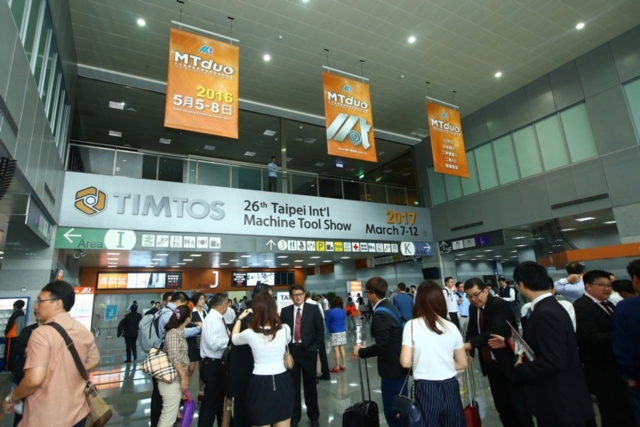 TIMTOS 2017 creates much expectations for the global business visitors in MTduo 2016
Further, Swiss Commercial Office has applied while German Economic Office will also organize the German National Pavilion with the global companies like BLUM and SCHUNK
Addressing media persons, David Chuang, Chairman of Machine Tool Committee, Taiwan Association of Machinery Industry (TAMI), said the machine tool production in 2015 stood at $ 81.2 billion, down from $ 95 billion in 2013 while the consumption touched $ 75.3 billion. The export reached $630 million from January to March 2016, down 20.7 percent as compared to the same period a year ago.
Chuang said the tree biggest export markets are China, America and Turkey.
Looking at the current trend, Chuang said, "We think Taiwan is entering a bouncing stage at the bottom of the downturn and expect a sign of recovery in the second half year with more purchasing orders received."
Taiwan is an island country and the export of machinery products stands at around 70 percent of the whole industry. Professor Rong Ching Lin from NTUST, who is also a judge in the "Research and Develop Innovative Products" competition held in the previous two TIMTOS, acknowledged that Taiwan machine tool industry had already headed towardd "Industry 4.0."
In the future, he said, "We can take steps closer to the 'Visualized" cloud service application, "Linkable" system integration and "Intelligent" aspects.
TIMTOS 2017 is likely to cover 100,000 square meters and attract participants from the countries like Australia, China Finland, Germany, Hong Kong, India, Italy, Japan, Malaysia, Singapore, South Korea, Spain, Switzerland, Taiwan, Turkey, United States, Russia and Vietnam.
From http://automotiveindianews.com/timtos-2017-attract-1020-international-exhibitors/