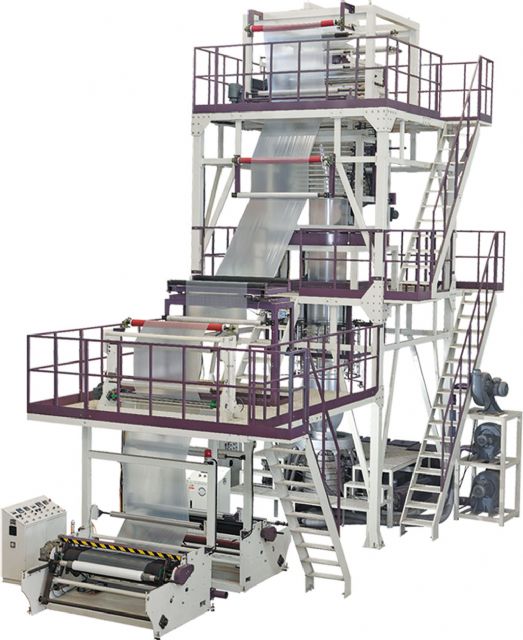 Taiwanese blown film machinery makers compete globally with high-performance, high-quality and competitively priced models.
Among the plastic processing machines makers in Taiwan, those making plastic inflation and blown film machines have been struggling with the same challenge facing other manufacturers and suffering downtrend, with the number of operators having decreased over the past years due mainly to rivalry against emerging competitors.
There are over 2,000 plastic inflation and blown film machine makers in China, most of which are government subsidized to go global. In contrast and with limited resources and personnel drainage, many Taiwanese companies have been fighting uphill battles globally and thrown in the towel.
Undaunted by the growing rivalry, a couple of survivors are taking different strategies to strengthen competitiveness to better compete globally and secure sustainable development.
Han King
One supplier whohas managed to satisfy customers with improved profitability by offering high-quality blown film extrusion lines and machines is Han King Plastic Machinery Co., Ltd.
With decades of experience in making machines that turn out vest bags, garbage bags, agricultural and industrial films, the company, located in Taiwan's southern county of Chiayi, supplies a variety of plastic and blown film machines such as multi-layer co-extrusion blown film lines, slip-proof and bi-convex embossing devices for heavy duty films, blown film lines connecting with printing devices, high speed resin inflation machines, LDPE/LLDPE blower film machines, LHE inflation machines, HDPE blown film lines.
Over 95% of the company's machines are exported under its own brand King Plus, with 30% going to China alone, 20% each to Southeast Asia and Latin America, and 10% each to East Europe and the Middle East. The company is known for pricing products 80% cheaper on average than competing models made in Germany and Japan, but with comparable quality.
In the face of growing rivalry against emerging competitors, company president Z.R. Wu emphasizes that Taiwanese manufacturers must pay more attention to customer satisfaction and that the best strategy is to help customers win market share and make profit with better machines. This business philosophy drives the company to consistently focus on improvement in quality.
Wu says that his company had decided to introduce ISO 9001 standards into the factory three years ago when the global economy was hammered by the financial crisis. The decision, Wu admits, was seen as bold but has paid off. Additionally, the company has enhanced qualitative consistency by raising the ratio of self- manufactured parts and components, says Wu. Using more in-house-made parts minimizes inconsistent, substandard parts from suppliers that can compromise mechanical integrity.
Friendly Environment
Knowing that most Taiwanese traditional industrialists as machinery makers have problem attracting and retaining staff, the company also pays close attention to recruiting, training and keeping young employees. Recognizing personnel being the key asset to achieve quality, Wu stresses that his company works hard to create a friendly work environment at the factory, which has proven effective to attract and retain young people.
"To win customers' trust calls for guaranteed quality, which takes considerable time to achieve but is worth Han King's effort," says Wu.
Rising eco-consciousness weighs on the future of using ordinary plastic bags to  worry many blown film machine manufacturers, but Wu remains optimistic about the future of his industry, because demand for heavy-duty films for packaging chemicals  and agricultural goods has steadily grown over the past years, primarily due to traditional plastic woven bags being increasingly replaced for production costs and environmental pollution. So Wu has been looking at the market for heavy-duty, industrial films, and focused on developing FFS series multi-layer blown film extrusion lines with winding die diameter of up to 1500mm.
Predicting that Taiwan's blown film machine sector will continue to shrink in the years to come, Wu stresses that the only way to stay afloat is to be committed to  good quality.
Matila
A supplier who has adopted vertically-integrated production as savvy strategy for sustainable development in the line is Matila Industrial Co., Ltd.
Matila began in 1988 in New Taipei City, northern Taiwan, by making bag making and plastic inflation machines, and then ventured into multi-layer blown film extraction lines. In recent years, the company has expanded into plastic recycling machines and higher-end twin extruders for masterbatch production, and so has achieved vertical integration by covering upstream extruders to mid-stream plastic inflation and blown film machines to downstream plastic recycling equipment. Marketed under its own brand Matila, the company's machines, some of which may be optioned with various accessories, are used in over 40 countries.
Improvement-focused
To counter Chinese rivals, who mainly compete by underselling, the company's president Jimmy Shen says that his company consistently develops and improves machines according to customer requirements, hence setting itself apart from  competitors by offering performance and functionality instead lower prices. "Matila is a small manufacturer and so must find ways to carve out its niche. Keeping focused on R&D to provide customers with all-around solutions is our way to compete," says Shen.
The 5-layer co-extrusion blown film line is among the company's hot-sellers, which features a 5-layer stack type die head integrated with IBC internal bubble cooling system with HMI touch screen control panel, and a high-efficiency dual lip air ring coupled with inverter controlled cooling blower, which is available with an optional air cooled chiller and heat exchanger.
The winder is also optional with standard type, SM type, PLC control SA back-to- back type and FA fully automatic type, and comes with an auto tension control system. The take-off unit is driven by AC torque motor with an edge controller which helps to straighten the edge of output film, while the horizontal type oscillating take-up unit is   patent protected. The blown film line uses HDPE, LDPE, LLDPE, EVA, PP and PA to turn out thermal shrinking film, stretch film, laminating film, protection film, vacuum bags and soft drink packs, which are well received by food packagers.  
Shen points to the latest Co-rotating & Counter-rotating High Performance Twin Screw Extruder as result of decades-long experience in making single extruders and recycling machines, which is also regarded as the driver of future business growth.
Unveiled in 2008, the twin screw extruder uses a powerful high-torque gearbox incorporated with forced lubrication which ensures the gearbox runs smoothly. The built-in torque limiter is another feature, which can disconnect the gearbox from the motor immediately upon torque overload.
The company builds segment-type screw elements and a kneading block, both of which are made of special hot-rolled steel alloy and a mix of powdered metals for enhanced structural durability, in the extruder, claiming that high precision production assures excellent quality and performance of every screw element, and the kneading block can be exchanged easily. The company also provides a variety of barrel designs, including input, closed, side-feeder, degassing, combination etc., all of which are of bi-metal steel alloy and are processed according to application.
The twin extruder, which has been shipped to Europe, may be ordered with optional systems, including feeding and pelletizing systems, accurate temperature controller, vertical-type water cooling die face cutting system and underwater cutting system.
Shen says that a higher-precision twin extruder specifically for use in material laboratories is under development, and will be unveiled this year. "Presently, less than 10 Taiwanese extruder makers supply twin screw models, and we're one of them after over four years of effort," Shen says proudly.
Kang Chyau
Focused on product diversification, Kang Chyau Industry Co., Ltd. has steadily expanded with business growing around 30% every year since its founding in 1988 in New Taipei City, northern Taiwan. The strategy, along with devotion to customer service and R&D, has helped his company to cope with fierce rivalry in the global market, according to company president Kang Chung-i.
One of the leading suppliers of its kind in Taiwan by market share, the company every year churns out 200 to 300 sets of different plastic inflation machines, including high speed inflation machines, plastic bag making machine, blown film making machine, HDPE/LDPE/LLDPE plastic inflation machines, P.P. plastic inflation machines, turnkey plants, recycling equipment, with about 90% exported under its own brand KC. Depending on customer requirement, the maker also provides different bubble guide brackets, winders, waste collection winders, screen changers, rotating dies and gearboxes.
Kang Chyau takes pride of the solid customer loyalty it has achieved, which is partly driven by strong attention to quality. The company adopts only high-quality parts and components from major global suppliers, such as ball bearings from Swedish SKF and magnetic switches from French Telemecanique, as well as building an electronic length counter and timer into each blow molding machine to meet CE standards. Additionally, all the main output shafts are precisely ground for exceptional stability and quiet operation.
The company's success can be partly attributed to its commitment to customer service. Kang says that in addition to developing new machines, his company makes sure that customers have plentiful inventories of spare parts for replacements on demand, and helps them to research different materials to optimize production.
"Kang Chyau's prosperity has been built on quality, customer service along with product-diversification strategy. So we can take on emerging rivalry and have maintained solid business growth for decades, even evaded the global financial tsunami in 2009," says Kang.