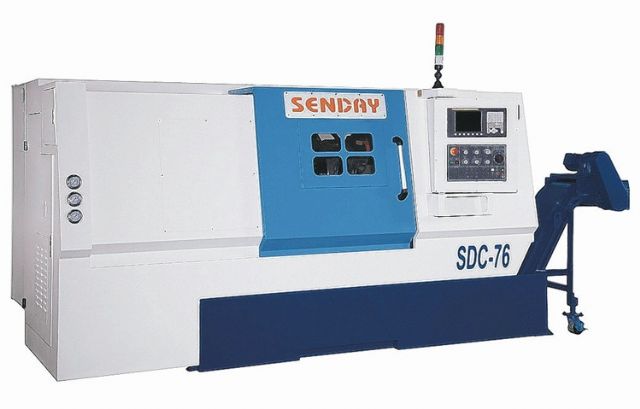 Senday's horizontal lathe SDC-76 (photo courtesy of UDN.com).
Senday Enterprise Co., Ltd., founded in 1985 in central Taiwan, has recently unveiled a shining factory completed on 7,932 square meters of land at cost of NT$350 million (US$US$10.6 million), showing its pledge to supply its customers with quality machine tools at inexpensive prices.
In early stage of its operation, the maker primarily focused on production of light-duty, high-speed precision lathes, which feature easy-to-operation, inexpensiveness, simplicity, and compact size. This type of products quickly gained ground on the market, thereby inspiring the maker to introduce more spindle specifications to complete its specifications ranging from 15mm to 120mm in spindle diameter.
The company began volume production of CNC type of lathes in 1999 as part of its plan to boost product value. New machines are well received in Europe and America, applicable to automotive, bicycle, motorbike, sporting-goods, hand-tools, and horological industries.
The company's another R&D focus is on combo types of machine tools. It has rolled out the SDC-76 and the SDC-45J families of lathing-milling combos. SDC-76 features uni-piece slant bed and modularization design, allowing it to go with more optional devices such as C axis, Y axis and sub spindle. SDC-45J also underscores modularization design.
Caption: Senday Chairman J.C. Jiang.
For details, please contact Senday at:
Tel: 886-4-23504090;
Website: www.senday.com.tw