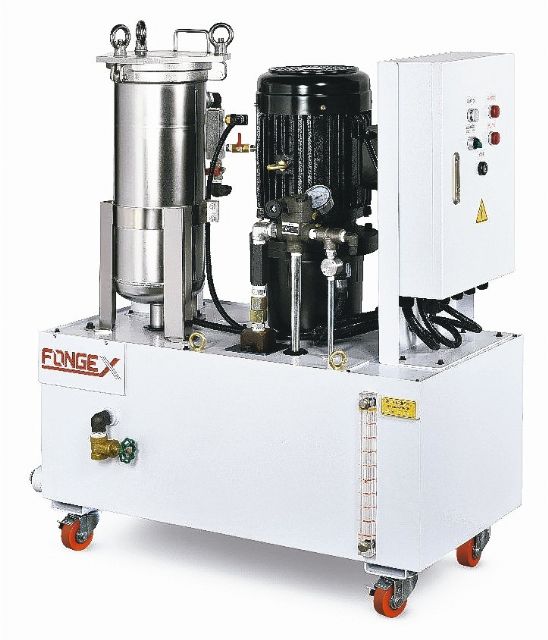 Fongei Industry launches its newest high pressure coolant system for the metalworking industry (photo courtesy of UDN.com).
Fongei Industry Co., Ltd. has rolled out high-pressure coolant systems designed to blast clean metal chips that processing machines usually leave on workpieces during production.
This pump is applicable to lathes, machining centers, drilling machines, boring machines and milling machines.
According to company chief executive officer (CEO), the machines are equipped with an imported screw pump, which is durable and reliable not to mention its adaption to both oil-based and water-based fluid. The pump's filter cylinder has a huge filtering capacity and is easy to clean. The pump comes with a stand-alone electrical control unit, which is easy to install and sets pumping pressure easily. Wheels on the four sides make easy the motion of the unit.
Speedier feeding in the pump assures better processing precision of the machine working with the pump. The improvement also effectively blasts difficult chips off workpieces, allowing cutters to drill deeper while ensuring longer life of the cutters.
The bump registers 5.5KW in power consumption, 70Bar in discharge pressure, 120 liter in effective load capacity, and sub-50C in working fluid temperature.
Fongi began operation in 1992 with production of various chip conveyors, including steel belt type, scraper type, roller type, and dual belt type, for metal-processing industry. It won ISO certificate in 1999.
For details, please contact Fongi at:
Tel: 886-4-22703088;
Website: www.fongi.com