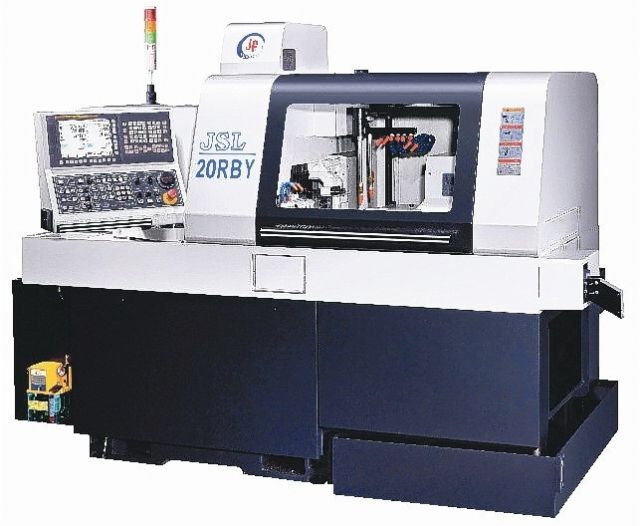 Jinn Fa specializes in developing and making CNC lathe combos (photo courtesy of UDN.com).
Jinn Fa Machine Industrial Co., Ltd., founded in 1976 in central Taiwan, has recently rolled out its JSL-series CNC turning-milling combos, a collection of advantageous machine tools featuring multitasking capability with a main-sub spindle structure capable of holding various cutters.
The series is developed to meet the rising market for high-precision CNC machine tools that can do all cutting work in one, including lathing, milling, drilling, and tapping.
The series attests to the maker's capability of developing tailor-made, automatic, multi-spindle, speedy, and combo machines.
Company president, J.F. Huang, points out that JSL is a Swiss-type sliding-head lathe doubling as fixed-head horizontal lathe, suggesting this machine can move in X,Y, and Z axes to lathe, tap, and mill on workpieces from sides and back. When equipped with power-driven milling unit, this machine can be used to work on high-precision products such as howmedica bone nails and screws.
JSL-42RBY Swiss-type sliding-head lathe comes with double Y axes and C axes, with its main spindle and sub spindle systems coupled with rotating hydraulic cylinders to generate less material waste when cutting on workpieces that are allowed for big error tolerance. 
For details, please contact Jinn Fa at:
Tel: 886-4-779-2211。                             
Website: www.jinnfa.com