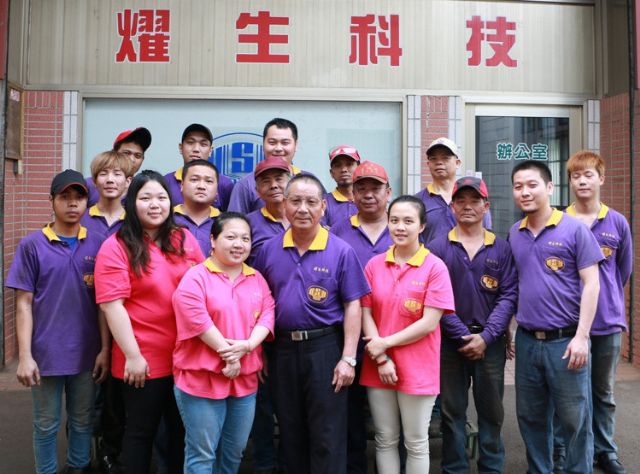 Yao Sheng's chairman M.S. Lu (center, front row) and his workers (photo courtesy of UDN.com).
Yao Sheng Machinery Industrial Co., founded in 1976 in central Taiwan to specializes in various types of casting machinery, has recently expanded its R&D unit to develop shot blasting machines for metal surface treatment industry.
Company chairman, M.S. Lu, points out that newly developed machines come with a blast wheel in diameter of 360 cm to blast steel sands in diameter ranging from 0.1mm to 2.5mm at metal surface for secondary-treatment preparation.
He stresses that shot blasting process is rapidly replacing pickling process as the major methodology for metal surface treatment for it does not generate erosive substance as pickling does. As an increasing number of makers of aircraft components have begun using shot blasting process, the market is bright for the machines.
Besides shot blasting machines, Yao Sheng's product lines also include sand blasters, sand sieving machines, sand core machines, molding machines, wet sand treatment and molding equipment, self-hardening sand treatment and molding equipment, and whole plant dust collection systems.             
The company has won ISO and CE certificates, becoming the first shot-blasting maker to win these quality and safety documents in central Taiwan. With these documents and numerous international patents, the company ships its products under brand name "YAO SHENG" worldwide.
For details, please contact the company at:
886-4-2556-5157;
Website: www.yaosheng.tw