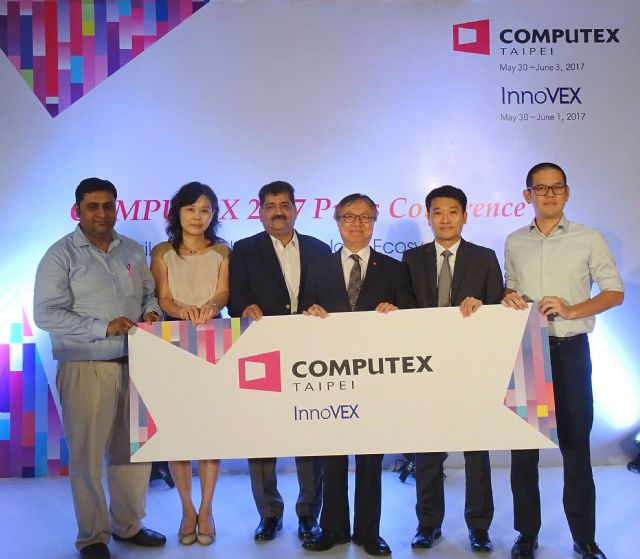 TAITRA held the first overseas pre-show press conference for COMPUTEX 2017 in India (photo courtesy of TAITRA).
In a view of Taiwan's increasingly close economic ties with India, Taiwan External Trade Development Council (TAITRA), a semi-official export promoter and organizer of COMPUTEX, world's top-three trade fair for the ICT industry by size, held earlier the first overseas pre-show press conference in the southern Asian country for COMPUTEX 2017, scheduled on May 30 through June 3 in Taipei.
The conference attracted a total of 35 local media agencies, such as NDTV Gadgets, Times of India, CXO Today, Digit, Tech 2 and T3, as well as a large number of professionals and insiders, including Chanmpak Raj Gurjar, president of the Federation of All India IT Associations, indicative of the proven name of COMPUTEX in the country.
At the venue, Y.C. Kang, head of TAITRA's exhibition business, gave praise to India for the country's globally unparalleled software development capability and ICT talent. Given that sound hardware-software integration is key to success amid the IOT (Internet of Things) boom, Kang indicated, TAITRA therefore opted to hold its first overseas press conference for the upcoming COMPUTEX 2017 in India, in hopes of soliciting more top-end Indian software firms to the globally prestigious ICT trade fair.
Meanwhile, TAITRA gave a briefing on the competitive advantages of Taiwan's ICT industry and the development of IOT technology at the conference, and touted COMPUTEX 2017 as a brand new trade fair designed to "Construct the Global Tech Ecosystem" with four major themes: IOT application, innovation and startups, gaming & VR (virtual reality), and commercial solutions.
TAITRA indicated that COMPUTEX 2017 will continue to impress visitors with its specially themed exhibition areas, including InnoVEX, to feature the attendance of ICT startups; SmarTEX, to display a spate of IOT applications; Gaming and VR for showcasing high-performance gadgets demanded by professional gamers; and iStyle, to exhibit various Apple MFi-certified products. In the 2016 edition, the exhibition welcomed over 40,000 foreign buyers, including 350 ones from India, significantly up 14 percent from 2015 and making the country the 12th-largest source of buyers at the show.
According to official statistics, India has a population of over 1.2 billion, 20 percent of which being middle-class. By 2025, the country's population is estimated to surge 40%. Persistently growing bilateral trade between Taiwan and India is also notable, which totaled US$4.8 billion in 2015 compared to US$1.2 billion seen in 2000. Presently, the southern Asian nation is Taiwan's 18th-largest trade partner.
Worth mentioning is that TAITRA has joined hands with iF to hold COMPUTEX d&i Awards and brought a total of 87 award-winning products to COM-IT, an ICT exhibition held from September 30 through October 2 in Mumbai, India, to show off Taiwanese firms' R&D prowess.
For more information on COMPUTEX 2017 and pre-show registration, please go to www.computextaipei.com.tw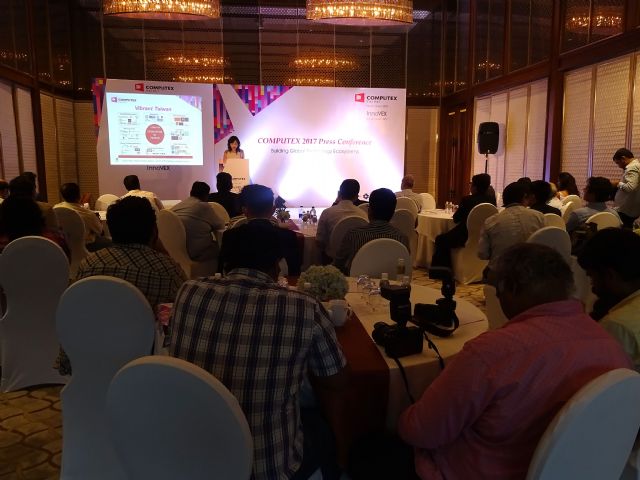 A total of 35 local media agencies took part in the conference (photo courtesy of TAITRA).