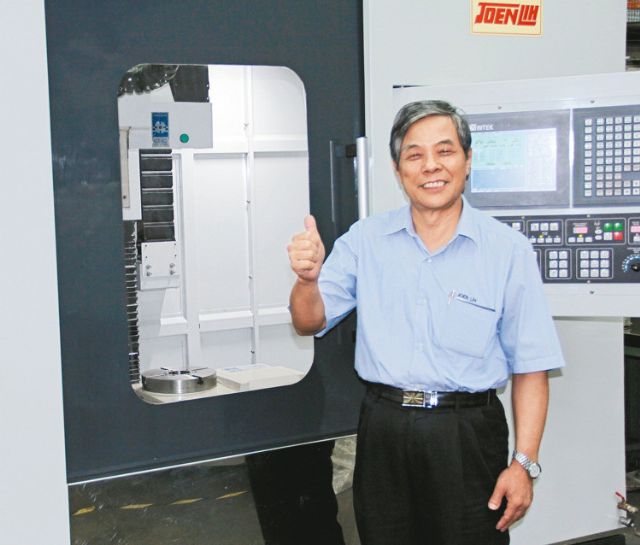 Chairman S.T. Lin of Joen Lih introduces JL-2025X Five-axis Milling & Grinding Machine (photo courtesy of Joen Lih).
A product of the strong R&D momentum boasted by Joen Lih Machinery Co., Ltd., a high-profile Taiwanese supplier of surface grinding machines, the brand new JL-2025X Five-axis Milling & Grinding Machine is debuted at JIMTOF 2016 to impress buyers with its great performance.      
JL-2025X is built with a high-precision rotary table each on C and Z axes coupled with spindles as swing heads, which enables the machine to handle both surface grinding and ramping, as well as drilling, tapping and curve milling, on workpiece, to feature exceptional performance.
A swivel head on the B axis of the machine is driven by a worm gear, and can swivel 30 degrees clockwise and 110 degrees counterclockwise to enable fixed angle milling. For surefire correction, the B and C axes are separated from each other.
Furthermore, the use of a PC-based control system of the machine not just ensures full five-axis synchronous milling, but helps cut costs and address other problems that are commonly seen in milling with conventional models. Worth mentioning is that the X axis is designed below the saddled side (Y axis) as the base, a design that features a shorter X-axis stroke and greatly reduced size of the base, while facilitating the processing of workpieces on bottom surface.                                                      
For more information, please contact the company via 886-4-2534-9475, or go to the website: www.joenlih.com.tw