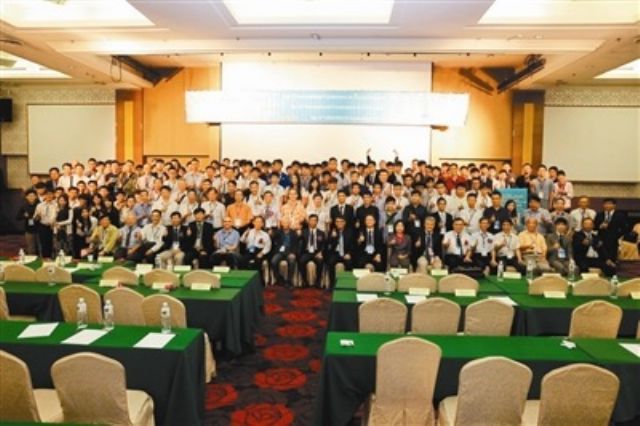 C.J. Wang (sixth from left) attends a thesis contest held together by Spintech and its partners (photographed by Huang Chih-chong).
Spintech Precision Machinery Co., Ltd. is a leading Taiwanese developer and manufacturer of spindles, and has marketed its products to over 28 different countries of the world under its "SPINTECH" brand.
The company's pride among other products is the FOX95 high-speed spindle, a winner of Taiwan's 13th National Brand Yushan Award, which is noted for a built-in optical sensor that can detect thermal expansion and vibration during operation, and provide real-time data for corrections, so as to help secure high machining accuracy.
Underpinned by its motto "Let Your Industry Revolve Around Us", the company holds itself responsible for satisfying customers' demand with the best product quality and performance, with an aim to establish mutually beneficial ties with machine tool builders from all over the world.
Chairman C.J. Wang of Spintech says a commitment to continuous R&D and upgrading in products and manufacturing skills gives his company the strength to keep ahead of the competition.
While being dedicated to developing and improving spindles for vertical machining centers, the company continues to upgrade its production machinery to roll out milling and turning spindles for gantry type machining centers, and telescopic spindles, up to 4000mm in length and 600mm in outer diameter, for boring & milling machines. Plus, it has worked on spline shafts specifically for gantry-type machining centers.
For more information, contact the company via the phone number: 886-4-2561-1222, or check its website: www.spindlemaker.com